When you think of Halloween, you think of pumpkins and… ghosts. And do you want to make something special for Halloween – just because you can – but the pumpkin is now out of your ears, eyes and nose? Then these spooky stewed pears are for you. We stew them in red wine with cinnamon, cloves and star anise. So a kind of mulled wine stew pears. Delicious.
Ingredients
For 2 people:
2 large or 6 small stewed pears (Gieser Wildemannen)

700 ml dry red wine (such as Merlot or Cabernet Sauvignon)

1 orange, the juice and a piece of the zest

100 grams of sugar

1 cinnamon stick

2 pieces star anise

2 cloves + extra for decoration
For the pumpkin spice cream:
120 ml cream

3 tablespoons mascarpone

1 teaspoon vanilla extract

1 teaspoon 

pumpkin spice 

 mix
And that's not all: you serve these spooky stewed pears with blood splashes (don't panic: that's just the red wine that we splash on the plate a bit Jackson Pollock-like) and cream with pumpkin spice herbs. nice dude!
By the way, start on time on these stewed pears in red wine: they have to cool in the liquid for about 4 hours after preparation.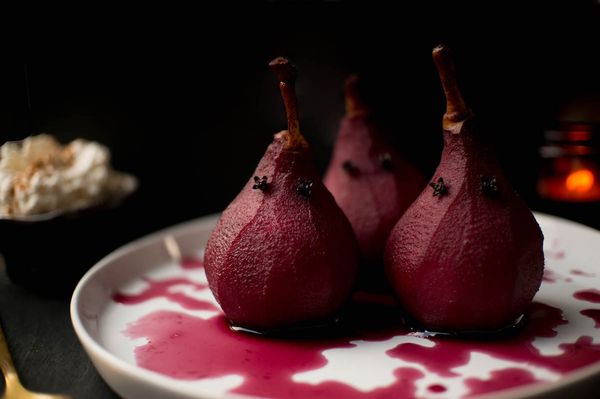 This is how you make these spooky stewed pears
Bring the wine to a boil with the sugar, orange juice, orange zest, cinnamon, star anise and cloves. Once the mixture boils, reduce the heat and let it simmer gently for 5 minutes.
Meanwhile, peel the pears. Do this carefully, because you want them to keep their beautiful shape. It probably goes best with a vegetable peeler. Leave the stems on and cut off a piece from the bottom if necessary, so that the stewed pears stand upright.
Stick two cloves into each cooking pear, as if they were the eyes of a ghost. Place the pears in the red wine and let them cook gently for 20 to 30 minutes. Turn the stewed pears every 5 minutes so that they turn a nice red on all sides.
When the stewed pears are cooked, but still a bit firm (they shouldn't fall apart!), turn off the heat. Let the stewed pears cool and then put them in the fridge with cooking liquid and for 4 to 24 hours. Don't forget to turn them over every now and then for that even color.
Serve the spooky stewed pears with the cream. Beat the whipped cream with the mascarpone, sugar, vanilla extract and biscuit spices with a mixer.
Use a spoon or fork to make blood spatters on a white plate from the cooking liquid of the stewed pears. Serve the spooky stewed pears with a big dollop of cream on the side.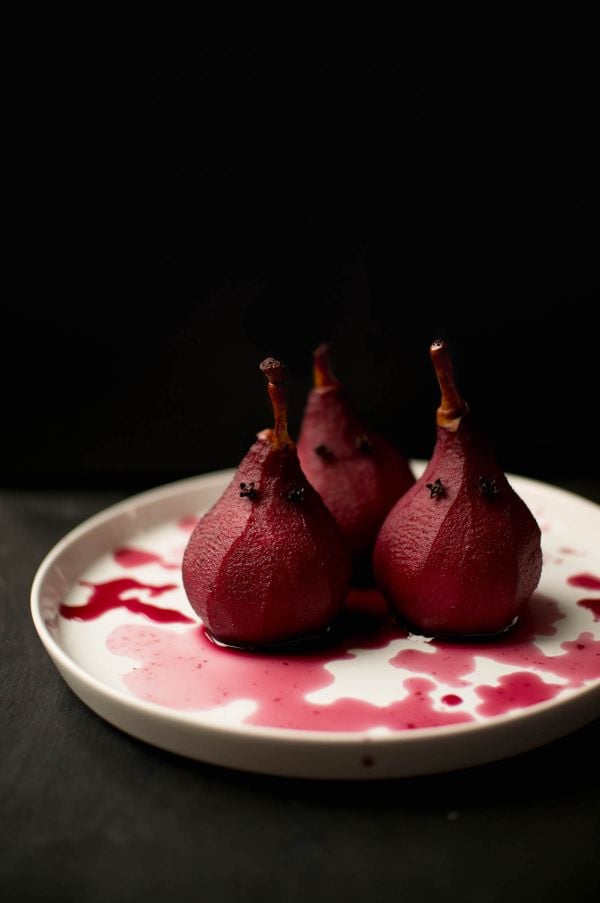 More Halloween recipes:
Milkbar's Famous Crack Pie in NY (Great for Halloween!)

Hasselback pumpkin with maple syrup and chili pepper

Mummy pizza toasts for Halloween