This Halloween recipe may seem like something especially suitable for small children; big kids will be happy (and a little scared) too, we can tell you. With these bloody bones of meringue and raspberries you can make a super tasty – yet gruesome – eton mess . Muhahaha…!
Ingredients
For 4 to 6 people:
5 proteins

220 grams granulated sugar

1 teaspoon white wine vinegar

1 teaspoon freeze-dried raspberries, ground into powder

500 ml whipped cream

Red/black fruits such as blackberries, pomegranate seeds and raspberries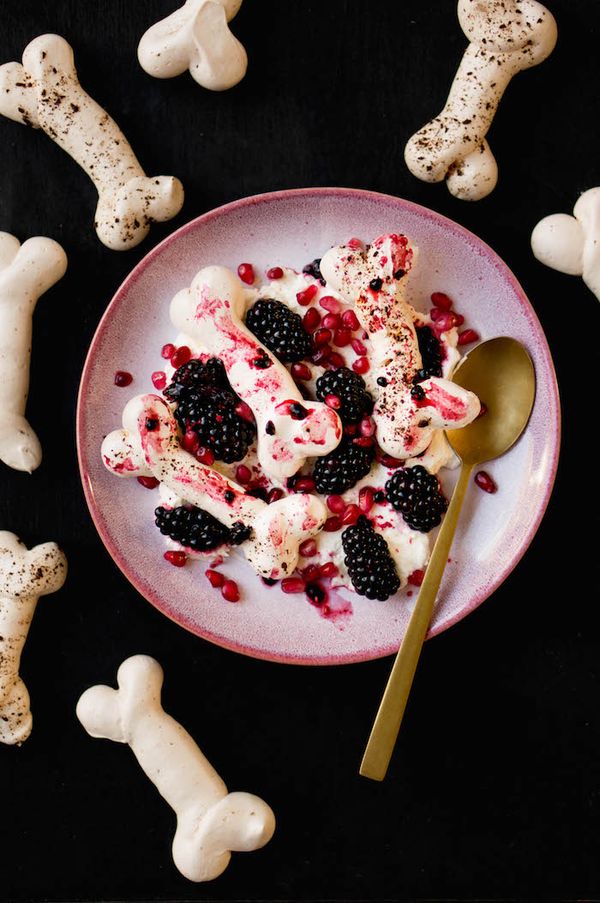 This is how you make the bloody bones of meringue
Preheat the oven to 150 degrees and prepare two baking trays lined with baking paper.
Place the egg whites in a spotless bowl and turn the mixer on to low. Wait until bubbles form on the egg whites and then turn your mixer on quite high. Beat until the egg whites start to form stiff peaks.
Then add the sugar tablespoon by tablespoon. Everything added? Beat the mixer vigorously for another 5 to 7 minutes, until you have a glossy meringue.
Pour in the vinegar (this ensures that your meringue is not only crispy, but also a bit chewy inside) and let it mix for another 2 minutes.
Then add a tablespoon of the freeze-dried raspberries to the meringue.
Hang a piping bag in a tall cup or vase and scoop the meringue into the piping bag. You probably have so much meringue that you have to do it in two. Cut off a piece of the tip, so that you have a nozzle about 2 centimeters wide.
Spread a little meringue under the baking paper in all corners of the baking tray, so that the paper stays flat.
Then you will spray on the bones. This is best done by first injecting a heart, pulling it down in a straight line and then ending with a heart shape upside down. Practice makes perfect, so don't give up.
Finally, sprinkle some extra raspberry powder over (some of) the bones and put them in the oven. Immediately turn the temperature back to 120 degrees and let the bloody bones dry for about an hour. They are done when they come off easily from the parchment paper.
This is how you make the gruesome eton mess
Whip the cream until it is nice and lobed (if you have a sweet tooth, you can add sugar to the cream, but this dish doesn't necessarily need that).
Spoon the cream onto a plate, divide the bloody meringue bones on top and scatter the fruit over the plate. Squeeze it for an extra bloody effect. Dig in… if you dare.
Prefer an eton mess without Halloween? Then make these recipes:
Eton mess with roses and raspberries from Rutger

Eton Mess with blackberries, cherries, raspberries & hazelnuts

Cooking super fast with Culy: Eton Mess in 2 minutes