It's time again for an easy and healthy recipe with lots of vegetables. Then you are usually good at Japanese cuisine, such as with this yakisoba. Traditionally, yakisoba is a Japanese wok dish with buckwheat noodles , but we use those tasty thick udon noodles.
Ingredients
For 3 to 4 people:
1 tablespoon oil (e.g. 

shallot

 oil, or neutral oil)

2 onions, cut in half rings

1 carrot, sliced ​​in half

2 spring onions, in elongated pieces

1/2 white cabbage, coarsely chopped

125 grams bean sprouts

100 grams shiitake or mushrooms, sliced

300 grams of udon noodles (preferably ready-made)

1 tablespoon sesame oil

1.5 tbsp soy sauce

1 tablespoon of mirin

1/2 tablespoon rice wine
To garnish:
Roasted sesame seeds

Baked onions

Sushi ginger (preferably the pink one, otherwise the regular one), cut into thin strips
If you want to be ready quickly with this easy recipe, buy ready-made udon noodles. You can find these in most supermarkets and certainly at the toko.
The best thing is if you can find pickled ginger that is this beautiful bright pink. Can't find it? Then use regular pickled ginger. You could even color it a bit with a drop of beet juice. Cut the ginger into thin strips and place in a small pile on top of the yakisoba. Yummy!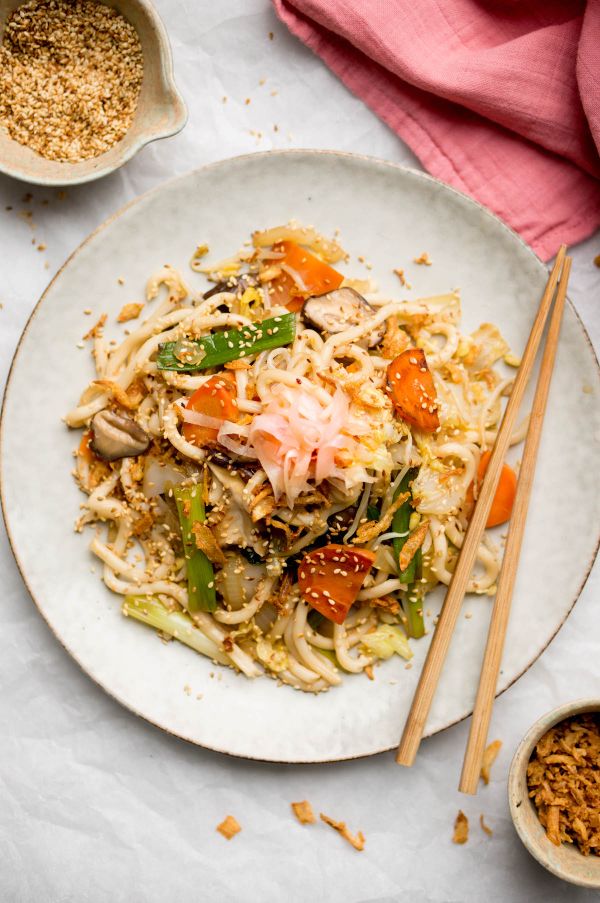 Yakisoba recipe
Start by toasting the sesame seeds, if you haven't already.
Heat a wok over high heat until it smokes. Add the oil and fry the onion, carrot and spring onion until they start to colour. Add the white cabbage and bean sprouts to the wok and fry until they have shrunk by about a third.
Now briefly stir-fry the shiitake or mushrooms. Then the sauces can be added: the sesame oil, soy sauce, mirin and rice vinegar. Finally, add the udon noodles and let them heat briefly. Mix well and serve immediately with the sesame seeds, the fried onions and the pickled ginger.