Doesn't this look cozy, a plate with yellow sunshine? We mainly know carpaccio as a meat dish , but you can also make it very well from vegetables, such as with this beautiful, yellow zucchini. If you can't find a yellow variant, you can of course just use a green one. Serve it as an appetizer or as a summer lunch with a delicious baguette.
Ingredients
2 persons
1 large yellow zucchini

3 tablespoons olive oil

1 tablespoon lemon juice

40 grams of feta

50 grams of blueberries

15 grams of fresh mint

Pepper and salt
This delicious, summery dish comes from blogger Hanneke van Culinea . Delicious recipes are published weekly on Hanneke's blog, from sweet to salty and from dinner to a snack for the appetite.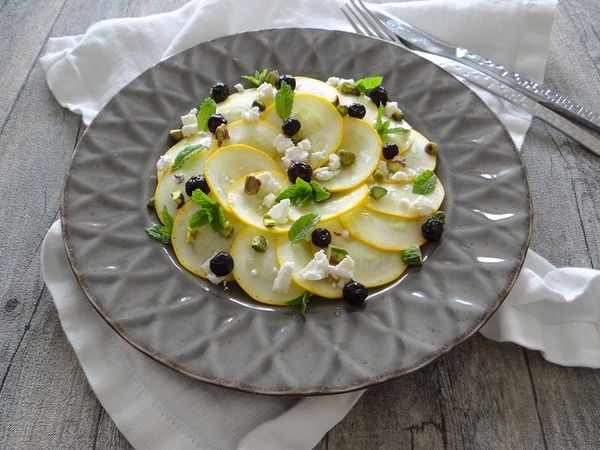 This is how you make the carpaccio with yellow zucchini
Rinse the yellow zucchini under a cold tap and pat it dry with kitchen paper.
Cut the zucchini into thin slices, this is best done with a mandolin . Place the slices nicely overlapping on the plates.
Make the dressing by mixing the olive oil with the lemon juice. Spoon this over the zucchini.
Crumble the feta over the zucchini and sprinkle over the blueberries.
Garnish the carpaccio with small mint leaves and finally sprinkle with salt and pepper from the mill.
Other twists on the standard carpaccio
Carpaccio with avocado and lime

Asparagus carpaccio with herb vinaigrette

Beet carpaccio with feta