Not in the mood for a steaming cup of coffee in warm weather? Then a glass of cooling iced coffee is the perfect way to secure your caffeine supply! So some tips for a perfect copy that you can adjust to your own taste.
Ingredients
For 1 iced coffee
(strong) coffee, about 120 ml

120 ml milk

Sugar/sweetener, as much as you like

ice cubes
This is how you make the perfect iced coffee
Mix the ingredients and voilà, you have iced coffee without having to spend a lot of money at an expensive coffee chain. For the recipe you can use hot coffee that you let cool, but you can also brew coffee cold. You can see exactly how to do this in the video below:
Extra flavor to your iced coffee
You can create countless variations by adding your favorite flavors. For example, you can enhance the taste with a spoonful of honey, cinnamon powder or vanilla (essence) .
At coffee and tea shops you can also buy special coffee syrups in different flavors such as chocolate, hazelnut and caramel.
With a dash of liqueur , for example Baileys, you can turn your iced coffee into a summer cocktail. Rum, cognac and anise liqueurs can also be combined well.
A somewhat different flavor addition is that of citrus fruits . Very common with tea, but relatively unknown with coffee. By pouring cold coffee or espresso on citrus fruits you create a special taste. You can also add some milk if you wish.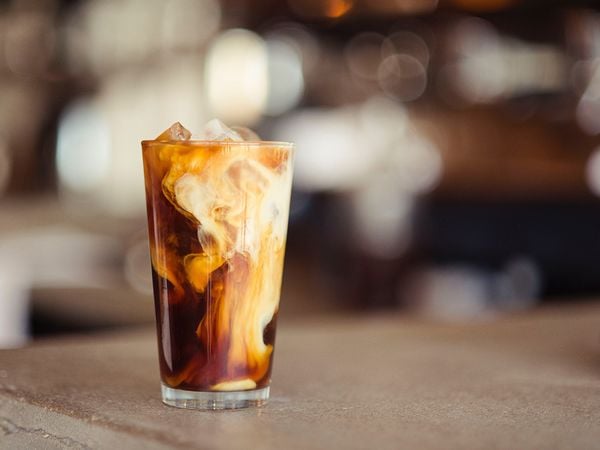 Also interesting: What's the difference between cold brew and regular iced coffee?
light variant
Would you like an energy boost or do you prefer a light version? You can decide for yourself. For example, you can replace sugar with sweeteners (powder or liquid). You can also control the fat percentage yourself.
You can choose skimmed, semi-skimmed, full or condensed milk. If you want it to be creamier, it is recommended to add a scoop of vanilla ice cream or decorate your drink with a nice whipped cream.
Quick version of iced coffee
No coffee maker at home? No worries! You can make a quick variant with powdered coffee, these are available in different flavors in the supermarket. For a cup of coffee in an instant there is also a handy device, the ' Aeropress '.
Don't water it down!
Finally, a tip to keep your drink from watering down: every time you make iced coffee, pour a portion of the iced coffee into ice cube trays and freeze them. Next time these can be used as ice cubes!
By  Rosa Rolvink
More delicious coffee recipes
Oreo iced coffee in 4 easy steps

Quick iced coffee in 1 minute

Waking up with a kick: coffee smoothie with oatmeal