Who says stew can only be eaten in winter? You won't find kale in mid-August, but you can also make a delicious stew with arugula and tomato. Use sweet potatoes to make it more summery and add smoked paprika for some spice. The soft goat cheese on top makes this stew wonderfully creamy.
Ingredients
For 2 people:
4 sweet potatoes

75 grams arugula

125 grams of soft goat cheese

250 grams cherry tomatoes

1 tablespoon crème frache

1 clove of garlic

1 tablespoon pine nuts

Smoked paprika powder to taste
This recipe is so wonderfully easy; within twenty minutes you are outside in the sun with your plate on your lap. The recipe comes from food blogger Beau of the Keukenmeid blog . Beau is the chef of her student house. Healthy, dripping in fat, meaty, vegan, perfect midnight snacks, culinary delights and simple prakkies: she makes (and eats) everything!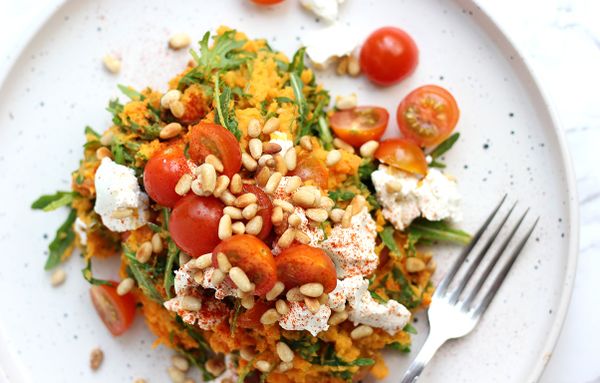 This is how you make this stew with sweet potato and goat cheese
Start by peeling the sweet potatoes. Cut them into rough pieces and then boil them gently in a large pot of water. This will take approximately 12 minutes. Drain the potatoes and mash them fine.
Season with a crushed clove of garlic, crème frache, pepper, salt and paprika to taste.
Mash everything together well into a nice creamy stew. Then fold in the arugula and halved cherry tomatoes.
In another pan, toast the pine nuts until golden brown. Serve a few large scoops of sweet potato stew with the pine nuts, goat cheese and some extra smoked paprika on top. Just because it's so delicious.
More summer recipes
Buddha bowl with salmon, brown rice and pickles

Corn soup with coconut milk and spices

California lunch bowl with turmeric poached eggs