Bombay potatoes are a favorite Indian side dish. These spicy baked potatoes are often served with a fried egg  on top . But they are also the ideal filling for  samosas .
Ingredients
For 2 to 4 people:
500 grams of potatoes

1/4 teaspoon turmeric

1/4 teaspoon chili powder

1/4 teaspoon fenugreek

1/4 teaspoon mustard seeds

1/4 teaspoon cumin seeds

1/4 teaspoon fennel seed

Handful of fresh coriander, finely chopped

Sea salt

1 – 2 tablespoons olive oil
What makes these potatoes so delicious is the mix of Indian spices. And you can vary with that as you wish. For example, if you don't have fenugreek at home, just leave it out. Eat them with a fried egg or serve them as a side dish with chicken or a vegetable curry .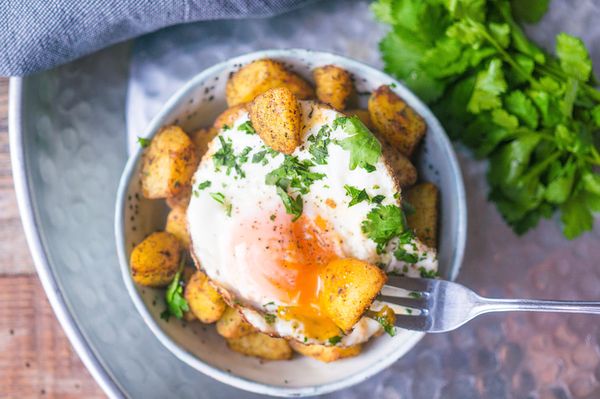 Bombay potatoes with a fried egg
Peel the potatoes and cut them into cubes.
Heat the olive oil in a non-stick pan over high heat. Fry the potatoes quickly, then lower the heat and let them cook for about 10 minutes with a lid on the pan. They will burn a bit, but that shouldn't be a problem. Shake the pan every now and then to prevent this.
Then add the spices, mix them well with the potatoes and let them cook for another 10 minutes. When you think they are well cooked, take the lid off the pan and let them fry for a while until crispy.
Sprinkle a handful of coriander over it and fry an egg, if desired, that you place on top of the potatoes.