Japanese tonkatsu: we love it. This crispy pork is also seen as the Japanese version of the schnitzel. One 'but': if you want to make them at home, you have to fry them. Or not…? No, we make it easy for you with this tonkatsu from the oven.
Ingredients
For 2 people:
2 thick pork fillets (or boneless pork chop)

90 grams of panko

2 tablespoons flour

1 egg, beaten

1 tablespoon sunflower oil

Salt pepper
For the tonkatsu sauce:
1/2 teaspoon mustard powder

120 ml ketchup

60 ml Worcestershire sauce

2 teaspoons soy sauce
For it:
Lemon

Finely chopped white cabbage

Kewpie mayonnaise (optional)

Cooked rice

(Black) sesame seeds
Thanks to the website i am a food blog we discovered that there is also a method to bake tonkatsu crispy in the oven. Nice and easy and without frying air in your house.
Tonkatsu is traditionally served with tonkatsu sauce, white rice and chopped raw white cabbage. It is also very tasty to make that cabbage with two tablespoons of Japanese Kewpie mayonnaise and a squeeze of lemon juice (see ingredients list). Stir together and season with salt and pepper.
But you can also take a different approach and use the tonkatsu for a katsu sando .
> Read more about divine crispy tonkatsu (fried pork chops)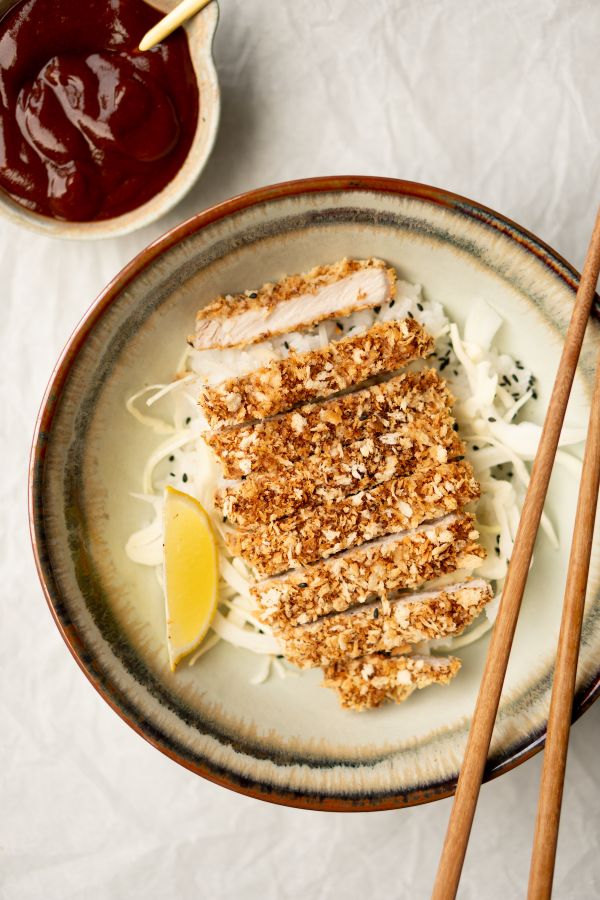 Easy tonkatsu from the oven
Preheat the oven to 135 degrees Celsius.
Toast the panko with a tablespoon of sunflower oil in a dry frying pan until golden brown. Place in a large bowl and let cool.
Next to the panko, prepare two more bowls or plates with the flour and beaten egg. Mix some salt and pepper into the flour.
Pass the fillet steaks successively through the flour, egg and panko. Make sure they are well covered with the panko.
Grease an oven rack with some oil and place the steaks on top. Make sure you place a baking tray with baking paper or aluminum foil under the rack, as a container. Slide into the preheated oven and let the meat cook for about 30 minutes. How long the tonkatsu takes depends on its size and thickness. If necessary, measure with a cooking thermometer whether the inside of the meat is about 48 degrees.
Raise the oven temperature to 220 degrees and bake for another 5 minutes, until the tonkatsu has reached about 57 degrees inside.
Remove the tonkatsu from the oven, cut into strips and serve with the rice, tonkatsu sauce and cabbage.