Making your own fries is so much fun to do and you will be surprised how delicious this recipe is. Something different than potato and just as easy to make. The mild taste of the zucchini combines perfectly with the crispy, savory breadcrumbs. To die for !
Ingredients
You need this:
3 courgettes

1 teaspoon sea salt

2 large organic eggs

150 grams of Japanese  

Panko

  (slightly sweeter and coarser than our breadcrumbs) or breadcrumbs

45 grams Parmesan cheese

1 teaspoon dried Italian herbs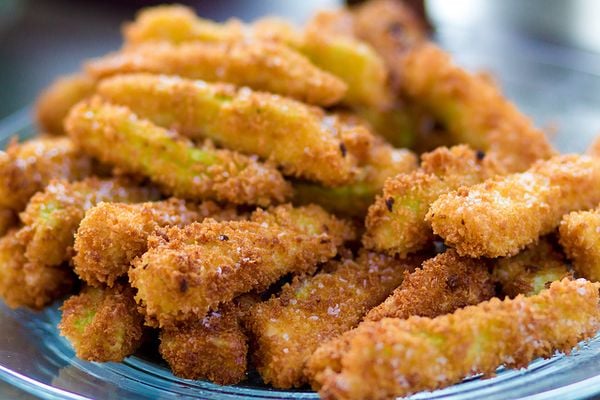 Making zucchini fries
We'll start with the fries. Cut each zucchini into strips about the size of your finger. Place in a bowl and sprinkle with salt. Leave for at least one hour.
If all goes well, you will see that they have already lost some moisture. Dry them well and remove as much salt as possible.
Preheat the oven to 220° Celsius. Line the baking tray with baking paper.
Now it's time to make the breadcrumb topping with cheese. To do this, mix the Panko with the Parmesan and Italian herbs in a bowl.
Break 2 eggs and place in another bowl. Dip each piece of zucchini in the egg and then in the breadcrumbs. Don't be tempted to dip all the fries in the egg at once: there will be too much egg on them, which means that the bread crumbs will not stick well. Place the fries on the baking tray and bake until golden brown, about 12 minutes. Remove from the oven and carefully turn them over. Bake for another 12 to 16 minutes until the fries are brown and crispy.
We can't imagine it, but if you have any of these divine fries left, you can store them in the fridge in some foil. Reheat them to 175° Celsius for about 10 to 15 minutes before use.