Do you still think that making savory dough yourself is difficult and, above all, laborious? Wrong.  If you follow the description exactly, you will have the tastiest dough in no time and it is a lot cheaper too. We're giving away our ultimate basic recipe for savory shortcrust pastry (nice and crispy) that matches well with all your savory dishes, such as quiches.
120 grams of flour

60 grams cold butter in small cubes

Beaten egg

tablespoon of cold water

Sea salt
Sift the flour into a large bowl and add a pinch of sea salt. Stir and add the butter in small cubes. Squeeze the butter through the flour with your fingertips until it looks like coarse breadcrumbs.
Then add the beaten egg and the cold water, knead the whole (with cold hands) until you have a smooth dough. For example, do this on the counter, where you first sprinkled some flour. Then wrap the dough in plastic wrap and place in the fridge for 30 minutes.
Roll out the dough on a floured work surface. Grease a quiche tin with butter or oil and sprinkle very thinly with breadcrumbs.
Carefully place the dough in the quiche mold and press it well against the edges. Poke holes in the bottom and bake the bottom blind if necessary . Place the filling in the quiche and follow the recipe for your favorite quiche or savory pie.
Bake the dough or the entire pie in an oven preheated to 180 degrees for 25-45 minutes, depending on which ingredients you use and whether you bake it blind beforehand . We definitely recommend the latter because otherwise there is a chance that the dough will not be cooked properly and that the moisture will absorb from the filling.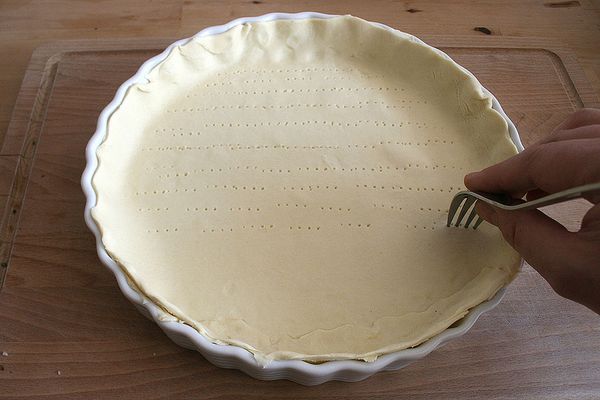 10 x Variation:
– Add 75 grams of Parmesan cheese
– Add 2 tablespoons of dried herbs such as rosemary, thyme or oregano
– Replace the butter with an equal amount of good quality olive oil
– Add 2 tablespoons of toasted sesame seeds
– Add 50 grams of roasted oat flakes
– Replace the flour for spelled flour (note: the taste will of course be very different!)
– For a healthier version, replace the flour with whole wheat flour
– Replace 50 grams of the flour for 50 grams of panel flour
– For a gluten-free version: replace the flour for 50 grams of corn flour, 50 grams of potato flour and 25 grams of corn starch
– For a skinny version, replace 30 grams of butter for 30 ml of soy milk