Another fine dish from the Culy kitchen, because this time we made a plate cake with goat cheese, tomato and roasted bell pepper. The peppers are gently braised over low heat and topped off with a dash of balsamic vinegar. The latter in particular provides a true taste explosion. 
For 1 person:
2 sheets of puff pastry, thaw

3 tablespoons crème frache

50 grams of soft goat cheese

5 cherry tomatoes on the vine

5 basil leaves

1 red bell pepper

Splash of syrupy balsamic vinegar

2 tablespoons Parmesan cheese
This recipe is made for one person, but are you cooking for more? Then multiply the ingredients and stick the puff pastry sheets together.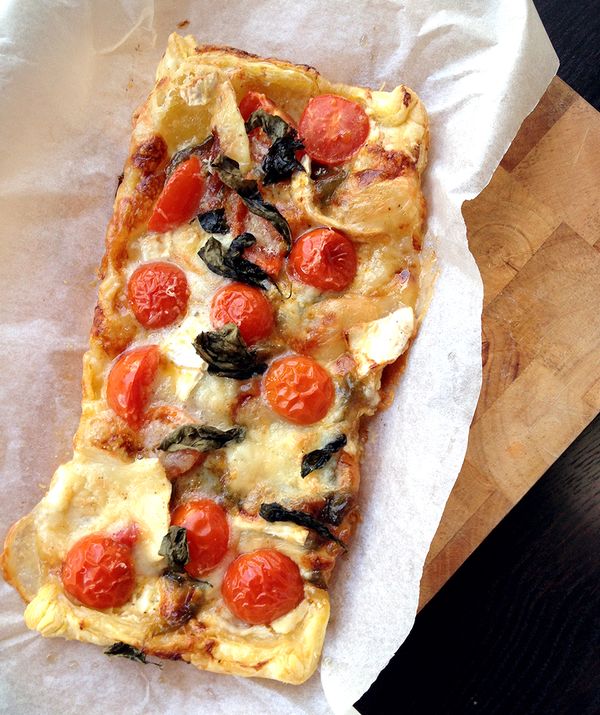 Useful tips: This is how you make a divine plate cake
This is how you make the plate cake with goat cheese and bell pepper
Preheat your oven to 220 degrees. Cut the bell pepper into thin strips and fry over low heat until completely soft. Deglaze them at the end with a dash of balsamic vinegar. Meanwhile, cover a baking tray (or oven dish) with baking paper and place the two slices of puff pastry next to each other. Make sure that one edge overlaps the other and press so that they are 'tight' together.
Fold the edges inwards an inch and brush with olive oil. Spread the crème frache on the bottom and divide the bell pepper strips over it. Crumble the goat cheese into pieces, halve the tomatoes and divide over the puff pastry. Drizzle with a little olive oil and season with salt and pepper. Finally, top with the basil and Parmesan cheese.
Bake the 'pie' in the oven for about 20 minutes until the puff pastry is cooked through and the edges are golden brown. Delicious with a green salad.
Want to make more plate cakes?
Simple caprese plate cake

Plate cake with pear, blue cheese and walnut