Did you know that you can also make French toast without milk? Handy if you just don't have that at home and still have an insatiable appetite for this luxurious breakfast. Or dessert.
French toast without milk
In some recipes, the milk for the French toast is received by water. You mix that with the eggs, sugar and cinnamon for the same kind of substance as French toast with milk.
But it can also be done completely without milk or water. In the video below we see Jamie Oliver making his recipe for the ultimate French toast. He rolls two slices of white bread in a mixture of beaten egg with a tiny dash of vanilla extract and a pinch of cinnamon.
French toast without milk and sugar
According to Jamie, the cinnamon and vanilla already provide a little sweetness in the French toast. He places a few pieces of dark chocolate between the slices of bread. So he doesn't add sugar. He still serves his dish with fried banana, hazelnuts and a spoonful of yogurt. Yummy!
You can even make French toast without milk and without sugar by replacing it with a mashed banana. Mix with egg, roll in two or three slices of bread and go with that banana.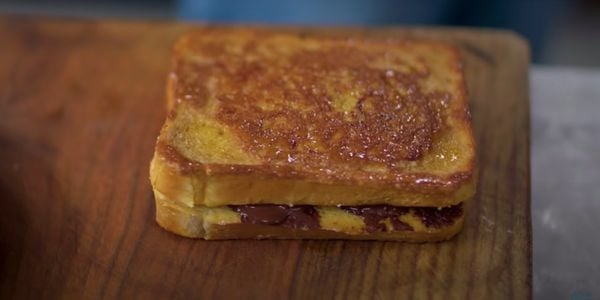 Crispy crust on your French toast
And then another handy tip from Jamie: icing sugar gives your French toast a tempting crispy crust.
While in the pan, dust the bread on one side with some powdered sugar through a tea strainer. Then immediately turn it on the sugar side in the pan, so that the sugar can caramelize into a crispy crust. Let it cool down for a while before touching the bread.
The best French toast recipes:
This is how you make vegan French toast with (winter) strawberries

French toast from the oven with crunchy cornflakes topping

Brioche French toast with bacon and banana