In every world kitchen you will come across a delicious recipe for chicken. Japanese style, South African style, with typical American barbecue sauce… Is there a preparation we don't like? We doubt it. That is why we like to provide an overview of the best marinades for chicken.
The best marinades for chicken
1. Teriyaki
Teriyaki  is a Japanese cooking technique. ' Yaki' really just means that the dish is fried. This can be done with meat, fish or vegetables. 'Teri' means shine and you get that by a marinade of, among other things, soy sauce, mirin and sake . The marinade is both sweet and salty and gives your chicken a crispy crust: very tasty.
> Recipe: homemade teriyaki chicken
2. Jerk chicken marinade
The Jamaican jerk spice mix is ​​a marinade that Jamaicans love to use for chicken (and other meats). The well-known jerk marinade contains the fiery Scotch Bonnet pepper and allspice as main ingredients, and therefore has a nice spicy taste. The spice mixture also contains fresh thyme leaves, cinnamon, ginger and garlic. Jerk chicken is incredibly tasty, if you like a little spice.
> Recipe:  Jerk chicken: marinating and roasting the Jamaican way
3. Barbecue sauce
Barbecue chick is a term that sounds familiar for a reason. The two go very well together. The sauce includes Worcestershire sauce, hot sauce and brown sugar. All things that together result in an addictive tasty substance.
> Recipe: Homemade barbecue sauce
4. The Indonesian way
If you say Indonesian, you say ketjap manis and sambal oelek. With these two flavor bombs you can make a great marinade for satay ayam. The result is a deliciously juicy chicken with a bit of spice.
> Recipe:  The ultimate recipe for Indonesian chicken satay (sate ayam)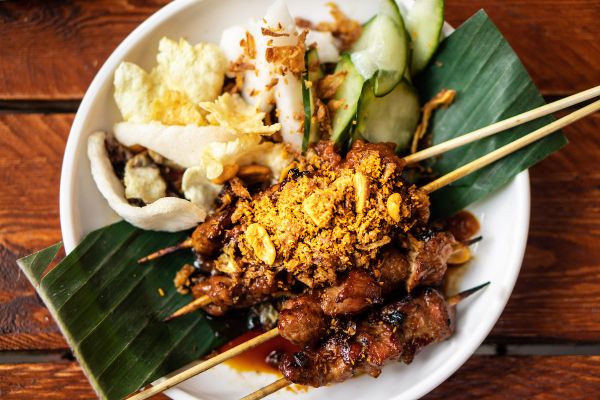 5. pesto
You may associate pesto more with pasta pesto than with chicken, but be sure that pesto has all the qualities to be a good marinade. Coat the chicken generously with pesto, let it set and bake the chicken in the pan, in the oven or on the barbecue. Delicious with risotto or with this ratatouille .
> Recipe:  Culy Discovered: a pasta workshop (+ authentic pesto recipe!)
6. Chimichurria
Chimichurri is a green sauce based on fresh herbs (for example flat-leaf parsley, oregano and chives), olive oil and other seasonings. The texture is somewhat reminiscent of pesto, but the taste is rather fresh and sometimes spicy. This green sauce is served with just about every South American dish, but you can also serve it in many ways in your own country… As a marinade for chicken, for example.
> Recipe: Homemade chimichurri
7. Sweet and sour chili marinade
For her book Particularly Simple , Alison Roman came up with an ultimate recipe for chili chicken with tart pineapple. The marinade for the chicken includes caster sugar, vinegar, sambal, chili flakes, fish sauce, and lime juice. The result is a sticky sweet and sour marinade to lick your fingers.
> Recipe:  Chili chicken with tart pineapple from Alison Roman