Pistachios are the pine nuts of the 21st century. Where we used to – and still do – generously sprinkle those divine nuts over our dishes, we now also do the same with pistachios. And let's face it, these nuts are the icing on the cake for every dish. Savory or sweet.
Middle Eastern Cuisine
The popularity of pistachios has increased due to the rise of Middle Eastern cuisine in the Netherlands. Cooking heroes such as Ottolenghi, but also Sabrina Ghayour or Honey and CO have opened the gates to all the goodies from that region. And that's quite a bit!
Since then, dishes such as labneh, babkas , tabbouleh or kibbeh have become part of our daily meal. Very often pistachios play a role in these kinds of dishes. Rightly so!
Tip : also go to the Middle Eastern supermarket, where you can often buy a bag of pistachios for a smaller price.
Lots of goodies with pistachios
Because the love for the poisonous green nuts is great, we throw in an overview: what can you use pistachios for?
Pistachio ice cream
You must have made this divine green ice cream yourself once. Instead of pistachio ice cream, try serving pistachios over all kinds of ice creams. Like Donna Hay who made a variant that can receive the prize of ice cream of the year: Matcha green tea ice cream in a white chocolate and pistachio cone . The groceries are already in our virtual shopping cart.
Salad
Pistachios make just about any salad tastier, especially because of that savory taste and crispy bite. This salad with anchovy dressing and pistachios is a real summer beauty, but a caprese with pistachios instead of pine nuts is also a golden tip. This herb salad from Bonappetit with fennel and radish is also a great side dish.
You can also make a dressing from pistachio (or a pesto ) and drizzle it over the salad. You will be pleasantly surprised!
In combination with cheese or yogurt
Pistachios on a cheese board? Count on yes! Because pistachios can undergo a kind of transformation with sweet and salty, they are the ultimate combination with cheese. A piece of brie or goat cheese (lighter, white cheeses) with a few pistachios is a real pleasure. Your drinkers will thank you.
But you can also use this golden combination very well in other dishes. Pistachios go well with white, younger cheeses, so combine your rot with mozzarella, burrata or with labneh .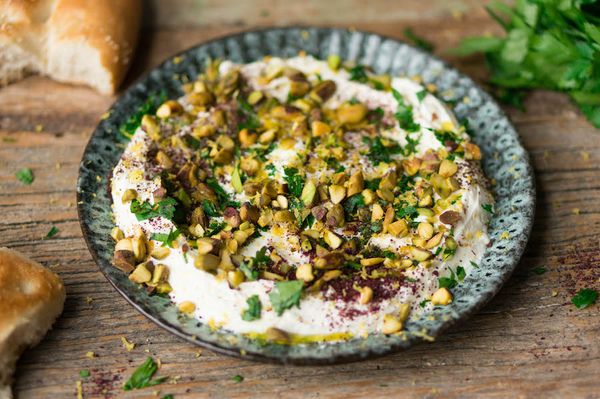 sweets (baklava)
Most people know pistachios because they are in the baklava, but did you know that there are many other sweet options as well? From pistachio muffins to pistachio cake, fudge and macarons. This seasoning is special and bakers know what to do with it. A nice tip is to make your own pistachio paste – such as this one from Rutger Bakt – so that you can prepare all these dishes in no time with its beautiful green color and taste.
Want even more pistachio inspiration?
A delicious vegetable dish: romanesco with pistachio cream, sumac and raisins

gözleme with spinach, feta and pistachios

 eggplant lasagna with minced meat, feta and pistachio