An intense Bleu D'Auvergne, smelly Epoisses or creamy brie: few things make us happier than a good old cheese board. But when should you actually cut the crust off, and when not? We figured it out.
Cheeses with edible crusts
Cheeses can be divided into several categories. For example , you have a category of cheeses with a floury crust . This includes Brie and Camembert and you can eat these crusts with confidence. In addition, you also have cheeses with a washed rind . These include Taleggio , Epoisses (that stinky cheese) and Lissome. You can also eat these crusts.
Thirdly, you also have cheeses with a natural crust (such as Tomme de Savoie, red flora such as Benedictus or Remeker Pril ). Not a big surprise, but you can also eat this type of natural rind cheese whole. Finally, there are many cheeses that have no rind at all, making them edible in their entirety. Think of fresh cheeses such as goat cheese, feta, halloumi, mozzarella or burrata – although we are undoubtedly kicking an open door with this.
You can't eat the crusts of these cheeses
You can recognize cheeses with crusts that you cannot eat by their shiny, waxy crust. Gouda or Edam are the best-known varieties: so never eat the crusts.
In addition, the hard crusts of parmesan cheese (or Grana Padano) are not recommended to eat. However, you can still make very tasty broth from these crusts, as we do in this recipe .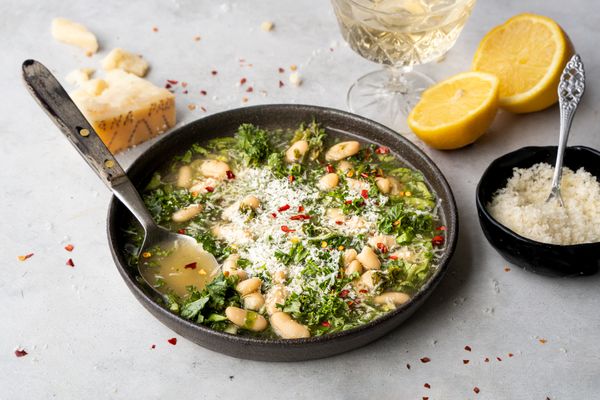 Our favorite recipes with cheese:
Chicory soup with blue cheese cream and a dash of cognac

chicken parmesan (breaded chicken with tomato sauce and cheese)

The ultimate cheese pizza with Grana Padano and mushrooms