Hummus may consist of few ingredients, but turning a smooth, creamy hummus is not that simple. Because if you've ever tasted hummus the way it should be, you know how hard it is to recreate that desirable texture at home. Fortunately, there are some principles you can stick to. Therefore: the four commandments of the best homemade hummus!
For these commandments we dived into the cool TLV VEGAN from Jigal Krant. In this colorful book, Jigal translates Tel Aviv's vibrant food scene into accessible, plant-based recipes. He is strict about hummus: "the blended chickpea misery that they sometimes split in our stomachs here should not be called choemus", he says.
So how do you create something that comes close to the velvety soft stuff you get in Tel Aviv? Well, so so.
The best homemade hummus
The importance of your chickpeas
It might be tempting to use canned chickpeas, but DO. THE. NOT. Home-cooked, perfectly cooked chickpeas are much tastier and create a finer texture. This also applies to other canned legumes, as we wrote in our recipe for boiled beans with breadcrumbs and a poached egg .
Anyway: for the best homemade hummus you buy dried chickpeas. You leave it there for twelve hours a week (so plan ahead!) and then cook it until done. You have to do something about it, don't you? And oh yes: always keep the cooking liquid, this is the ideal weapon in the battle to thin your hummus afterwards.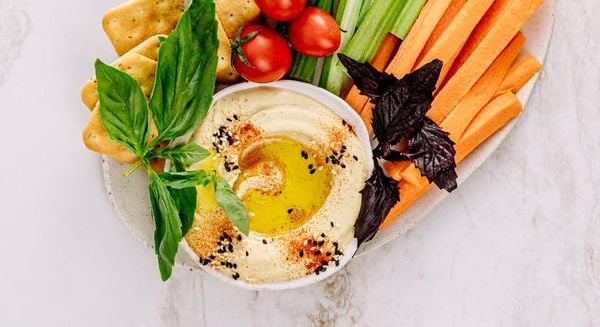 The best tahini
Just as important as the chickpeas is the tahini you use. The quality of your hummus really depends on the quality of your tahini, and believe us when we say that one tahini is not the same. You can recognize good tahini by the region of origin, oil formation, color and – of course – taste (read more about it here !). We swear by the tahini of SOUQ or the Ottolenghi acclaimed Al Arz Tahini .
Less is more
With hummus, less is more. By this we mean that you should not use olive oil, spices or other seasonings in your hummus. Not only is that anything but authentic, tasty hummus is already so tasty on its own that it doesn't need these kinds of extra flavor additions.
You do sprinkle olive oil on the hummus afterwards, just like other toppings.
The importance of your food processor
The best hummus is made in a powerful food processor with a large, S-shaped blade, it's that simple. In principle, you can also use a blender or hand blender, but it will never produce the same, velvety texture.
Basic recipe for hummus
A good basic recipe for hummus can be found in TLV VEGAN, or dive into cookbooks by reliable authors such as Yotam Ottolenghi or Claudia Roden . Dip!
We also have it for you: