Waking up to breakfast in bed with a fluffy, soft, creamy, perfect scrambled egg: isn't it a dream? Unfortunately, he still sometimes fails. With these simple tips, we'll make sure you wake up with a smile. Because you can learn this in an instant!
Step by step: this is how you make the perfect scrambled eggs
1. Knock well
There is a debate about: do you beat your scrambled eggs in a bowl beforehand or only after you put the eggs in the pan? Gordon Ramsay , for example, thinks that you already beat enough in the pan so that the scrambled eggs are already fluffy enough. Others think that you have to beat well in a bowl to achieve that ultimate fluffiness. We did extensive research and, as far as we are concerned, knocking well in advance really does ensure a better result.
The first step is therefore: break the eggs into a bowl, about 2 per person. Beat well so that the egg yolk and egg white are well mixed.
2. Non-stick pan, spatula and butter
The right pan is very important for perfect scrambled eggs. Eggs already solidify at low temperatures and with a bad pan the egg will stick to the bottom and things will go wrong in advance. So use a good saucepan or frying pan with a perfect non-stick coating.
Pour the eggs into the (cold) pan, along with a knob of butter. Have a good silicone spatula ready for continuous stirring. It's not called scrambled eggs for nothing .
3. Keep stirring, take your time and stop in time
As the word scrambled eggs say, you have to keep stirring the entire time you prepare the egg. Don't worry, it won't take longer than a few minutes. Turn the heat to low and keep stirring. Remove the pan from the heat every now and then. The egg will continue to cook because the bottom of the pan stays warm, but you can control the temperature better this way.
Are the scrambled eggs 75-80% ready (so still a little wet)? Then remove it completely from the fire. Keep stirring gently. You will see the egg cook through and reach just that perfect softness. Serve quickly as you don't want it to overheat.
 4. The perfect French-style scrambled eggs
In France they do it a little differently, but definitely worth a try. Put a pan with water on and bring it to a boil. Place the bowl with the beaten egg on the pan over the boiling water ( au bain marie ). Keep stirring with the spatula until you have reached the right degree of doneness.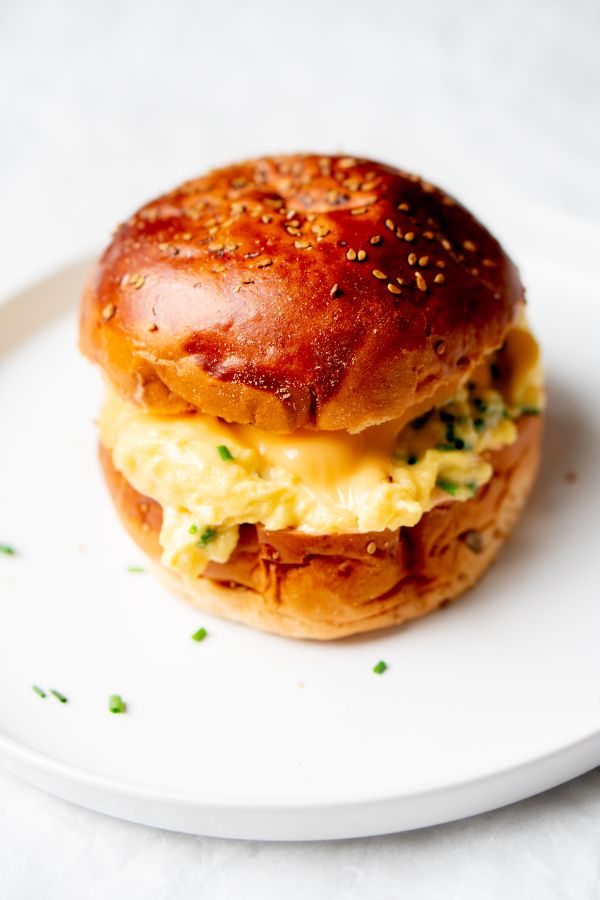 Tasty recipes with scrambled eggs:
brioche with scrambled eggs and Srirachamayo from Eggslut

Japanese rice bowl for breakfast with scrambled eggs and nori

Super simple scrambled eggs a la bearnaise