You know it's spring when you see lush growing magnolia trees everywhere. They come in pink, white, white-pink and many more colors. But did you know that you can also eat and drink magnolia? More and more cooks and soft drink makers are using the flowers as a seasoning.
Kombucha with magnolia
For example, we recently drank Butcha 's delicious kombucha in their latest flavour: Raspberry & Magnolia. The drink is brewed with chamomile, red pepper and Indian black tea. But the most pronounced notes are those of raspberry and magnolia. It yields a kombucha that is not as sweet. It has a mature, floral taste. Really delicious.
The soda makers of the Roze Bunker also harvest the flowers from the magnolia to make a tasty drink. They called on their followers to donate the flowers. They then made a spring syrup with 150 kilos (!) of magnolia flowers. Also includes raspberries, spruce tops, a hint of ginger and aromatic hops.
Magnolia in your food
So you can make delicious drinks from magnolia. But the flowers also do well in dishes. Restaurant Choux in Amsterdam, for example, once served us a dish of semolina, cooked in magnolia milk with crunchy biscuit crumbs, pistachio and lemon thyme. It was accompanied by a compote of raspberry, rhubarb and rose, with fresh strawberries.
At Calla's in The Hague and RIJKS* in Amsterdam, for example, they made magnolia ice cream again.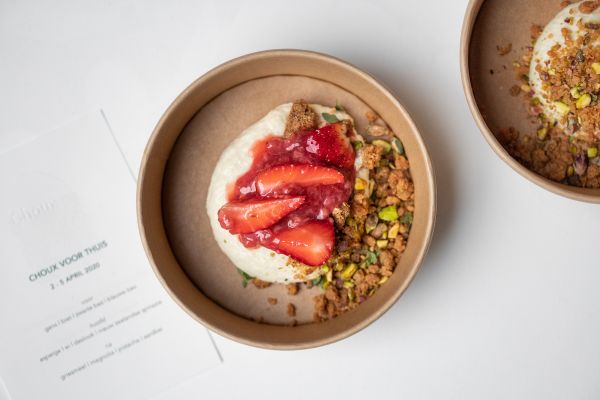 What does magnolia taste like?
Magnolia flowers are therefore edible. But: how do they taste? According to the website wildplukken.nl you can taste a hint of ginger raw, with a sweetness and a bitterness. They also give you a recipe for magnolia sorbet with yuzu parfait (yum!) and for pickled magnolia flowers.
If you want to get started with those flowers from your garden, we recommend that you start by making magnolia syrup or vinegar. The Girls of the Vegetable Garden have nice recipes for that. In fact, you simply let the leaves 'stew' in the syrup or vinegar. Give it a try: after all, it would be a shame to just throw the flowers away once they start to fall. Be quick though: the flowering period usually lasts from April to May…