Barbecuing is great fun, but cleaning up afterwards less so. Especially if you accidentally leave the bbq overnight… Let's throw that bad habit out of the door in any case, because besides sticking extra it is also unhygienic and of course you don't want that. To help you, we give 6 handy tips on how to best clean the bbq.
Cleaning BBQ
1. Start immediately
Okay, you really don't have to start the big cleaning of the bbq when everyone is still having a drink, but do take the necessary measures when everyone is at home. Place the grid in hot water to pre-soak, clean up the rest of the mess and then brush off the dirt from the grid.
2. Use a good brush
Use a coarse brush to remove the caked food, because that can be quite a job. But a good brush is half the battle. Learn about the different types of brushes and choose one that best suits you and your bbq. Only use that specific brush to clean the bbq.
Tip : always brush away from you, because slipping with such a brush can be painful.
3. Use a cleaner for cleaning the bbq
In addition to pre-soaking and using a good brush, there are also professional barbecue cleaners on the market. They are a quick fix and can ensure a shiny barbecue again in no time. Always rinse well a few times to wash off all residue.
4. Clean the bbq with vinegar
A well-kept kitchen secret is cleaning a grill or grate with vinegar . This is for the real pros, so pay attention: make sure the grid is still hot, make soapy water with a lot of vinegar and hot water and pour this on the hot grid.
Don't put your head in the vapor that comes off, because it smells really bad. Immediately brush off the caked-on food remnants, you will see that this is very easy.
Tip : don't do this indoors, because it smells really bad!
5. Clean the grill of the bbq with an onion or lemon
This tip is one for a bbq tile. Do you start barbecuing and do you notice that the grid is still a bit dirty? Cut a lemon or large onion in half lengthwise. Make sure the grid is hot and rub the lemon or onion over the grid, this will remove the last dirty remnants and it also smells delicious.
Handy to use is a pair of pliers , just like that coarse brush, a tool that should not be missing in the bbq.
6. Clean the entire bbq
Let the coals cool, this can be done with sand, and scoop it out of the bbq. Rinse the bbq well and dry the grill and the bbq before you put it back in the shed. The next time you can go back to the bbq without any hassle (that rhymes!).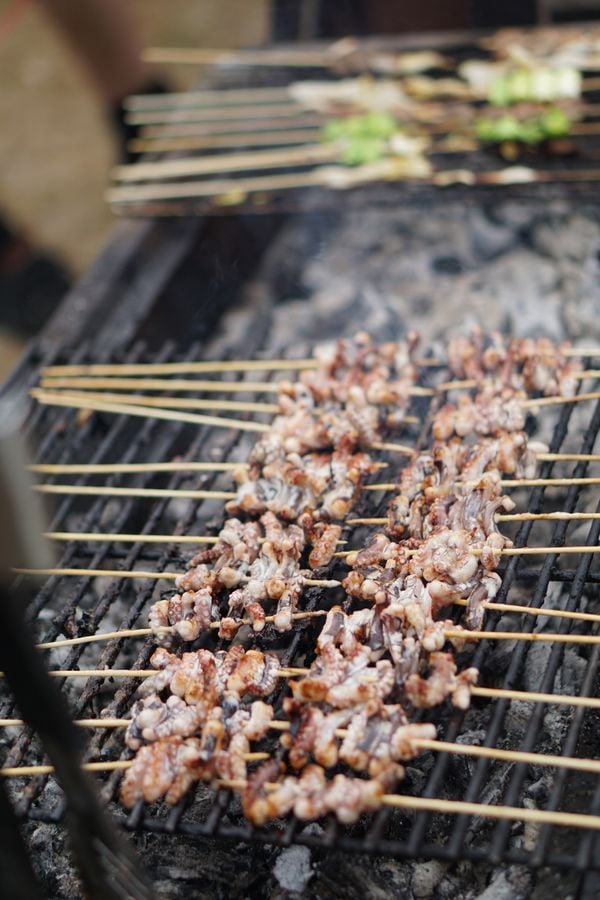 Delicious for that clean barbecue?
Barbecue plantain with chorizo ​​and lime

Pumpkin with burrata and pesto from the barbecue

Horrible Grilling: Whiskey Can Chicken from the barbecue