Alison Roman, Yotam Ottolenghi, Molly Baz and many others swear by it: cooking with anchovies. Why? Because it gives dishes a delicious full taste. The advantage of anchovies is that it only really starts to taste fishy if you use it in large quantities, so in fact it gives more character to your dishes in a subtle way. We also have a can of anchovies at home as standard. Although that can has recently been joined by anchovy paste from a tube, a recent food find …
Anchovy paste in a tube
The anchovy paste ('Pasta di Acciughe') we're talking about is from the Italian brand Orco. We bought it at the Italian wholesaler in Amsterdam . Aren't you coming there soon? You can also order equivalent pastes, such as this anchovy paste from Zarotti .
Anyway, why is such a pasta such an added value on top of a can of anchovy, we hear you ask? Because you don't always have to open a can, first of all. But also because you can dose it even more easily. And because in terms of taste it is hardly inferior to the fish as a whole. Taste one dot of it on your fingertip and you'll understand what we mean: deeply salty, intense and ultimate umami.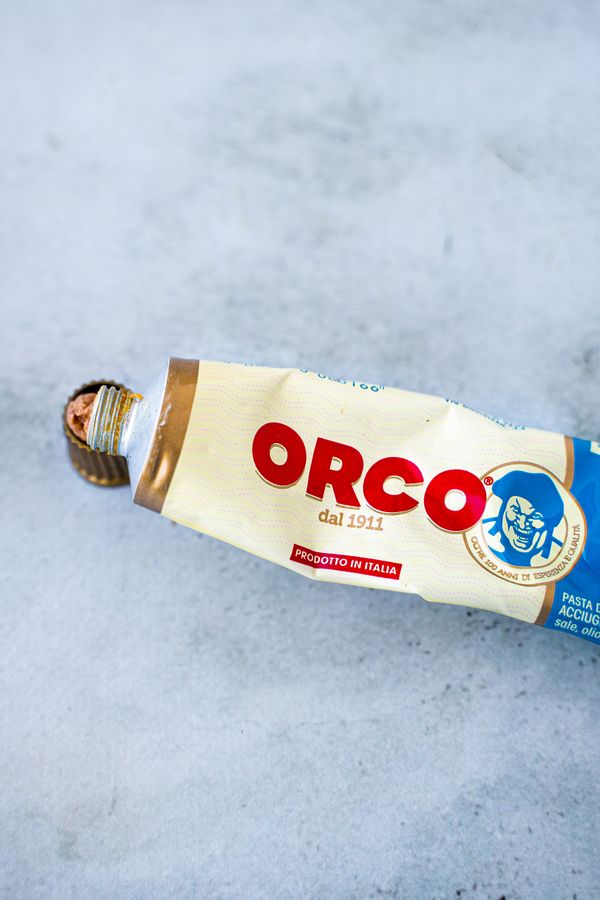 This is how you use the pasta
The first destination for the anchovy paste was on pizza, in small tufts. Not only does it make a margherita more exciting, you can also come up with all kinds of creative combinations with it (such as beetroot slices, wasabi mayo, lemon zest and so the pasta – thank us later ). Since then we also use it to our heart's content in marinades (very tasty with grilled vegetables) or we add a little bit to the oil in the pan when we fry fish or meat.
You can also mix the pasta very well with some butter (melt it a bit beforehand), for a criminally delicious snack butter. And do you make pesto? Add some of the anchovy paste and you immediately give it more depth.
And in case you didn't know, anchovies and tomatoes are a dream wedding. We usually add a little to our pasta sauce (as the Pasta Grannies do here in their tomato anchovy sauce recipe ) , or make a mixture of extra virgin olive oil, fresh lemon juice and the pasta for a criminally delicious marinade for a cold tomato salad (also delicious with extra avocado and/or mozzarella!).