Tasty, healthy and fast: you will find this magical combination in this bottle of tahini noodle sauce from Nojô. And that's pretty clever for a ready-made sauce, because it often lacks tasty and healthy ingredients. The noodle sauce is made according to a Japanese recipe with a pure list of ingredients. A lifesaver on busy days, if you ask us. That's why we're happy to recommend it to you.
Asian flavor boost
The mastermind behind Nojô's sauces is the British Simona Deifta. As a hard-working mother in London, she doesn't have time to spend hours in the kitchen, while she does love good food.
She found the answer to her daily struggle by making quick sauces that give every dish an Asian flavor boost. Nojo was born. I-de-aal, because anyone who cooks Asian knows that you often need a dozen different bottles to give a dish taste. But at Nojô you will find everything in one bottle.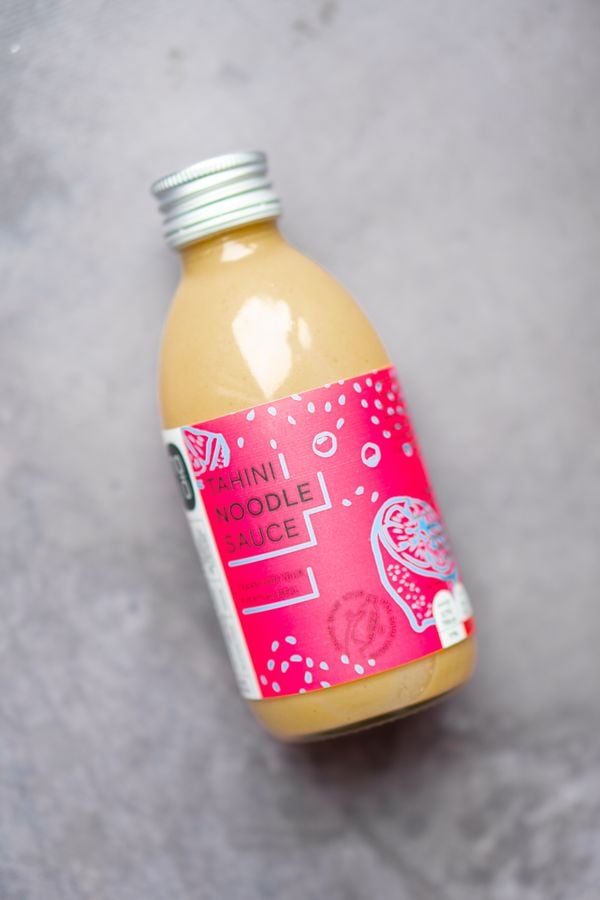 Fan of Nojo
By the way, those bottles look extremely charming and the sauces also invite you to quickly and creatively cook. The tahini noodle sauce is very tasty with noodles, falafel and tacos, but also with a piece of meat or fish. It also seems like a handy replacement for techina, for example on a sabich sandwich or in a falafel salad.
But there is more: Nojô's white miso sauce is great for making nasu dengaku ( miso aubergines ), or a surprisingly tasty salad dressing. And Nojô also has a yuzu dressing, pokebowl sauce with orange and a nice teriyaki dressing for you. We see endless possibilities before us…
Where to buy?
You will not find milk, gluten or artificial additives in it. The sauces can be used both hot and cold. What's not to love ? We are fans.
Nojô is for sale in the Netherlands through online supermarket Crisp .