On August 19, Culy celebrates her 10th birthday. You understand: we cannot let that pass unnoticed. We therefore like to highlight our tenth anniversary. This time 10 x favorite ingredients from Culy's Winnie.
10 x Culy's Winnie's Favorite Ingredients
 1. Sichuan oil
When Culy's Winnie came into contact with Sichuanese cuisine , a whole new world opened up for her. How is it possible that that floral, wildly spicy pepper – the Sichuan pepper – is no longer part of our daily lives? Admittedly: you have to know how to dose the Sichuan pepper a little, although it is easier with the Sichuan oil made from the pepper. She likes to drizzle it over her noodle dishes or with the iconic regional dish mapo tofu .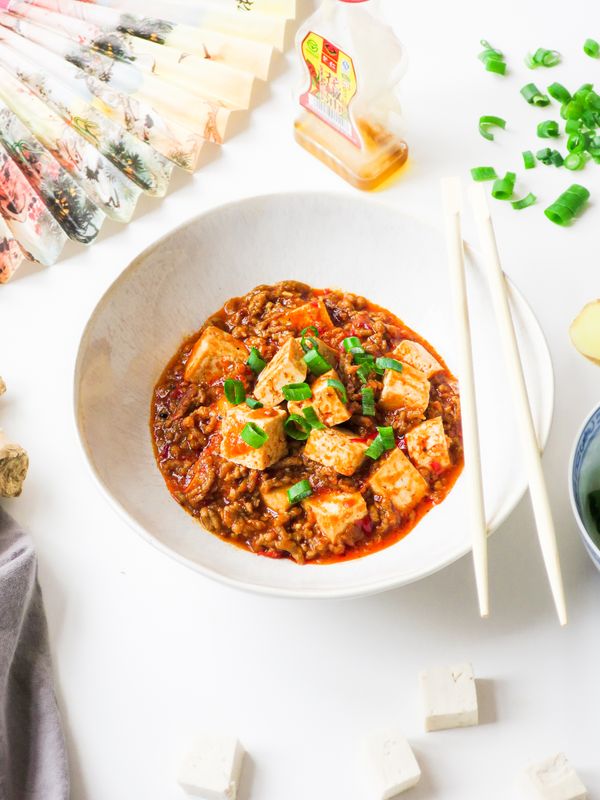 2. Pimientos de padron
When she lived in Barcelona for a while she developed a small addiction to pimientos de padrón : those green peppers that are fried with a lot of oil and coarse sea salt and are served as tapa. The fun is mainly in the fact that every plate of padrones contains at least one very hot pepper that will set your mouth on fire (you can read exactly how that happens here ). Normal people avoid that pepper, Culy's Winnie on the other hand.
3. Candied lemon
Candied lemon not only makes tajines and Arabic stews more interesting, it also makes delicious dressings for salad or fish. Culy's Winnie's favorite is a combination of pickled lemon, yogurt, cream and a pinch of salt, mixed into a smooth dressing like in this recipe . That is almost dangerously delicious, especially with fresh potatoes.
4. Nutmeg
Is mashed potatoes even mashed potatoes without a good pinch of nutmeg? We highly doubt it. In addition, nutmeg is also a very good way to give tomato preparations more depth, such as in this tomato risotto with parmesan and lemon . And when Culy's Winnie tasted a dessert at Vanderveen that consisted of a nutmeg bottom filled with fresh blackberries, caramel and chocolate strands, she knew completely: nutmeg is an undervalued spice.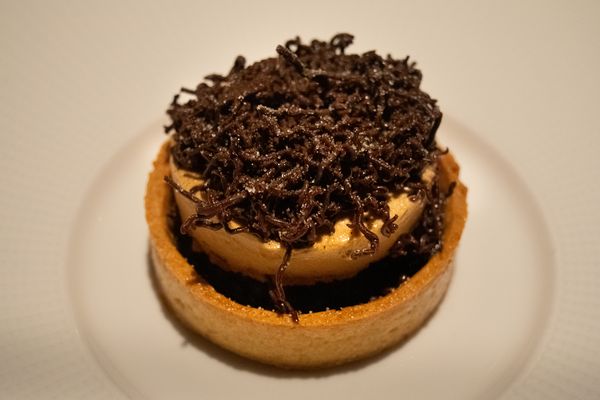 5. Coriander
Yes, Culy's Winnie is aware of the science about a so-called ' coriander-taste-of-soap gene ' and yes, she does her very best to like people who have this gene, but no: she understands it doesn't. Coriander is by far Culy's favorite herb (minus extracted from fresh basil, though).
It's simply one of the most interesting flavors she can think of and it makes all of her noodle salads, rice bowls and tacos tastier, fresher and better. Only when she cooks Italian does she stay away from it – she is such a purist.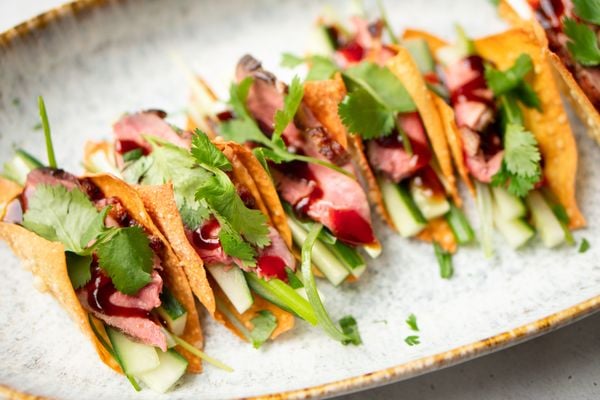 6. Fresh fish
Why would you still buy your fish in the supermarket when you know that you can get a much tastier piece at the fish shop further down the road? Not that she does that every day, by the way (Culy's Winnie also eats vegan very often), but if she does, she does it well. Whether it's a nice piece of pulpo , sea bass for ceviche or scallops when it can be a bit more chic: very few can match fresh fish.
7. (Baby) corn
If there's one thing Culy's Winnie can have serious cravings for throughout the day, it's canned baby corn. #random, we know , but there's something about the bite that makes her addictive. In any case, corn is just a fantastic ingredient. And we're not talking about mixing a can of corn kernels through a salad, but more about a fragrant corn soup , Mexican esquites or even in desserts.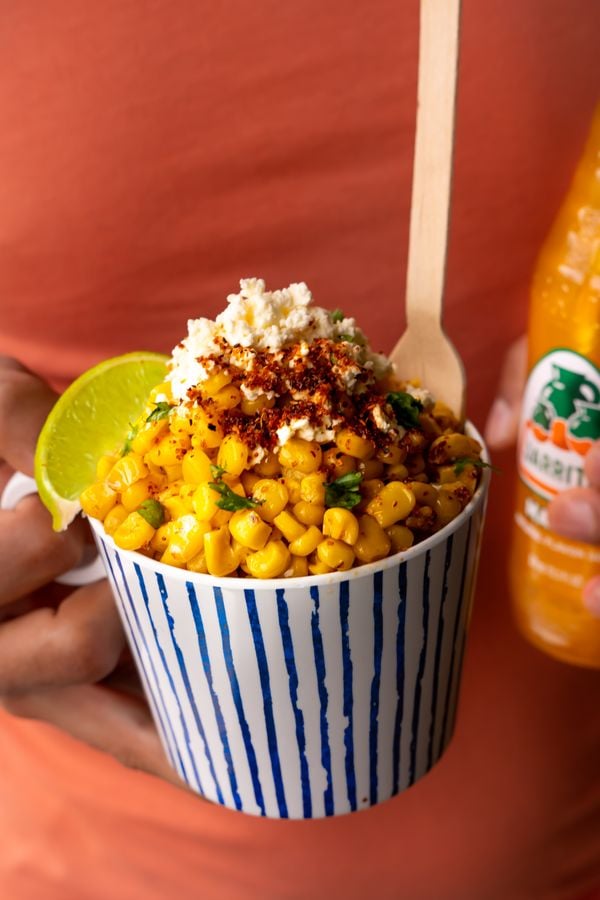 8. Rice Noodles
By working from home, Culy's Winnie has already put quite a few home-work lunches on the table. This usually happens in phases: she has already gone through a tomato phase or an instant noodle phase (yes really, she ate it sometimes twice a day to shame), but she is currently in the rice noodle phase. In the simplest model, she combines rice noodles with pickled radishes, cucumber, peanuts and a quick soy sauce-ginger-rice vinegar dressing – if she has more time, feel free to add some mango, avocado, baby corn, coriander, mint and an egg.
9. Crispy chili oil 
If a fire ever breaks out in her house, her stash of crispy chili oil will probably be the first thing she's going to save. The one with tofu and chicken is fantastic, but the regular or the one with peanut is invariably in the pantry too. The angry granny on the label likes to take them.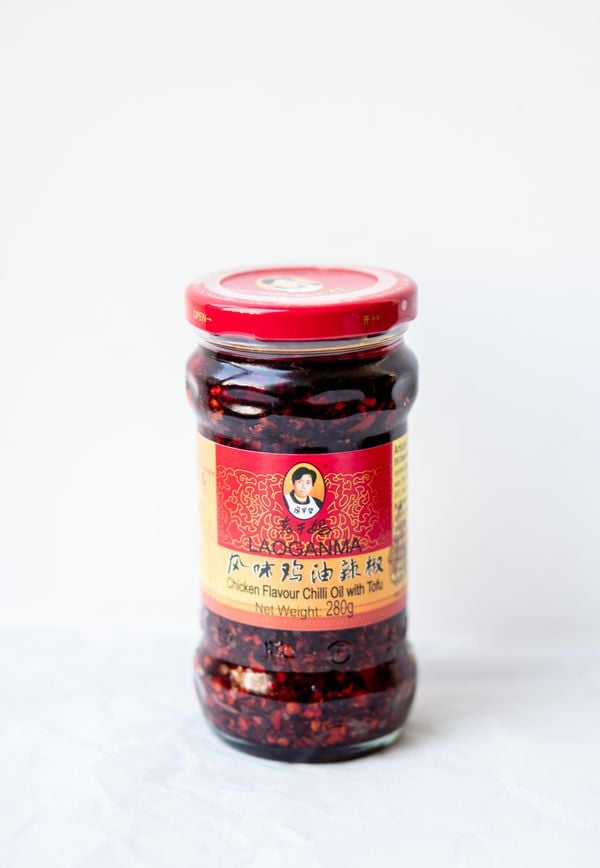 10. Salciccia
When Culy's Winnie first went shopping in the Italian wholesaler Novitalia Appetito , she came home with an outrageous amount of groceries (we'll cover up the amount she was told at the cash register). 30 percent of that probably consisted of salciccia, that tasty Italian sausage meat. For those with fennel, you can wake her up at night (and that's quite an exceptional fact). Her favorite recipe with salsiccia is this lasagna with sausage meat, spinach and ricotta .