Thinking about what to eat every week can be quite a challenge. To ensure that you do not put the same dishes on the table every week, we are happy to inspire you with handy weekly menus. This week, the KNMI weekly menu mainly features rain, drizzle and pipes. So no 'it's raining sunbeams' – but it's raining warm, autumnal comfort food.
From (heart) warming soup to simple oven dishes: you should not miss this weekly menu.
Need more inspiration? View all weekly menus!
Oh, and are you preparing one of these recipes next week? Take a picture of it, share it on your stories (or your Insta-grid) with  #culyhomemade  and  @culynl  and we'll share your picture via our  Instagram account !
Monday
As far as we're concerned, it's no coincidence that 'Monday' and 'easy' alliterate so beautifully. We don't miss the chance for an easy Monday recipe – and by that we mean this traybake full of autumn vegetables.
The baby potatoes, parsnips and oyster mushrooms are in a pleasant company with bacon and rosemary. If you want a vegetarian version, vegetarian bacon works great too!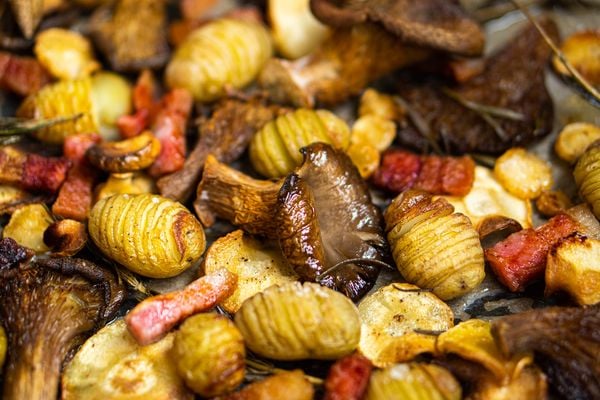 > To the recipe: Culy Homemade: autumn traybake with small potatoes, bacon, parsnip and oyster mushroom
Tuesday
When we say 'sweet soup' and 'lots of melted cheese', what do you say? Correct: French onion soup! And that is not only tasty and comforting, but also nice and cheap .
Culy's Nancy made a recipe with no less than 5 different types of onions. Can we officially call it culinary comfort food?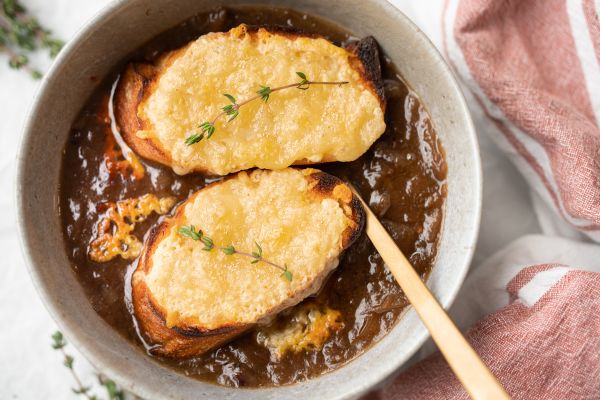 > To the recipe: Culy Homemade: French onion soup with 5 types of onions
Wednesday
Sauerkraut dish boring? Not with this twist! We made the casserole with a Surinamese touch by seasoning the minced meat with masala, trassi and sambal with Madame Jeanette .
Also nice: this dish is very easy to freeze and reheat. Ideal for a hearty lunch on Thursday, or to save for next week.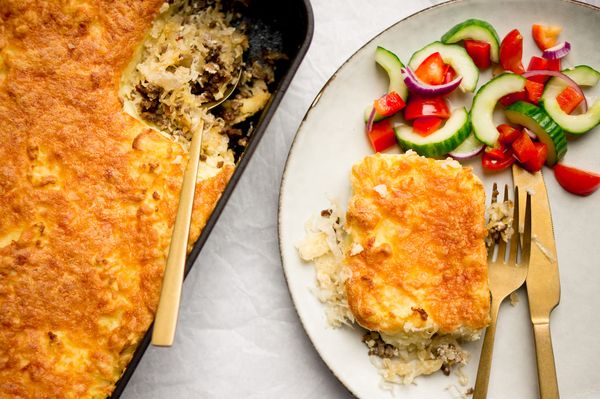 > To the recipe: Culy Homemade: Surinamese sauerkraut dish with sweet and sour

Thursday
Have you ever made roasted cauliflower? That's delicious in a lot of dishes, from your risotto to hummus (yes, really). In this case we mixed it with the ultimate comfort food: pasta.
The pasta has a perfect combination of sweet (raisins, kalamata olives) and savory (cauliflower and cheese). Every bite a new sensation – just the way we like it.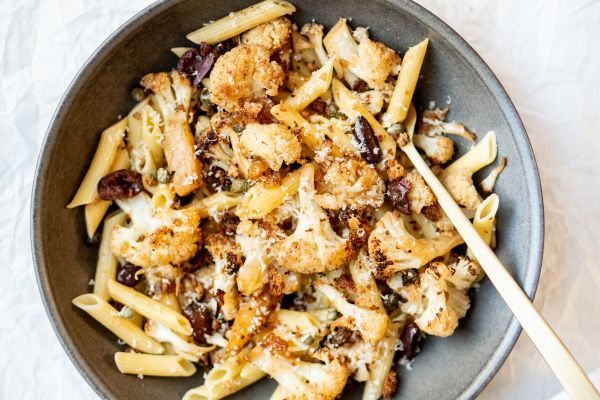 > To the recipe: Culy Homemade: savory-sweet penne with roasted cauliflower and raisins

Friday
More soup? Yup: more soup. And not just any soup, but delicious vegetarian ramen!
We made it with shiitake, tofu and leftover roasted pumpkin. We add miso to the stock for an indispensable umami flavour. It doesn't get more autumnal than this – and it also looks beautiful when you have guests.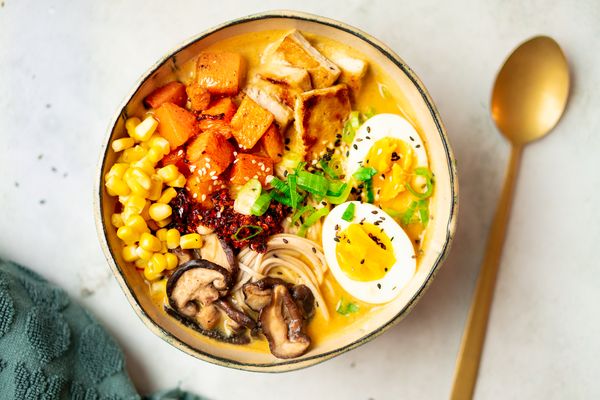 > To the recipe: Culy Homemade: delicious vegetarian ramen with miso, pumpkin and tofu

Saturday
Do you always make risotto with white wine? So did we – until we tasted this dish. Because what can be done with wine, can also be done with beer! That may feel less Italian, but it does scream 'autumn' (can you hear it?).
The dark beer is a fantastic match with the mushrooms and peanuts. And because we use nutritional yeast instead of cheese, it's vegan too. The nutritional yeast , which you can buy in various supermarkets and the Holland & Barrett, also gives a nice savory taste.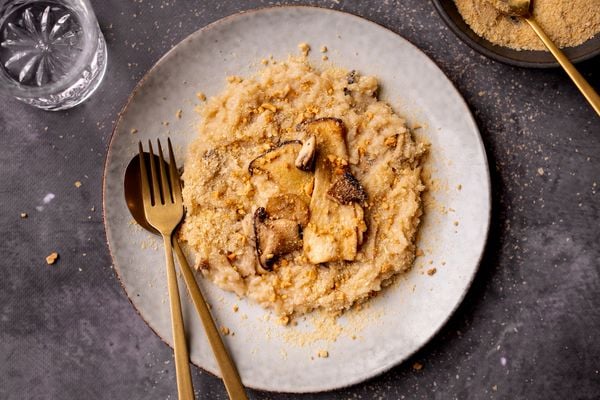 > To the recipe: Culy Homemade: risotto with beer, mushrooms & peanut crumbs

Sunday
You can never have enough pumpkin in the run up to Halloween (and after that, for that matter). We are therefore closing this weekend with another nice warm dish from the oven, this pumpkin gratin with sage.
Sounds very culinary, is very easy. Especially if you buy your pumpkin already pre-cut; that saves you the slaughter of such an enormous orange monster.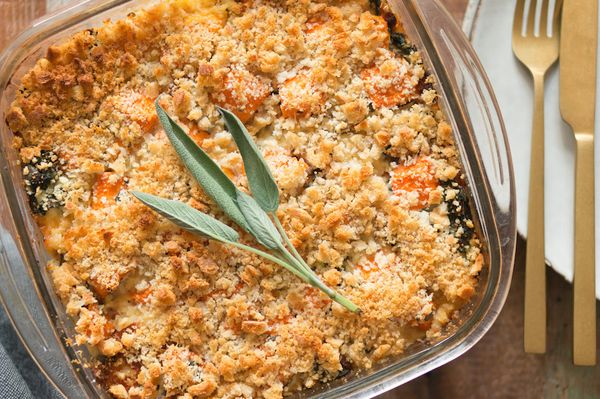 > To the recipe: Culy Homemade: pumpkin gratin with sage and Parmesan cheese