Chop Chop. A lot of time in preparing a meal is spent cutting ingredients. Now you can like that a lot, a little less or not at all. This often has to do with speed. But sometimes you just have those days when you don't want to cut anything. You can and should and you don't have to be ashamed of that at all.
That's why the list of lists for everyone who doesn't want to cut anything for a day (or a week).
6 x recipes that you don't have to cut anything for
1. Simple pastas
You don't have to cut pasta. Unless you make the paste yourself, but the suspicion is that this is not the wish at the moment. Mix the pasta with as many tasty things as possible that you don't need to cut.
Cook the pasta and mix it until piping hot with, for example, cherry tomatoes, olives, capers, sun-dried tomatoes, king prawns and arugula , cheese, lemon, olive oil, oregano and basil. Mama Mia!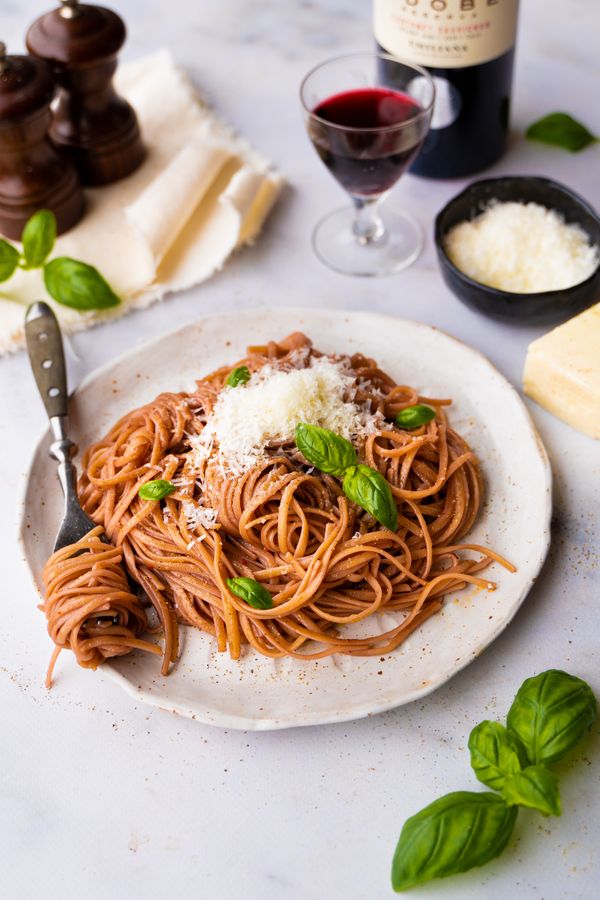 To the recipe: Culy Homemade: drunk spaghetti with red wine, Pecorino and basil 
2. Quiche (Lorraine)
The quiche is a welcome guest at the Dutch dinner or drink table. And if you don't have to cut anything at all, you're completely bacon (even literally, because you also have to use bacon, ha!).
A classic quiche Lorraine contains only bacon strips, eggs, pie dough and crème frache. Add a few green asparagus (whole), smoked salmon or blue cheese and you also have a nice twist. And that with hardly any carving!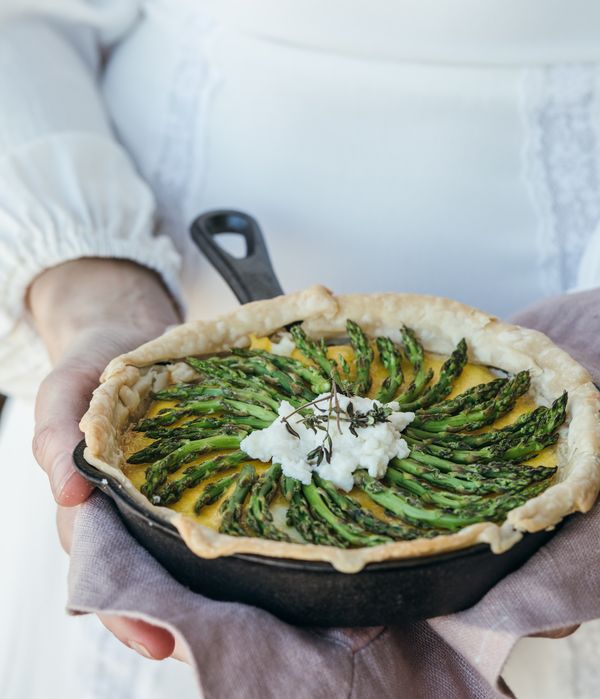 3. Go wild with tubs of lettuce
Lettuce tubs are so cute, you'll want to have them on the table sometime. Baby romaine heads are perfect for filling and serving as a (healthy) snack. Fill them with canned black beans, crumbled feta, corn and smashed avocado , according to a Self recipe.
Or opt for the Culy variant with pistachio dressing and lots of herbs (which you can chop in the blender). Plenty of options!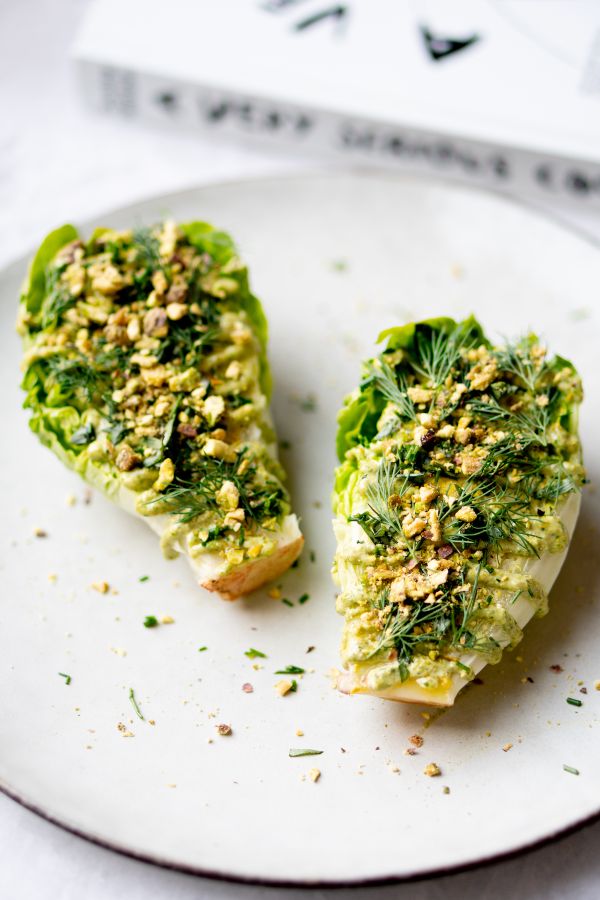 To the recipe: Culy Homemade: baby romaine lettuce salad with pistachio dressing  
4. Chili con or sin carne
Bean dishes also lend themselves very well to the 'no chop principle.' After all, beans and legumes do not need to be cut. Throw together some beans, tomato passata and canned corn and you already have a quick chili sin carne .
If you first stir in a little minced meat, then you have the con carne variant. In any case, don't forget to add the seasonings, they finish the chili completely. Think of cumin, coriander, lime, smoked paprika or chili powder. Or make a very special one: with espresso.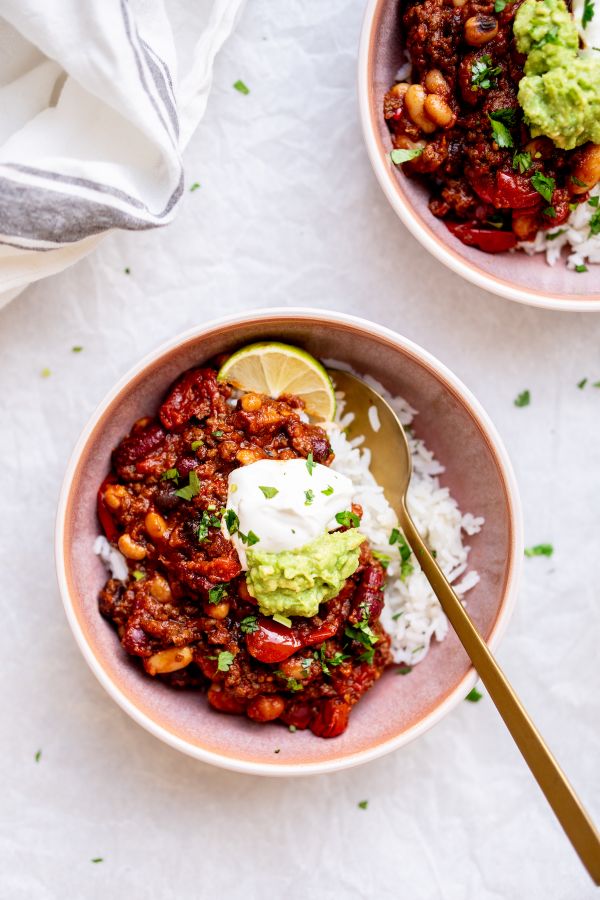 To the recipe: Culy Homemade: chili con carne with espresso and five kinds of beans  
5. Garlic Soup (and almost all other pureed soups)
Pureed soups are perfect for many moments, with little work you have a delicious meal on the table that makes young and old happy. Boil vegetables in stock such as peas, tomatoes, spinach or cauliflower, possibly add a little cream, puree, season… A child can do the laundry.
But also check out this genius pumpkin soup from Recipetineats , where you don't have to cut or use a pan. Yes really!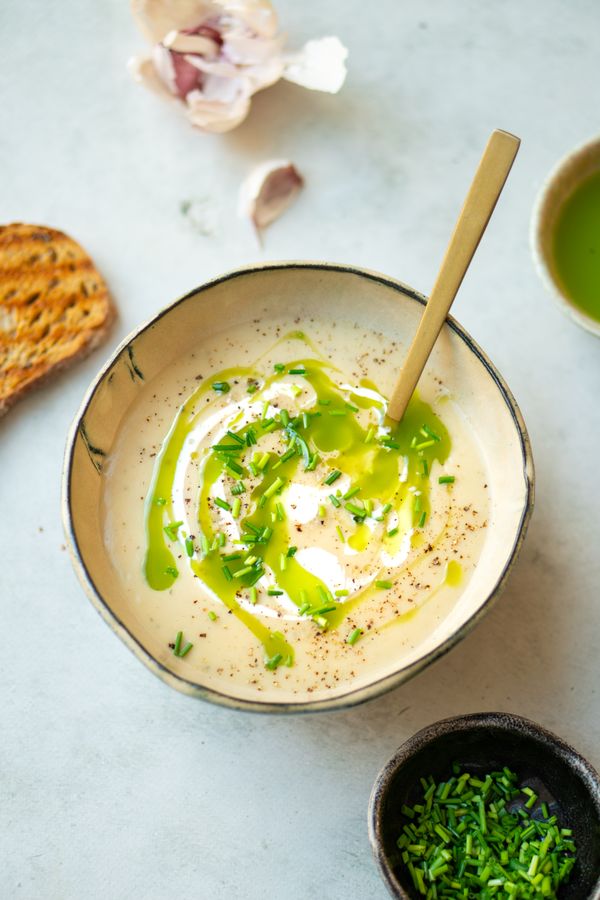 To the recipe: Culy Homemade: roasted garlic soup with green herb oil
6. Pizzas that don't require cutting
A delicious no-brainer is also one of our big favorites: pizza! Cheese can be grated, picked or sprinkled over it. You can tear mushrooms and slices of salami, chorizo ​​or other sausages are already conveniently pre-cut.
But take it a step further and think about a folded pizza like this calzone with squid (okay, you have to cut the garlic and pepper, but that's about it) or a sweet pizza (like this chocolate chip cookie pizza from Foodfanatic) for dessert. That's a good start to your weekend!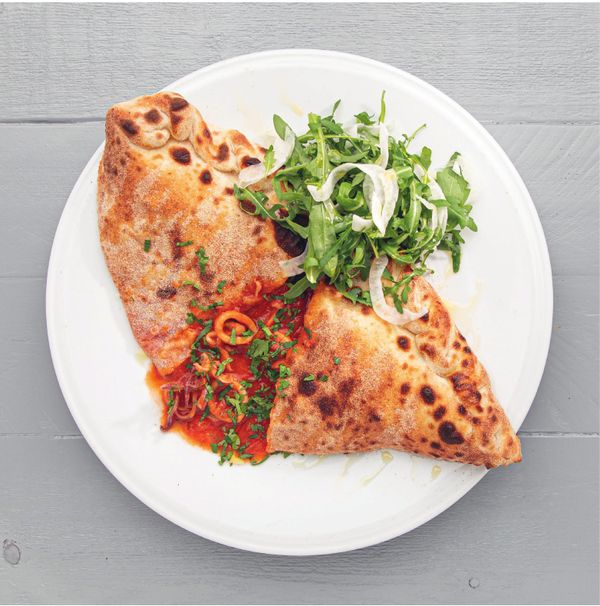 To the recipe: Calzone with calamari piccante from De Pizzabakkers