Parties cry out for cocktails, and that only applies more to New Year's Eve. The better the cocktail, the better the New Year – right? Whether you like fresh party cocktails or warm wintery:  we've got you covered  with these New Year's Eve cocktails.
So 2022 must be fantastic. 🙂
The best cocktails for New Year's Eve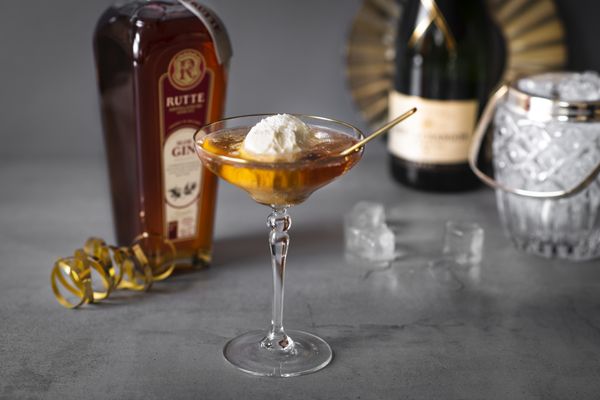 The ultimate cocktail for New Year's Eve: a Sloebetto Royale with champagne
Who says the bubbles have to wait for the clock to strike 12? This fantastic cocktail with champagne and ice is the perfect dessert after a festive New Year's Eve dinner. And if you pour enough of it, some nice memories of the year will probably come to mind during the after-dinner drink… In short: a perfect cocktail for New Year's Eve.
You make the cocktail with 50 ml Rutte Sloe Gin, 100 ml champagne and 1 scoop of lemon sorbet . (The Sloe Gin is a somewhat fruitier version of normal gin.) Pour the lemon sorbet into an ice cold cocktail glass, add Rutte Sloe Gin and fill the glass with champagne. Done!
A fresh mojito
Fresh into the new year: isn't that exactly what we all want? To set the tone, spend an evening drinking delicious mojitos. You make it with 2 tablespoons of cane sugar, the juice of half a lime, mint leaves, 90 ml sparkling water, 45 ml white rum and some ice cubes .
Place the sugar, lime juice, mint leaves and sparkling water in a tall glass (or cocktail shaker) and crush with a  muddler . Add the rum and ice cubes and shake well. Caramba!
The classic: a gin and tonic
The secret to the best gin and tonic? Simple: both the gin and the tonic must be of excellent quality. Add a good garnish  and voila –  it doesn't get much easier. You can find our favorite gins and tonics here .
Gin and tonics are made with one part gin (30-50 ml) to three parts tonic (90-150 ml) . Fill a long drink or nice wine glass with lots of ice cubes and add the gin. Then add the tonic and top with garnish , such as fresh basil and cucumber or apple and cinnamon.
Prefer an original variation of this classic cocktail? Our favorite variations can be found here: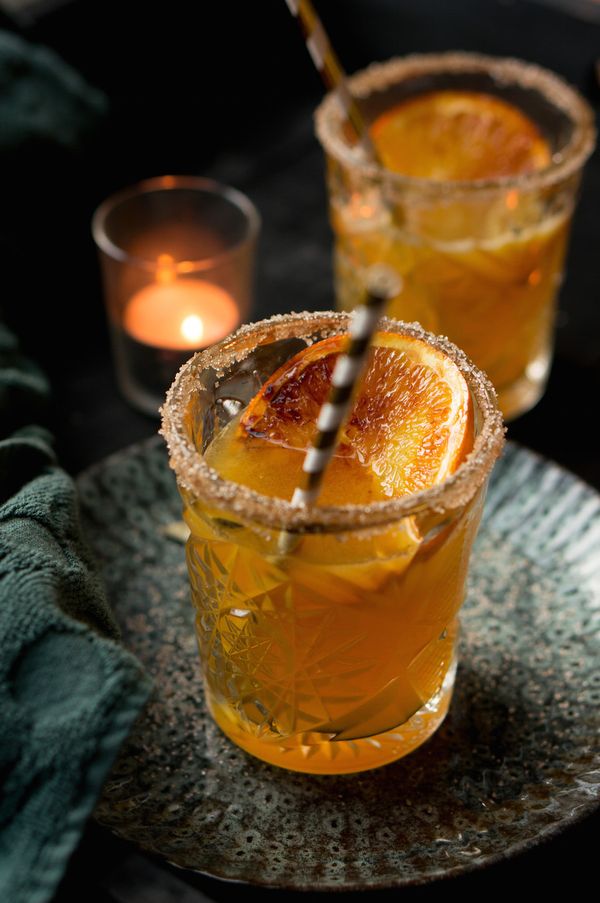 A winter cocktail with orange brûlée
All nice and nice, those fresh cocktails – but after the last evening walk of the year you really want something to just warm up inside. That is perfectly possible with this winter cocktail with orange brûlée! You make it with apple cider, orange juice, bourbon, amaretto and Angostura bitter .
Extra fun: you serve it with a festive sugar rim and a slice of caramelized orange. To enjoy.
The Powerful Negroni
Bittersweet: That's roughly how the flavor of the popular Negroni is described. Let's just hope that doesn't also apply for the coming year… You actually drink the Negroni as an aperitif for a festive dinner, but it is also a great counterpart to your oliebollen with loads of powdered sugar ( guilty ).
Use 30 ml of gin, 30 ml of Campari and 30 ml of sweet red Vermouth . Nice and easy! Shake the gin, Campari and vermouth with ice cubes in a cocktail shaker and strain into a cocktail glass. Garnish with orange zest and extra ice cubes.
The Negroni also seems to go well with chocolate sauce. That immediately makes it a little less bitter.
A large bowl of punch
All those fancy  cocktails are more than welcome – if someone else makes them. Because just shaking and pouring cocktails on the last evening of 2021 is also something… The solution: a large bowl of punch. That's not only tasty, but also just looks great on that table with oliebollen.
How to make this perfect New Year's Eve cocktail: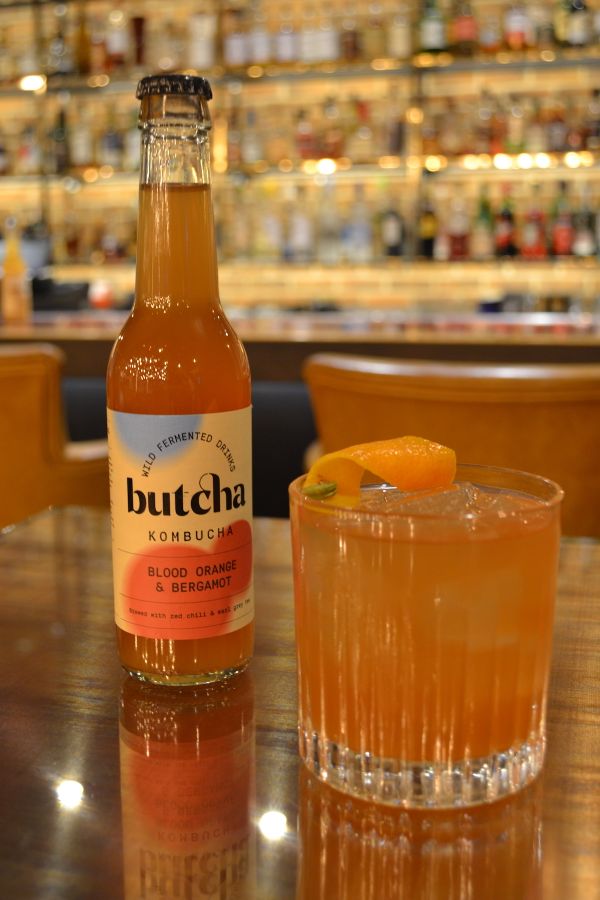 Non-alcoholic cocktail with kombucha
Prefer alcohol-free? Then a cocktail with kombucha is a good option. We made these with Bloodorange & Bergamot Kombucha from Amsterdam based Butcha.
You will need: 3 cardamom pods, 5 black peppercorns, 6 fennel seeds, 170 ml Butcha Bloodorange & Bergamot Kombucha and 1 drop Angostura bitter . Mash the cardamom, black pepper and fennel seeds with 20 ml of kombucha. Add the remaining 150 ml Butcha kombucha and the Angostura bitters and pour through a sieve over ice . Garnish with some orange zest .
cheers!