Thinking about what to eat every week can be quite a challenge. To ensure that you don't put the same dishes on the table every week, we like to inspire you with handy weekly menus. This week is all about pumpkin; we just can't get enough of it. Autumn in a nutshell- er, weekly menu!
After all: pumpkin is very tasty, but for many dishes you only need a quarter or half of such a huge monster. Also very good against food waste to eat the rest the day(s) after, so.
Need more inspiration? View all weekly menus!
Oh, and are you preparing one of these recipes next week? Take a picture of it, share it on your stories (or your Insta-grid) with  #culyhomemade  and  @culynl  and we'll share your picture via our  Instagram account !
Monday
Ever heard of dukkah ? That's a mixture of roasted nuts and spices, which originated in Egypt. Delicious as a topping over anything and everything, including a warm pumpkin soup.
Pro tip: make extra soup and freeze some of it. That way, you'll have an autumn meal to hand all season long (unless you eat it again next week because it's so delicious, of course).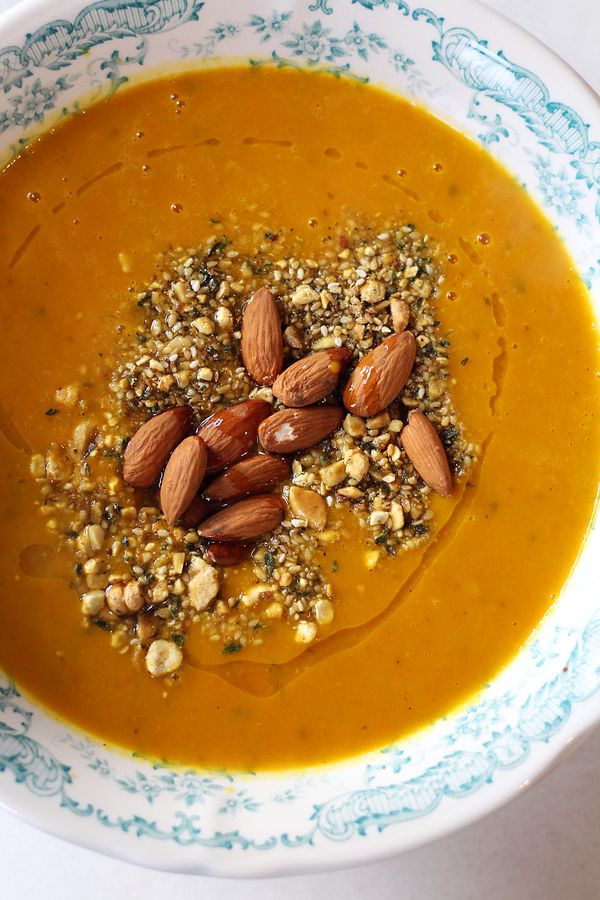 > To the recipe:  Culy Homemade: Oriental pumpkin soup with nuts
Tuesday
Pumpkin, spinach, ricotta…  What's not to love? This pumpkin gratin might not look super Instagrammable  , but we promise it's absolutely delicious.
If you buy pre-cut pumpkin cubes, it's also a very simple preparation. Well, with such an enormous orange monster and a knife it is always a risk…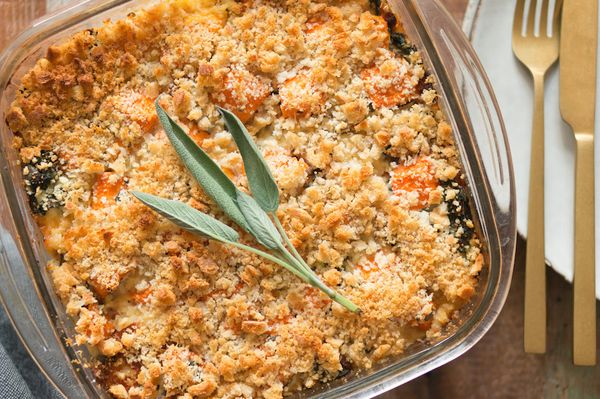 > To the recipe:  Culy Homemade: pumpkin gratin with sage and Parmesan cheese
Wednesday
Caraway seeds , turmeric and curry: these are the flavors of autumn. And you can find them all in this Indian pumpkin curry. It's vegan too – there's no shortage of protein if you add chickpeas.
The curry is tasty on its own, but even better with some papadums or naan (bread).
> To the recipe:  Culy Homemade: Indian pumpkin curry with caraway seeds
Thursday
huh? Pumpkin on a pizza? Yup, that's just possible! Especially when you combine it with burrata, balsamic onions and thyme.
The secret to this recipe: slice your pumpkin slices wafer-thin. This means you don't have to toast them separately first, but they are just cooked on your pizza.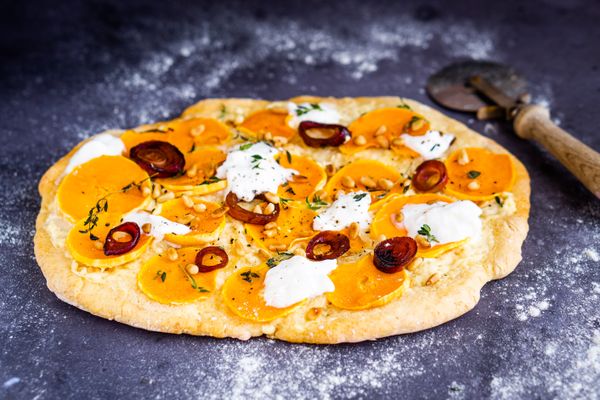 > To the recipe:  Culy Homemade: autumn pizza with pumpkin, burrata, balsamic onions and thyme
Friday
We like to throw our most recent addiction – crispy chilli oil – over and over. So yes: also about the pumpkin. Combine that with creamy burrata and a dash of five spice, and you can imagine why we're such a fan of this dish.
You can serve the roasted pumpkin separately as a light meal, but also as a vegetarian side dish. Maybe nice with some (vegan) chicken marinated in hoisin sauce?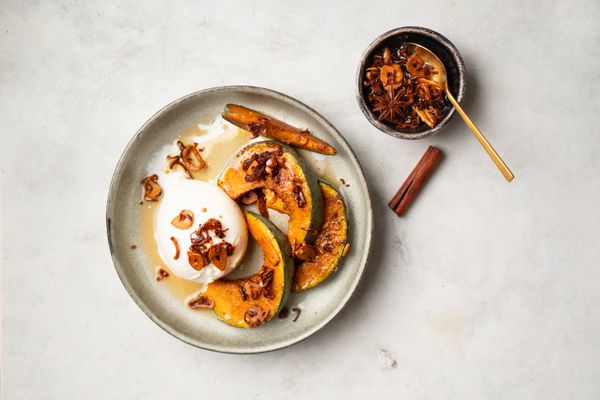 > To the recipe:  Culy Homemade: roasted pumpkin with Burrata and crispy chili oil
Saturday
Soft, roasted pumpkin, spicy red onion chutney, tasty fresh figs and some cubes of gorgonzola as a  finishing touch : that's what you want, right? As far as we're concerned, this stuffed butternut squash can be on the table every week – and maybe even at Christmas.
Extra unpacking on Saturday? Also make a fancy starter and dessert in autumn style. This pumpkin carpaccio with ginger pumpkin mayonnaise & crunchy pumpkin peel chips is perfect for that! And how about pumpkin pannacotta with pecan and white chocolate ? The evening of autumn can't get any better.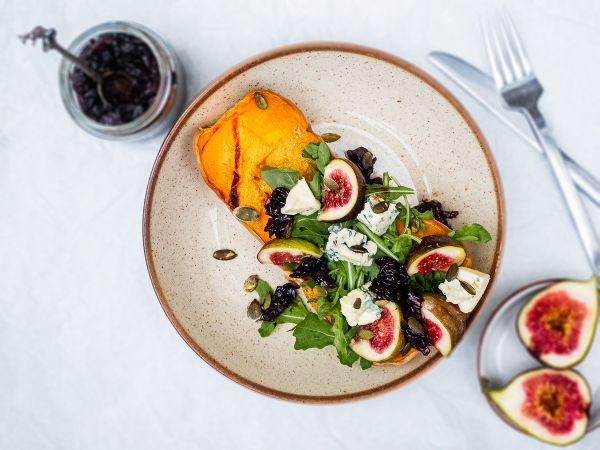 > To the recipe:  Culy Homemade: stuffed butternut squash with Gorgonzola and red onion chutney
Sunday
For those who haven't noticed yet: you can serve our favorite autumn vegetables in practically every kitchen. Indian, Middle Eastern, Chinese… And therefore Italian too! For example in this fantastic gnocchi .
Extra nice: in this dish we use 'double cheese'. In other words: first a cream sauce with grated cheese, then some Grana Padano flakes as garnish. More cheese, more better.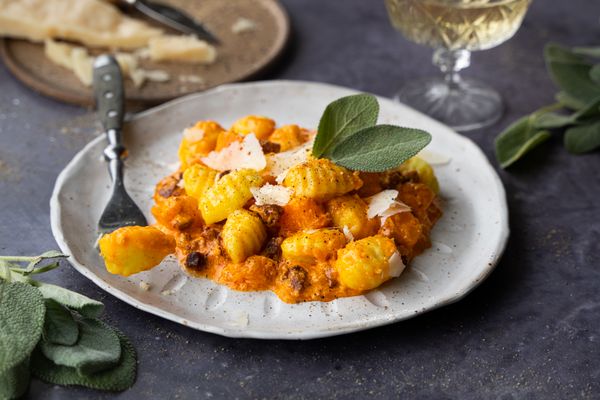 > To the recipe: Gnocchi with Grana Padano, pumpkin and chorizo