The Dutch YouTube channel FoodTube is full of pearls of videos. But one series can now be described as legendary: that of confectioner Cees Holtkamp and his granddaughter Stella. This week a brand new episode appeared in which the duo makes champagne truffles. "Not difficult at all," says Cees. So get started!
And we now know: everything Cees makes is of top quality. These gossips prove that again. By the way, we assume that we don't have to explain anything about the iconic Holtkamp croquet .
Simple
"They are so obvious, I thought they were already on FoodTube." When Cees Holtkamp says that, you know you have to believe it. Why you should make the truffles even more? "First of all because they are divinely delicious, but also because you don't have to pay attention to the chocolate temperature; which makes the job really easy."
Champagne?
As in every FoodTube video by this sympathetic duo, you will hear one interesting pastry fact after another. That already starts when discussing the ingredients.
For example, did you know that there is no classic Champagne in champagne truffles at all? It is Marc de Champagne what you use: an eau-de-vie of about 40% alcohol, which is made from the skins and the seeds. "It has a much more powerful champagne scent. That of classic Champagne would evaporate," says Cees.
Chocolate
The ratio of 1 to 4 in terms of whipped cream and chocolate means that the substance is firmer than the well-known ganache . And we are so happy with Cees' video guidance: after adding and mixing the chocolate to the whipped cream that has just been boiling, the stuff starts to curdle. And that, let's be honest, always causes us panic.
But not with Cees, because he knows -of course- what is going on. "This means that there is too little moisture present: the time to add the Marc de Champagne." And we can continue.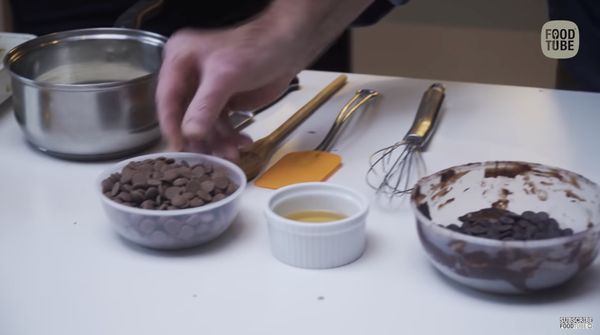 Roll
After the chocolate has rested in the fridge, take it out in time so that it can be rolled smoothly. We do that rolling with some powdered sugar, because without it it becomes chocolate chaos, of course. First in long cylinders, then in pieces, turning them into balls. And then? Put them in the fridge for half an hour.
Last but not least : melt some chocolate, roll the truffles through it with your hands, and provide this subtle layer of chocolate with a layer of powdered sugar.
Also read: Chocolate truffles with soy sauce 
Tip of tips
Even though they are called champagne truffles, according to Cees cognac, whiskey or kirsch are just as good. Don't feel like alcohol or are there children involved? Then put some fresh vanilla in the cream and use extra whipped cream instead of alcohol.
Store the champagne truffles in a cool dark place instead of in the refrigerator.
As chic as they sound, according to the best-known confectioner in the Netherlands, they are actually simply 'uncomplicated delicious'. And we have nothing to add to that.