You've probably wondered: should red wine be in a larger glass than white wine? And does the shape of a wine glass really influence the taste? The answers to those questions are more surprising than you think.
Red and white
There are those topics that you can discuss endlessly, but in the end no one in the company has a convincing answer. The shape of wine glasses is one of them. For example, there was a period when a large and a small wine glass was always ready to be poured during an extensive dinner per person. The big one for red, the small one for white.
But does the wine really come into its own? Our pressing questions were answered by Onno Kleyn in an article in the Volkskrant .
Wine from a chalice
You probably know them from the antique shops: small wine glasses that flare upwards. In the past, it turns out, people mainly drank old wines, where the taste came out best in the mouth.
But with the rising popularity of younger fruity wines, the wine glass also changed. The shape had a slightly tapered top, as we know it now.
Waltz with the wine
Kleyn explains: "Nowadays, all wine glasses all walk in order to be able to waltz. This is what wine lovers call the spinning of the wine in the glass. It releases the aromas by wetting a larger surface from which odor molecules can evaporate. Then you smell more."
And you can read how to taste it here .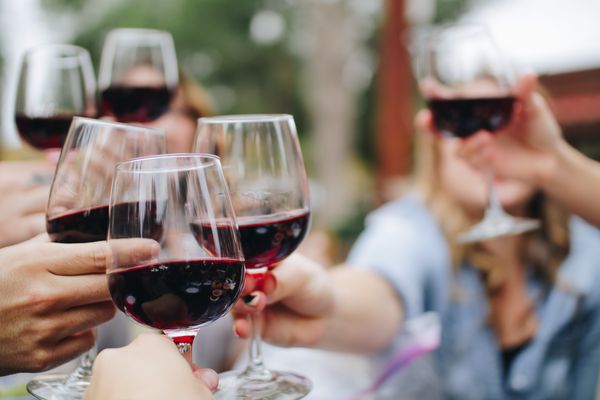 Thickness
"So what really makes the difference with wine," Kleyn explains, "is how thin the rim of the top of the glass is, just like the opening of the wine glass." He explains that that determines how the wine enters the mouth and presents itself on the tongue. That wood-aged wines, for example, are better off with the 'fishbowl on a stem' model and fresh wines such as Sauvignon Blanc and Riesling with tall, narrower shapes.
Nice to know: Kleyn himself uses the same glass to taste red, white and sparkling.
Cheap
So: can we get wine glasses from Ikea, HEMA or Action? Kleyn concludes with the nice words: "They are glasses of the right shape, but the edges are thicker and they break quickly. But anything is better than crucibles, plastic cups and fantasy glassware. A reasonable wine from a good glass tastes better than a great wine from a Duralex glass."
Conclusion: the idea that white wine should be in a smaller glass than red makes no sense. We can imagine that you want to try it out right away. In that case, hurry to one of these wine shops in Utrecht .
> Read also: Everything about orange wine