Thinking about what to eat every week can be quite a challenge. To ensure that you don't put the same dishes on the table every week, we like to inspire you with handy weekly menus. This week Culy is participating in the National Week Without Meat & Dairy and we will tempt you to cook plant-based for a week.
Vegan is the name of the game, so we at Culy's editors combed through our recipes to find out which plant-based, always-delicious recipes you use time and time again. From the creamiest garlic soup to an umami-rich ramen with pumpkin , you'll want to keep it in your weekly cooking routine forever from now on. Here are 7 of our most popular vegan dishes to fill the week. This is the cream of the crop.
Monday
If you haven't been introduced to congee yet, let us introduce you now. Congee meets the Culy reader, and reader meets congee: from now on you will be best friends. This Chinese rice dish contains mushroom stock and ginger: two powerhouses that will give you a boost in no time so that you start the week with enough energy. And then we also add spinach for the vitamins. You can of course omit that egg. Pro tip: add crispy tempeh.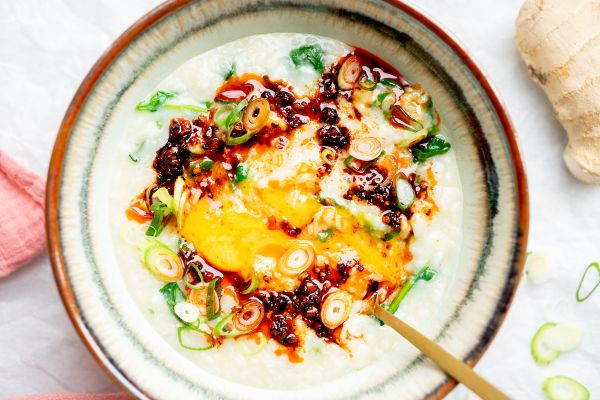 > To the recipe: Culy Homemade: congee with spinach and chili oil
Tuesday
Easy to prepare, but make no mistake: this broccoli salad is a flavor bomb! Of course, this has everything to do with the dressing, which includes miso, orange juice and red onion. You can fry the broccoli just as hard in olive oil so that you get such a fine charred broccoli  , smoky and crunchy. Leave it raw or blanch the florets briefly in boiling water. A light vegan dish for weekdays.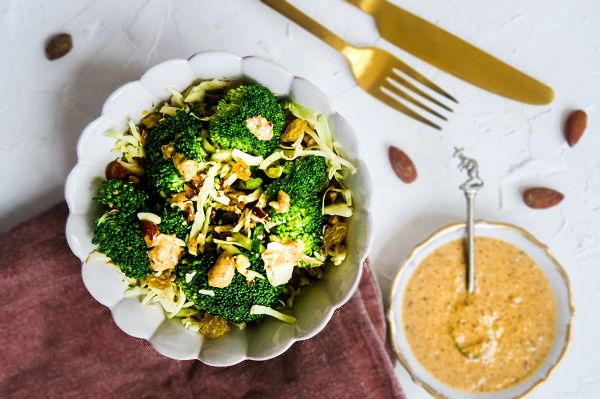 > To the recipe: Culy Homemade: broccoli salad with almond and miso-orange dressing
Wednesday
Ceci n'est pas un satay ! At least: not satay as you are used to. Because although chicken satay is delicious, you can also use tempeh more often. Taste this tempeh satay and you'll wonder why you don't do it more often…
We know tempeh as the firmer brother of tofu and we often choose it because of its texture. But the real power of tasty tempeh lies in the marinade. In the case of this tempeh satay, we marinate the tempeh in homemade satay sauce. Then you know: it will be delicious.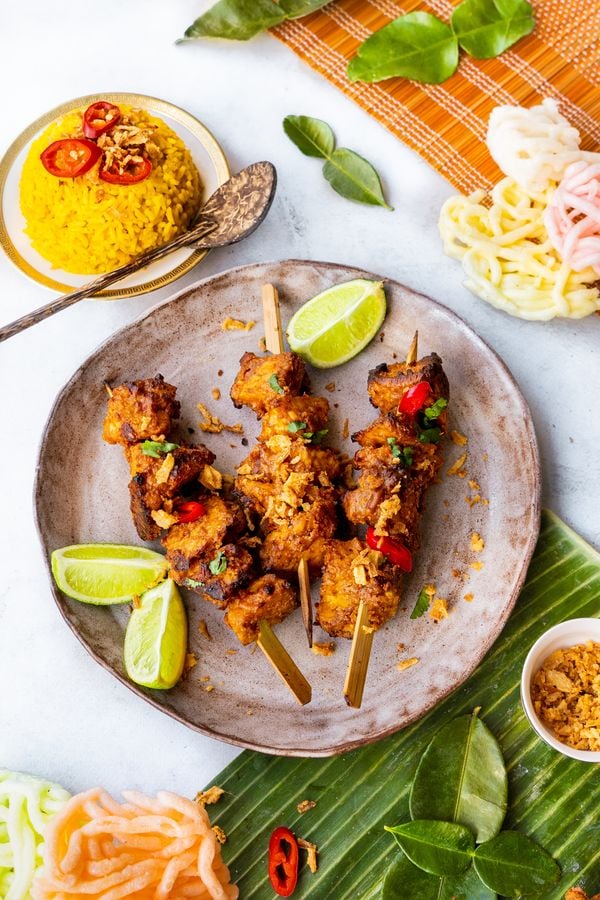 > To the recipe: Culy Homemade: tempeh satay with peanut sauce and yellow rice
Thursday
There are plenty of vegan comfort food recipes, and rightly so, because the more comfortable the better. But very occasionally you want to unpack and serve up something chic to surprise your table companions. This cauliflower steak is the perfect candidate for that. Not only does it steal the show with its looks, it is also very easy to make so that you can enjoy a nice dinner.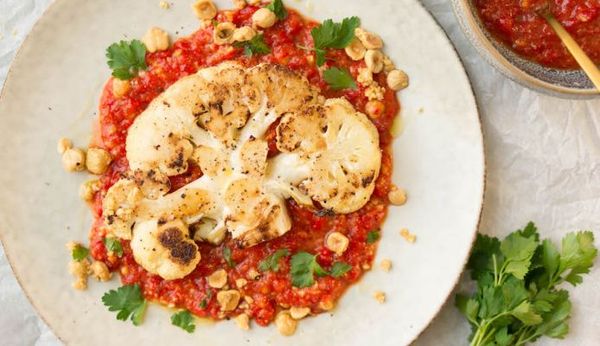 > To the recipe: Culy Homemade: cauliflower steak with romesco sauce and hazelnuts
Friday
This vegan dish eats like a thriller. This pasta is quick, easy and yet very exciting. For an extra cheesy feeling you can sprinkle some nutritional yeast over it or a vegan cheese. Read here how to make your own .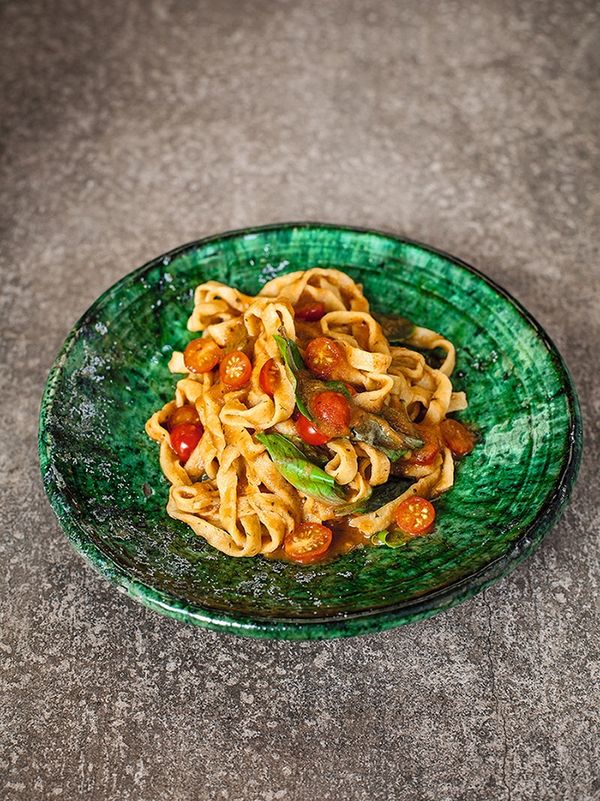 > To the recipe: Pasta with miso and tomato
Saturday
This vegetarian pie ( shepherd's pie in English) with sweet potato and mushrooms will make you happy on cool (and bleak) days. The oven dish is filled with a tasty mix of mushrooms and lentils, stewed in red wine and vegetable stock. The roof of sweet mashed potatoes and crunchy breadcrumbs make it just that little bit more special. The best part: once the pie is in the oven, you can relax with the rest of the red wine. It's weekend after all.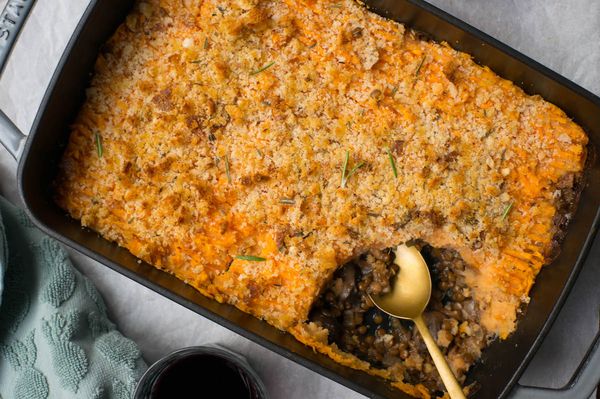 > To the recipe: Culy Homemade: vegetarian pie with sweet potato and mushrooms
Sunday
Spring doesn't officially start until March 20th, but we couldn't wait any longer. Make this potato salad as a main course or side dish and take the leftovers with you for lunch the next day. Editor's Tip: Top this salad with a savory granola. This granola recipe doesn't even require an oven.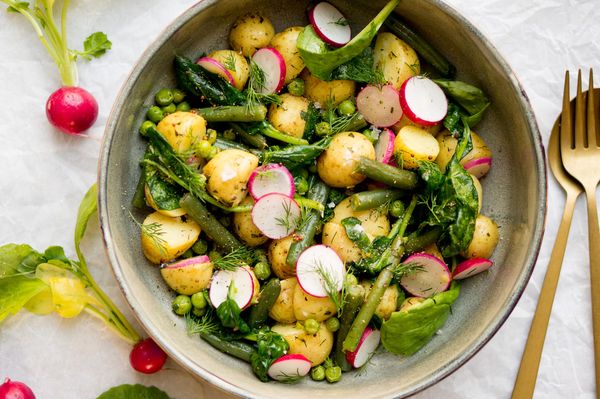 > To the recipe: Culy Homemade: potato salad with the best of spring