In the kitchen, as in life outside of it, it's the little details that can make a big difference: that last splash of olive oil for example, some finely grated lemon zest, a sprinkle of roasted seeds but above all the right spices. Those flakes, seeds, and powders can make a dish feel extra special. Do you already know these three?
Culy introduces you to three not so well-known spices that you want to discover. 
1. Urfa Chile
Urfa chili is the dramatic black chili to top off creamy dishes. A real sprinkle sprinkle spice to take between your thumb and forefinger.
You can also find it under the names isot biber (biber = Turkish for pepper) or Urfa biber . With that we immediately betray the origin. This chili is grown in Turkey, in the Syrian border area around the city of Urfa – aha, hence the name. Surrounded by mountains, it is the ideal place to grow the chili: the sandy soil, blistering temperatures during the day and cool nights make for a unique terroir. 
What is Urfa chili?
This black chili starts out as a sweet red chili with little spice and is later partially dried in the sun. Then the Urfa chili is covered with tarpaulin so that they ferment and oxidize under the autumn sun. When the chilies turn almost black, they are air-dried outside after which the chilies are ground into coarse flakes. Then there is one more step: adding salt and oil. A natural preservative that also tastes very good.
What does Urfa chili taste like?
Urfa tastes like BBQing on a long summer night, raisins, bitter chocolate and something sweet and sour. The fruity undertones are a bit reminiscent of sumac , but spicier and less acidic. And they also resemble smoky sun-dried tomatoes. This is a super mild chili so you can use a little more.
What can you do with it?
Urfa chili is to the Turks what black pepper is to the Dutch. If you are in Turkey, you will often see the chili next to the salt cellar. In traditional dishes you can taste urfa in köfte , crispy pickles, Turkish eggs and lamb dishes. That doesn't mean you can't put your own spin on it. Use the flakes mainly as a topping, as you would with coarse salt flakes. For example, sprinkle them over ice cream with chocolate, creamy white beans with olive oil and fresh herbs, salads, flatbreads, or mix it with (vegan) minced meat. Creamy textures and sweet flavors combine very well with Urfa chili.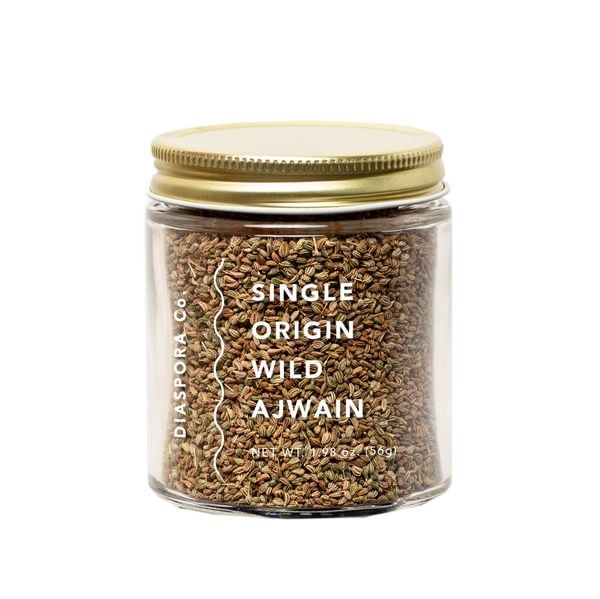 2. Ajwain
This spice has different names: Ajowan , agave, carom , omum and Ethiopian cumin. We simply say ajwain (say 'ashj-wan'). Ajwain has been considered a medicine for centuries and used for rheumatism, arthritis and fever. In India they often make a cure-all tonic called 'grandma water' to aid digestion. An ajwain tea works wonders if you suffer from abdominal pain or bloating.
Precisely for these reasons, ajwain is often combined with legumes and dough to make it more palatable. But of course it is also just very tasty! You could describe Ajwain as the Indian oregano, but much more intense.
What is ajwain?
Ajwain belongs to the umbel family and is a distant cousin of caraway and cumin. The white flowers eventually grow into gray-green seeds that you can eat. It comes from the Middle East and is mainly cultivated in Iran and India but also Pakistan, Afghanistan and Egypt. 
What does ajwain taste like?
The taste is often described as a mix of anise, oregano and black pepper. Ajwain is sharp and aromatic so a little goes a long way . The bitterness is reduced by roasting the seeds briefly. It enhances the citrusy and earthy flavor of coriander seed, cardamom, cumin and caraway. Also delicious with black pepper, nigella seed, nutmeg and bay leaf. 
What can you do with it?
Everything with dough in or around it (bread, paratha , but also pancakes), vegetables, potatoes (samosa!), rice and lentils. Add the seeds to melted butter or ghee and use this as a base for scrambled eggs (Parsi-style), cook with dal or other legumes, or drizzle over a crispy flatbread. Also delicious over a tomato pie because it resembles oregano so much.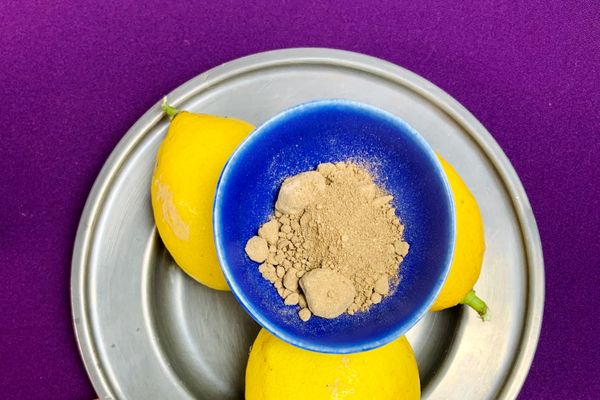 3. Amchoor
Amchoor, or amchur , is the hidden gem you should have had in your kitchen years ago. And then next to your collection with vinegar and other pickles, because this spice belongs in that list. Yes, spices are not always spicy! Like black dried limes (another surprising spice), sumac and za'atar (which again contains sumac), amchoor is wonderfully sour. 
What is amchore? 
Amchoor is dried and finely ground green – unripe – mango. The unripe mango fruit is peeled and cut into pieces and dried in the sun until hard enough to grind into an acidic powder. Often a little bit of salt is also added. Harvesting is done in late spring, at the beginning of the mango season in India. The best mango for amchoor is the Alphonso mango that grows in the Ratnagiri region. 
How does amchoor taste?
Refreshingly sour and slightly salty. It tastes citrusy but with an exotic edge, like powdery limes.
What can you do with it?
Amchoor gives acidity to a dish without making it watery (just think of a salad where you throw too much vinegar or lemon juice over it: it becomes limp and wet), which makes it the ideal addition in a batter, sauce, chutney, marinade or in a dish. potato burger that could use a fresh note. 
---
Source: Culy by culy.nl
*The article has been translated based on the content of Culy by culy.nl If there is any problem regarding the content, copyright, please leave a report below the article. We will try to process it as quickly as possible to protect the rights of the author.
Thank you very much!
*We just want readers to access information more quickly and easily with other multilingual content, instead of only having information available in a certain language.
---