Mezze give us a permanent holiday feeling. The small dishes from the Mediterranean kitchen are to the Middle East what tapas is to a Spaniard, antipasti to an Italian and a snack board to a Dutchman. Every country around the Mediterranean has its own version. From a plate of luscious hummus and marinated olives to warm kibbeh from the oil: you put this on a mezze table.
What is mezze?
For Culy editor Sophie Fleur, mezze is more concept than dish. It's about finding an exciting balance in the small dish itself, but also between the dishes themselves.
You want something to spread and dip, something spicy, something crispy, both cold and warm dishes, and a good variety between meat, fish and vegetarian (or completely vegetarian of course!). It should also not be too heavy, so that you look forward to the next with every bite. Small bites, big happiness!
You can make a few bowls, or an entire table full, mezze as complex as you want. It also differs where you eat mezze. In Turkey, the mezze is slightly different than in Greece, Israel or Lebanon. What they all have in common: mezze eat your mezze all! Invite your friends and put this on the table:
Freshly baked flat bread
Bread is the backbone of the mezze table. With that you can dip and spread it out! You can use many different types of bread for this, from pita to Turkish bread and from man'Ouche to laffa. In the Middle East they use bread as cutlery: you take a piece between your thumb and index finger and use it to 'pick up' the different dishes from the bowls.
The best is freshly baked flat bread from your own oven, and that is easier than you think. With flour, water, yeast and a little salt you have kneaded a dough that you can bake the tastiest flatbreads. These are the proportions of Merijn Tol : 200 g flour, 100 g semolina (semolina), 1 tsp yeast and 150-200 ml water.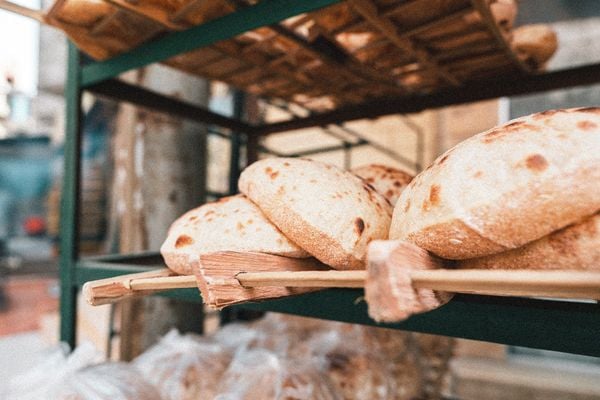 dolma
Dolmas, or stuffed vine leaves, tolma , or yebra  are a popular mezze. The dolmas are usually filled with rice, onion and parsley or mint. But there are numerous versions with different grains (bulgur or quinoa), a different leaf (fig leaf, cabbage leaves, chard, bell pepper) that you roll the filling in, or with other spices (sumac and garlic) and herbs (dried mint, dill).
Sometimes meat is added (cooked in mutton tail fat), but usually dolmas are vegetarian.
Hummus and other dips
It might be a bit disrespectful to call hummus a dip, because it's a full-fledged dish. But it functions as a mezze and above all: as a dip in which you can dip sandwiches, vegetables and pickles. So put your most delicious tahini chickpea puree on the table!
Next to it there is room for baba ganoush (smoky aubergine cream, topped with tahini), muhammara (walnuts, peppers, pomegranate) and you can also experiment with tasty vegetable dips yourself. How about roasted carrots with garlic and cumin that you whip up in the food processor with lemon and tahini? Or beets with dill and yogurt. All equally delicious.
Savory yogurt
Thanks to the Middle East, we no longer eat yogurt for breakfast or dessert, but as a soft, creamy cheese. Use a thick yogurt, or homemade labneh (curd with salt) as a base, as a white canvas for flavor.
Just mixed with a clove of raw garlic, delicious olive oil, and salt it tastes sublime. But you can make it all your own: chopped pistachios and rose petals with sumac: yes! Za'atar and lemon zest: nice and spicy and fresh! Mixed with smoked aubergine: enjoy!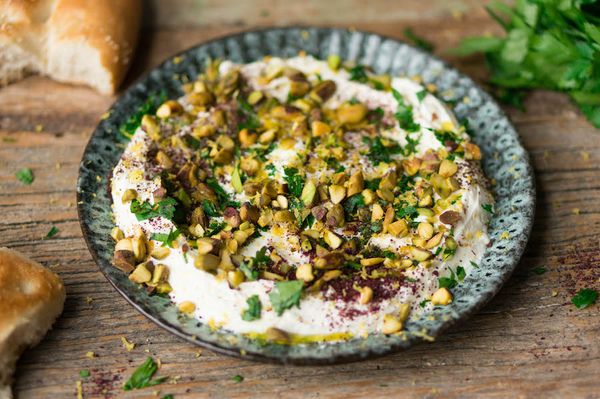 From the warm oil
As mentioned, in addition to cold vegetable dishes, there are often also some dishes with warm, crispy snacks. These dishes are often made from legumes and grains and flavored with spices and fresh herbs, such as falafel and kibbeh. Frying makes the outside extra crispy. Make sure there are enough dips to eat the crunchy fritters  . Zhug , toum and amba are saucy musts according to Culy's editor Sophie Fleur .
Another irresistible dish is sigara börek . A Turkish mezze that also works well as a festive snack. You wrap (goat) feta together with pul biber and fresh herbs such as parsley or dill in a sheet of filo dough and roll it into a cigar. The rolls become golden brown and very crispy in the deep-fat fryer.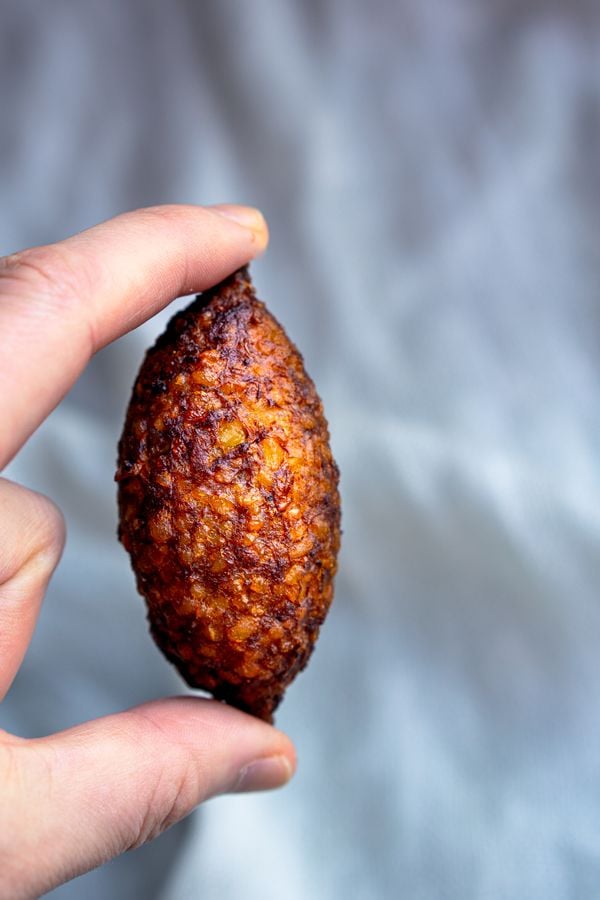 Protein
If you serve falafel, you don't necessarily need something from this category. But a warm kebab, köfte with pomegranate, or fragrant lamb skewers with fresh mint are delicious enrichments of a mezze table.
Prefer vegan? Grill a few slices of halloumi or marinate cubes of feta. Also very tasty: balls of labneh marinated in spice oil.
Garlic cream
As far as we are concerned, garlic is the taste of the Middle East, and a good garlic sauce is indispensable if you are going for  mezze madness! Lucky: everyone eats along, so you don't have to leave it for the smelly garlic breath, otherwise you'll be chewing on a cardamom pod. A sugar-free chewing gum!
Do you really want a spicy garlic sauce? Then make this Lebanese version by grinding 6 garlic cloves together with a pinch of salt into a pulp in a mortar. Make it smooth by mixing in olive oil, first a few drops, and gradually more.
Another variant is toum, which literally means garlic in Arabic. It is almost the same recipe as the Lebanese garlic sauce, only you add lemon juice. This Vampire-Slaying toum from Ottolenghi is perfectly spicy.
Tabbouleh
A good tabbouleh makes you a happier person. Tabbouleh is a super green salad without lettuce. The green comes from bunches of finely chopped herbs. Fresh parsley and mint are most often used for this, but dill and coriander are also very tasty in tabbouleh.
The spices are then tossed with bulgur and flavored with olive oil, lemon and some baharat . Sometimes some tomato and cucumber is added.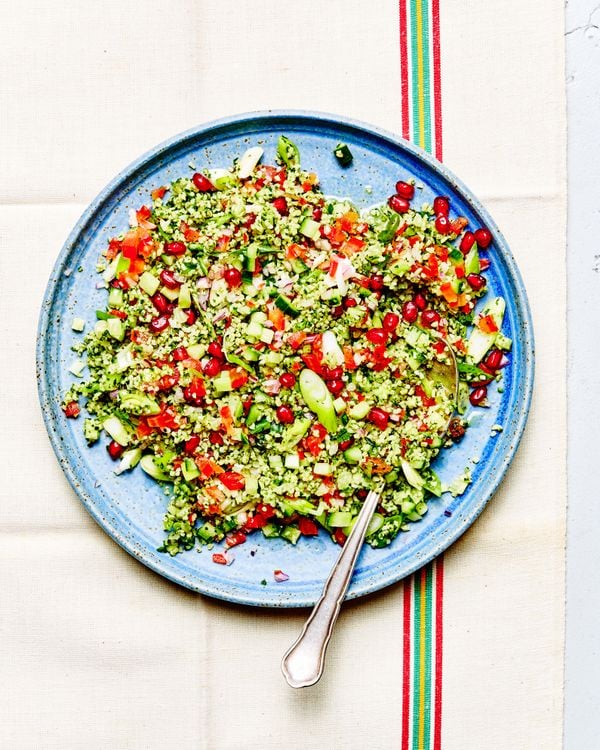 ---
Source: Culy by culy.nl
*The article has been translated based on the content of Culy by culy.nl If there is any problem regarding the content, copyright, please leave a report below the article. We will try to process it as quickly as possible to protect the rights of the author.
Thank you very much!
*We just want readers to access information more quickly and easily with other multilingual content, instead of only having information available in a certain language.
---