Feared in many culinary television competitions and a permanent fixture in the repertoire of every classic pastry chef: the croquembouche. The only spectacle piece that is as time consuming to make as it is complicated to spell. But if you've succeeded, it can go straight onto your resume. So: why you should have made a croquembouche once in your life.
The croquembouche
First about that elegant name: did you know it means 'crackling in the mouth'? That alone makes the dessert a true piece of poetry. And that poem called croquembouche was, of course, conceived in France. The first recipes were already found in French cookbooks in the early 19th century.
The impressive shape
You can still impress so much with an impressive birthday cake ; the croquembouche beats all its sweet rivals with its large and recognizable cone shape. By piling up (homemade!) puffs you reach a height that many guests cannot even see over. So Impression 2.0.
The French elegance
The unsurpassed puffs tower (sounds a lot less elegant in Dutch…) with its elegance, wouldn't look out of place in an over-the-top costume drama. And that drama, that's exactly what we love about it. The fragile spun sugar, the colorful fruit, the playful profiteroles, and well, add some edible flowers: a dessert doesn't get more elegant. A little bit of kitsch, a lot of satisfaction.
A technical tour de force
It's not for nothing that the croquembouche order is the fear of every culinary television competition. The tower requires a lot of knowledge and technology. That starts with the choux pastry and the perfect pastry cream , and continues with caramel glaze , spun sugar and a good example of stacking technique. It is not for nothing that we previously published a recipe by Cees Holtkamp , ​​the legendary confectioner with decades of experience.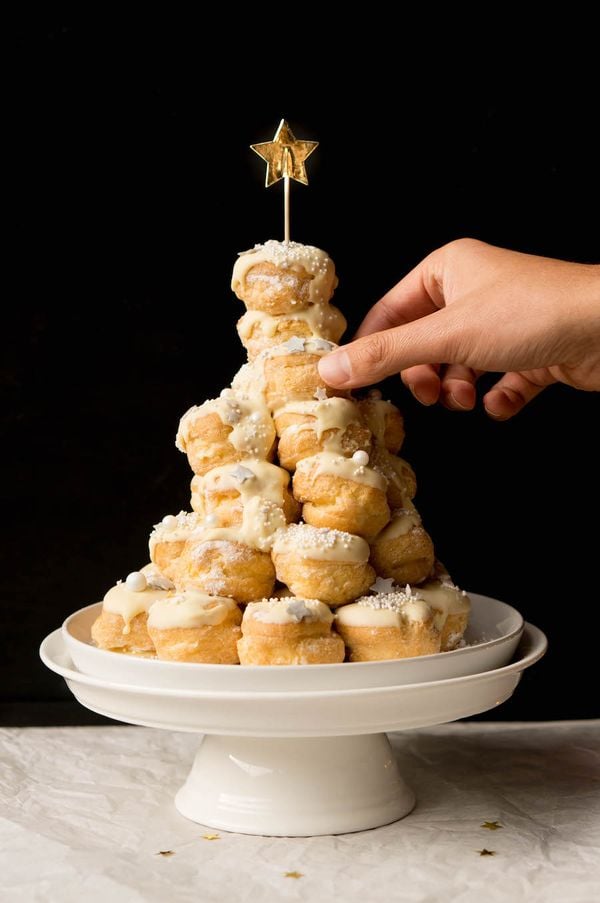 At home at the croquembouche
Have we convinced you by now? This FoodTube video from Mr. Holtkamp and granddaughter Stella will guide you through every step.
Are you in for a piece that deviates slightly from the classic look? Then we have an all-pink copy of Martha Stewart for you.  And if you're short on time, but want to put a puff tower on the table to loud applause, we can recommend this recipe from Yvette van Boven .