Summer is coming, time to delve into what will be your new 'drink' after the BBQ. A digestive does – according to the wise Italians – a lot of good for your digestion. And be honest: is there ever an excuse not to have a small glass after a meal? Culy lists a number of special 'cellos' for you and we promise that no string instruments are involved. Although the names sound like music to our ears.
Limoncello: 
always good
Do we have to introduce the limoncello at all? The bright yellow, sometimes almost greenish drink made from the wafer-thin peels of the large yellow lemons from Sorrento (Italy). Limoncello is just always a good idea. Fresh, sweet and of course a little sour, this thirst quencher is the refreshment on your sultry summer evening.
Tip: make the limoncello a little less intense by turning it into a Limoncello Spritz. Dilute one part limoncello with 2 or 3 parts prosecco and possibly a dash of spa red. Or conjure up a mouth-watering scroppino on the table: one part limoncello, two parts prosecco, two scoops of lemon sorbet ice cream and just blend . 
Did you know that the best (!) limoncello in the world 'just' comes from Groningen? Find your sales point of the Drunken Monkey limoncello here . The name alone promises a lot.
Limoncello with figs
We can also imagine that you sometimes feel like something new. That's convenient! Animali Speciali 's limoncello is enriched with figs. Not only that is a good idea, they also donate part of their profits to various charities. Each of these charities is committed to protecting endangered animals, the gibbon in this case. You happy, she happy, gibbons happy. You buy it here .
Arancello: a sweet, fresh orange liqueur
On to the apples of orange. Arancello, Orangecello or Orancello may seem like a trendy orange bitter, but it is so much more than that. It is a sweet, fresh but also slightly bitter orange liqueur. As with limoncello, the color and flavor are drawn from the peel of the orange. The orange peels are then bottled with pure alcohol.
After a few months and a lot of shaking, treat yourself to a glass of orange gold. Or, nice and easy, buy a bottle in the store. For example at De Jongens van Oud West from Oosterhout, and put it cold in your freezer.
You will find another special variant with the men of Dik en Schil. They only make their Orangecello from leftover orange peels from the catering industry. So it's a sustainable one.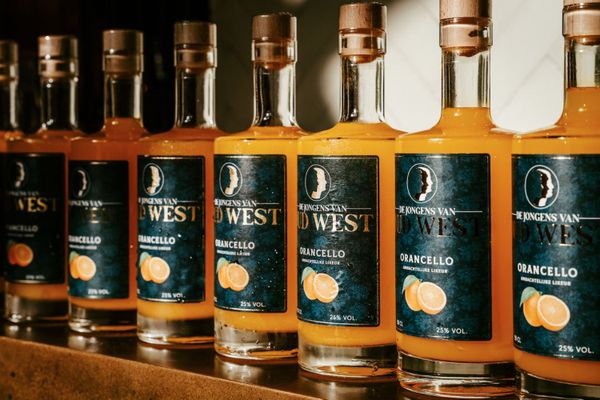 Mandarinello: soft mandarin liqueur
We will stay in citrus spheres for a while, because mandarin peels also do well in 'strong water.' Mandarinello is made according to strict rules from the wafer-thin skins of southern Italian mandarins.
However, rules are there to color outside the lines every now and then. Increasingly, the mandarinello (or mandarinetto , the little brother that contains slightly less alcohol) is made with 'normal' organic mandarins. And well, that probably only tastes the real Southern Italian nonno.
The taste of the drink is – just like the arancello – citrusy, but the mandarinello is a lot softer and milder. Want to taste mandarinello? You buy it here at DiGusti.
Meloncello: orange melon liqueur 
Of course, the melon cannot be missed among all those delicious fruits. Unlike citrus fruits, meloncello makes the liqueur not from the melon rind, but from the pulp of the cantaloupe melon.
The pulp is squeezed to the last drop and mixed with 96% alcohol and syrup. And then the long wait begins. Or not! You can also order meloncello online. Among others at Dolce Cilento , where they make a number of other 'cellos' such as a watermelon cello!  
Rootcello: limoncello in a funky jacket
Root – what? Rootcello is simply a limoncello with a new funky look. Take the classic limoncello recipe and add powerful carrot flavors (get the name?). A full, robust and yet refined taste, that's the best way to describe the drink. You can also call it limoncello with a kick. With this you will immediately look forward to the Vrijmibo? The root cello is for sale at a Gall&Gall branch near you.