These are our favorite snacks, and they happen to be vegan too. Because whether or not you eat meat, you are very gluten tolerant, or prefer to ignore them. Fanatic sports and don't leave the house without a ginger shot, or if you prefer to lie on the couch and master savasana (chic for resting on a yoga mat) to perfection: snacking is for everyone. And that's why we are only too happy to share this compilation of our tastiest vegan snacks.
13 x the best vegan snacks from Culy
1. Vegan samosas
Still looking for a festive (vegan) snack? For a birthday, housewarming, or other party. Then make these Indian patties with beetroot, fennel, orange and walnut. The nice thing about this recipe is that you can make the vegan samosas the night before so that you only have to bake them in the oven on the day itself. Impress not only with your divine snack, but also with your organizational skills.

>To the recipe: Culy Homemade: vegan samosas
2. Edamame in 3 different ways
Edamame are always tasty – taking, peeling and eating with your hands is fun and addictive – but the beans themselves have little taste. Usually the beans are flavored with just a little salt. It's nice but also a bit boring. That is why Tim Anderson of Vegan JapanEasy has come up with these three variants, based on powerful Japanese seasonings such as miso, shiitake and ponzu. Come on!
>To the recipe: Edamame in 3 different (Japanese!) ways from Vegan JapanEasy
3. Vegan Chocolate Truffles
Making your own chocolate truffles is a fun job. And you get a sweet treat as a reward. You can easily make some extra of these chocolate truffles with cashew nuts and apricots so that you can keep a stock in your fridge. Handy snack!
>To the recipe: Vegan chocolate truffles with cashew nuts and apricots
4. Soy Sauce Brownies with Butterschotch
Soy sauce in a brownie sounds a bit like a crazy experiment. But we tried them and this one is really tasty – soy sauce has a full, malty and dark beer-like flavor that pairs beautifully with chocolate and butterscotch. A bit like salted caramel but a lot more intense.
>To the recipe: Soy sauce brownies with butterscotch from Vegan JapanEasy
5. Vegan tiramisu
Tiramisu is just about the best dessert from Italy or at least the dessert that forms the basis of many divine variations. And you can snack on it. At Culy we also went wild with a matcha tiramisu ,  speculaas  tiramisu ,  Oreo tiramisu  or even a  limoncello tiramisu . For those who haven't figured it out yet: we love tiramisu and are going to vary even further. Our latest experiment: vegan tiramisu.
>To the recipe: How do you make the best vegan tiramisu? (4 options!)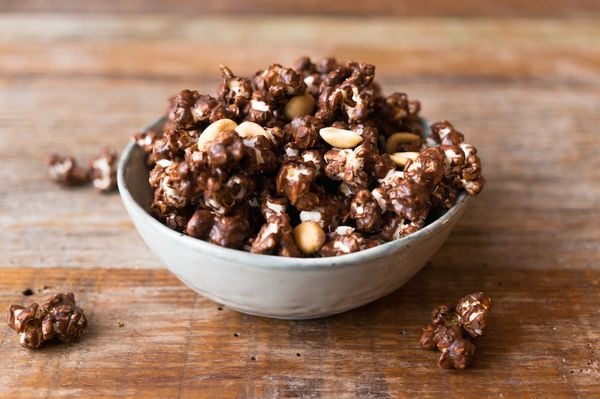 6. Salty Chocolate Popcorn
Making your own chocolate popcorn is so easy, you'll wonder why you don't do it more often! Great for an evening sitting on the couch in front of the tube. You keep eating this salty variant with peanut butter, salt and peanuts. Great for a movie or as a snack on a festive table.
>To the recipe: Culy Homemade: salty chocolate popcorn with peanut butter
7. Kibbeh (Lebanese bitterballen)
Technically, this recipe isn't completely vegan; However, if you replace the meat with beyond meat or another vegan minced meat, you can also make this recipe! Do it, kibbeh is so delicious. They are a kind of Lebanese bitterballen with minced meat, pine nuts and bulgur – we ate for the first time at the nice Kalila in Amsterdam. Since then we have been dreaming about it regularly – literally.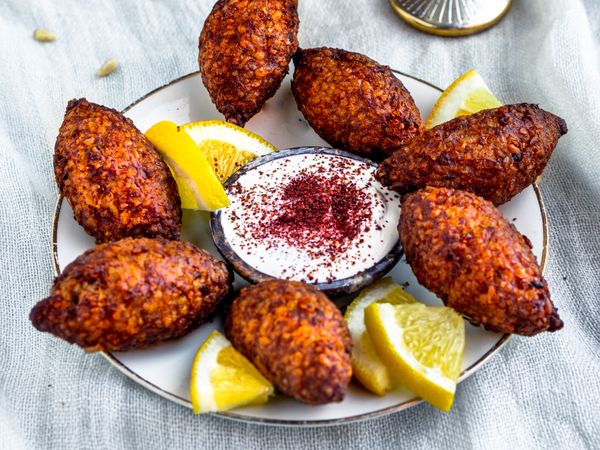 >To the recipe: Culy Homemade: kibbeh (Lebanese bitterballen) with minced meat
8. Bánh mì sweet potato fries
Bánh mi are those tasty Vietnamese-French sandwiches: the perfect combination of sweet, sour, salty and crunchy. Replace the bread with these sweet potato fries and you have a snack that also belongs to the superfood genre . Note: replace the mayo with a vegan variant and the recipe is vegan-proof!
>From the recipe: Culy Homemade: bánh mì sweet potato fries (Vietnamese style!)
9. Vegan m'hanncha
M'hanncha is a traditional Moroccan dish, made from filo dough. It resembles  baklava , but the shape is definitely different. Because for M'hanncha a long piece of filo dough is filled and then rolled up into a snake. The hose then goes into a round baking tin. Cut it into pieces for the perfect hand-out snack. Jamie Olivier makes a vegan version.
>To the recipe: Vegan m'hanncha
10. Vegan banana bread with salted caramel
It's hard not to get excited about banana bread with salted caramel. And the version we made is also completely vegan. No egg, no milk, no butter. And that's nice!
>To the recipe: Culy Homemade: vegan banana bread with salted caramel
11. Japanese spinach chips
You probably already knew the kale chips , or  kale chips . Still very hip – especially in Los Angeles and New York – because they are both healthy and delicious. Do you also find yourself on the couch every night with your hand in a bag of potato chips? Then try these Japanese spinach chips. Surprisingly delicious.
 Culy Homemade: Japanese spinach chips (healthy alternative to chips!)
12. Crispy carrots in filo dough
A tasty, healthy snack is always welcome, especially if we want to serve our children something delicious. Jamie Oliver understands that better than anyone, so we tried a recipe from his latest book, VEG. These carrots in crispy filo pastry are the healthy snack of your dreams. Just make sure that you replace the honey with sugar and choose another fresh vegan dip instead of yogurt.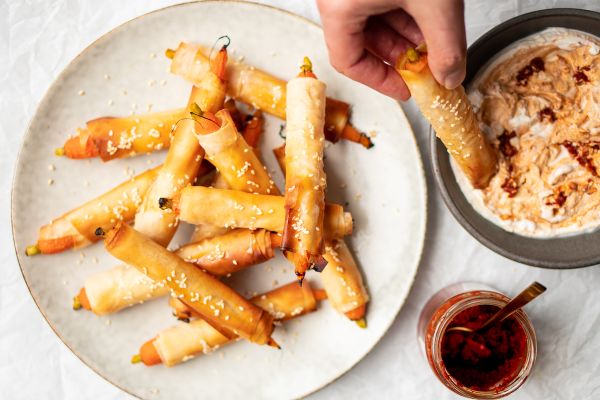 >From the recipe: Culy Kids: carrots in crispy filo dough (healthy snack!) from Jamie Oliver
13. Sweet Potato Fritters
Crispy fritters for snacking on the go, with a good dip. Or as burgers sandwiched between two sesame buns. Also nice: top the fritters as a toast with, for example, hummus, avocado or marinated artichoke.
>To the recipe: Vega sweet potato fritters with fresh dip sauce