Is the culinary world a man's world? Not if it's up to the women who work hard every day in gastronomy. And there are many! Chefs, sommeliers, hostesses and bakers who excel in their profession and who happen to be women. In our opinion, they receive far too little attention. That is why Culy will put a number of heroines from the food world in the spotlight in the coming period. Such as Tania Yabra, the pastry chef at restaurant Wils* whom we previously labeled as " a genius ".
Women in the food world
When you think of a chef, chances are you think of a white man with a large chef's knife in his hand, tattoos and possibly a dead animal over his shoulder. If you think of a sommelier, you probably also see a white man in a smart suit. And there are even more roles in the culinary world where we automatically think of men.
Time for a more diverse picture than that! Culy therefore shines a spotlight on the women in the food world. Who are they and what moves them to do what they do? Today on stage: Tania Yabra, the pastry chef who currently works at restaurant Wils* in Amsterdam and who is very successful there with her fantastic creations.
Who is Tania Yabra?
When we visited restaurant Wils* in Amsterdam for the first time, the chefs did the most impressive things with fire right in front of us. Yet pastry chef Tania Yabra, who was quietly doing her thing a little further away, managed to captivate us with her dishes from the very first moment.
The originally Mexican trained as a pastry chef in France and came to the Netherlands for love. She previously worked there at The Duchess and now at Wils, where she makes brilliant desserts.
We call a chocolate mousse with lemon and an olive crumble for example. Or a 'marshmallow turned inside out', with a sweet potato interior, dark chocolate ganache and a crispy coating of Dutch syrup. Culy thought it was high time to put this incredibly talented pastry chef in the spotlight.

In conversation with Tania
We spoke to Tania about her role in the culinary world. 
Can you briefly tell us about who you are, about your background and what you are doing right now?
First of all I am Mexican. That's how I always introduce myself right away, that's my identity. I am a pastry chef and work at restaurant Wils.
How did you end up in this profession – in the food world? And have you known for a long time that you wanted to do this?
I only found out quite late that this is what I want to do. I studied hotel management in Mexico because I loved organizing parties and especially the food that comes with it. Food is very important in Mexican culture.
I obtained my bachelor's degree in hotel management in Mexico and then went to Paris for a year. I did an internship there in a French restaurant kitchen and wasn't very happy with my role until I saw the pastry chef at work. She worked hard but seemed so happy. Then I thought: that's what I want to do. I asked if I could walk with her and that was allowed for one month. That turned into a year and then I enrolled in a three-year course as a pastry chef. Then I was ready to get started as a professional pastry chef.
What is the best thing about your job and what is sometimes underestimated?
The best thing about my job is when you can develop something you have in your head into something on a plate and that it also reaches the guest. And if you can then see their reaction. That is priceless to me.
What people often underestimate is all the hard work and free time you sacrifice for it. Yes, you follow your passion and it's really cool to make the most beautiful cakes and decorations, but that's just one side of the job. For example, it also involves a lot of cleaning and really hard work.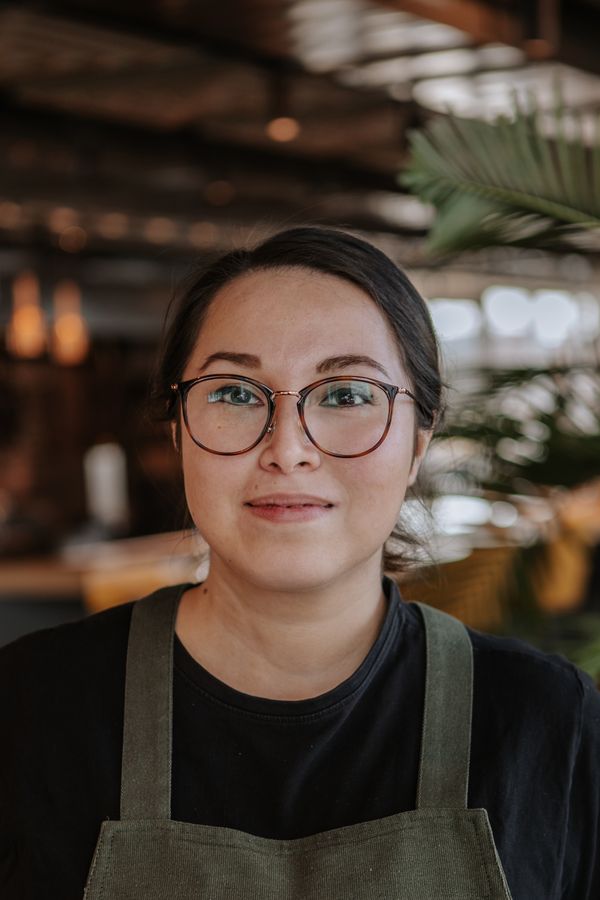 How do you like working in restaurant kitchens that are mostly populated by men?
The restaurant kitchen is definitely still a man's stronghold. But I think it's changing bit by bit. I've never had a problem with this because I think if you treat everyone with respect, you get that in return. But of course I have also heard stories from colleagues who have encountered difficulties with this and I fully support them. It's not easy to deal with that.
There is certainly still gain to be made in the kitchen in terms of feminism. In Latin America, most kitchens are run entirely by women. In that culture, it is much more common for women to be in the kitchen than men. All knowledge is passed on from mother to daughter, through generations. So you see a lot of women in the kitchen there and I hope that will only happen here.
Are there times when you feel clear differences between men and women in your profession? And what things can women do better than men?
There are certainly many times when I feel a big difference. It's not that I'm 'burdened' by it, but I think there are many more opportunities offered to men. At the same time, I think women also find it harder to stand up for themselves and ask for what they want. That also makes it easier for men to fill the roles we don't dare to ask for.
It is up to us to fight for this, to ask for the opportunity, for equal pay. Not just for ourselves, but for any woman who wants to work in a kitchen or who does the same job as a man but gets paid less for it.
What is your most memorable food memory?
My first strong memory of food is during the economic crisis in Mexico. My mother baked cakes to earn some extra money. She always made us a small cake, which we shared together. Kind of like cheesecake, but the Mexican way. It may not be the tastiest thing I've ever eaten, but it's a fond memory of a dish.
I had the best dinner of my life at Anne-Sophie Pic's restaurant in Lausanne (Switzerland). The dessert was incredible. It was a millefeuille with cream of Tahitian vanilla and jasmine. It had all the textures, it was delicate, not too heavy, just perfectly. For me, this was the perfect dessert and the best culinary experience I ever had.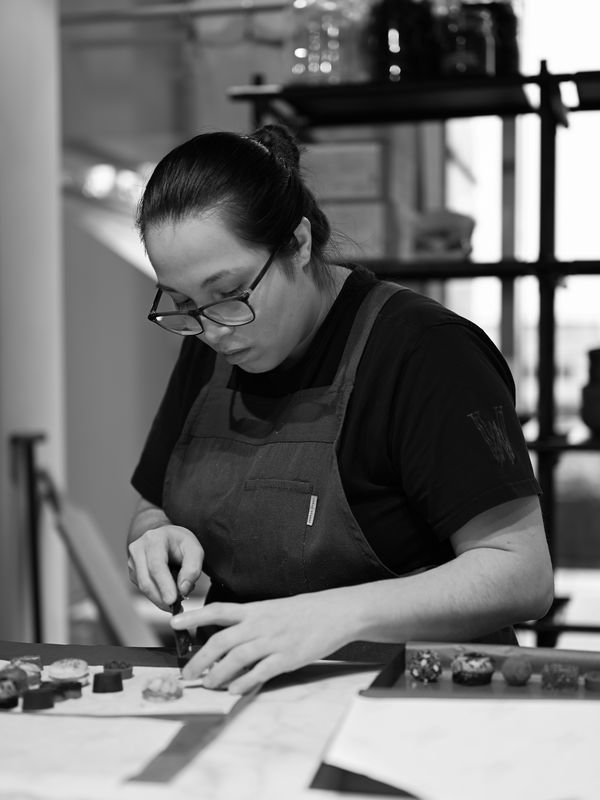 What 3 things in the kitchen are indispensable for you?
For me, honey and coffee are essential, because I love them. They can be simple, but also so complex, depending on the origin. You can ferment them and do so many different things with them. In terms of kitchen utensils, I think of my spatula. I can not live without. And a guard of course!
Which women inspire you and why?
I immediately think of Dominique Crenn and Anne-Sophie Pic . Dominique because she 's a hell of a woman . She is strong, with no culinary training, and yet she has become a star chef – the only three-star female star chef in America (for her restaurant Atelier Crenn, ed.). Great, and that while she's not even of American descent. I admire her for her strength. Her style is so unique, she does what she wants, doesn't imitate anyone and it works.
I admire Anne-Sophie Pic because she only started in her field at a later age. Of course she learned everything from the best, namely her mother. But she has dared to carry on her mother's legacy and she did so in France – where the culinary world is already completely dominated by men – where such a thing is very difficult. I like her style, such as the subtlety with which she combines flavours, often floral and complex. She knows how to make fantastic things from ordinary basic ingredients.
When do you get the most satisfaction from your job?
I think at times when I combine unexpected things in a dessert, which turn out to go very well together. Or when something I had in my head ends up on the plate and makes someone happy. That brings me the most satisfaction. That is worth all the hours that went into it, the stress and the fatigue.
What would you like to say to the women who aspire to the same position as yours?
I would like to tell them to go for it. Believe in yourself, fight for a good position, but also ensure a good balance. Working in the hospitality industry has to make you happy, just like any other job. If all goes well, it works in several directions: the boss happy, the customer happy, you happy. Find that balance, fight for it and never give up.
---
Source: Culy by culy.nl
*The article has been translated based on the content of Culy by culy.nl If there is any problem regarding the content, copyright, please leave a report below the article. We will try to process it as quickly as possible to protect the rights of the author.
Thank you very much!
*We just want readers to access information more quickly and easily with other multilingual content, instead of only having information available in a certain language.
---