Thinking about what to eat every week can be quite a challenge. To ensure that you do not put the same dishes on the table every week, we are happy to inspire you with handy weekly menus. With Easter around the corner, we will of course go into this weekly menu entirely in theme. Enter the egg: after all, so versatile that you can easily fill 7 evenings with it. And so this time we present you our favorite recipes with egg.
Need more inspiration? View all weekly menus!
Monday
Hooray, the first asparagus have arrived! And we celebrate that this week with a creamy asparagus recipe, namely à la Flamande. With parsley, egg and butter. Because asparagus on Monday: is there a better start to the week?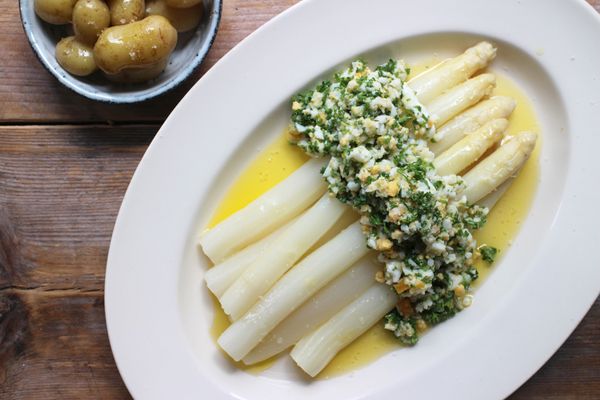 > To the recipe: Culy Homemade: white asparagus à la Flamande
Tuesday
Shakshuka only suitable for breakfast or brunch? Certainly not. For this Easter-worthy week in the middle of spring, we therefore opt for a green variant. Packed with vegetables – spinach plus herbs – and served with some Lebanese flatbread; easy, tasty and healthy.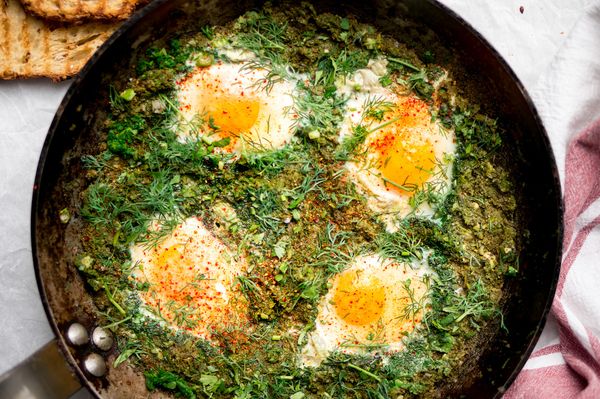 > To the recipe: Culy Homemade: green shakshuka with spinach
Wednesday
Make the next highlight in great numbers, because no one will settle for just one copy. We are talking about telor soy sauce: fried egg in soy sauce . Accompanied by a pointed cabbage salad, this Indian dish is sure to please.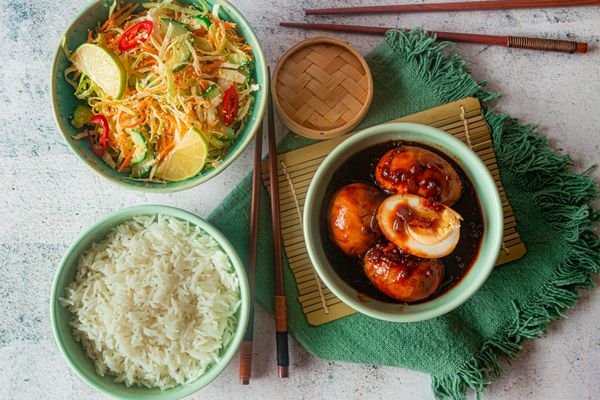 > To the recipe: Culy Homemade: telor ketjap with ulang ulang (ketjap eggs with pointed cabbage salad)
Thursday
Also such a fan of harissa ? In any case , we can not get enough of this super tasty and spicy seasoning . Good news: it also combines with an egg like never before. Add dates, tomato and pistachio and you have a new favorite for every day of the week.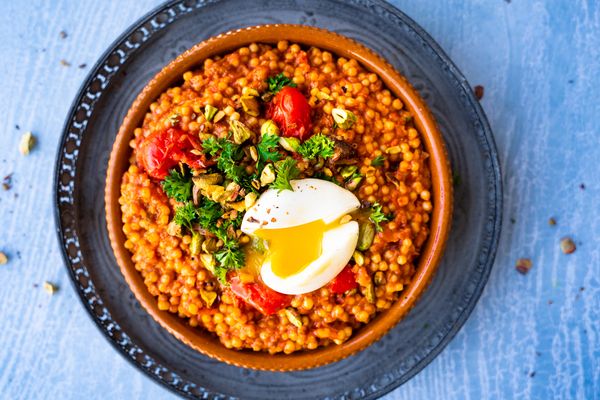 > To the recipe: Culy Homemade: spicy pearl couscous with tomato, dates, pistachio and an egg
Friday
Ever come across someone who doesn't like flammkuchen? Virtually impossible, we think. Completely ideal: with flammkuchen you can go in all directions . Breakfast, drinks or dinner; with fish, vegetarian or with meat. This version with egg is perfect for a light dinner, serve it with a salad if you're feeling more hungry.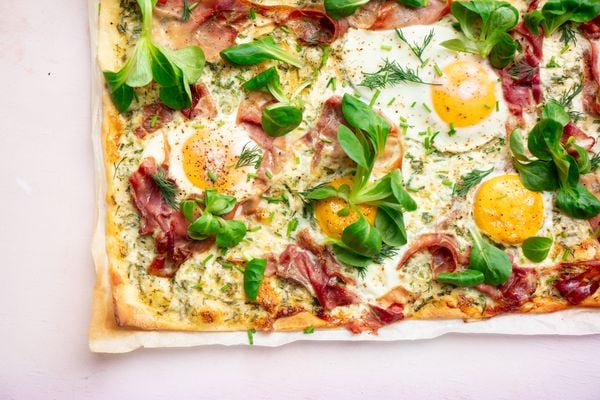 > To the recipe: Flammkuchen with egg, Prosciutto and green herbs
Saturday
A painting, but then on your plate. This oasis of colors and flavors is inspired by Ottolenghi to which we have added a simple harissa dressing. Get ready for a trip to salad heaven. We don't exaggerate.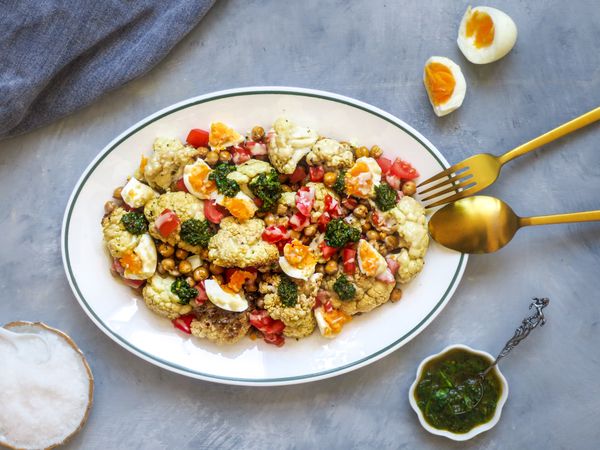 > To the recipe: Culy Homemade: salad with grilled cauliflower, chickpeas, egg & green harissa
Sunday
Beans are back in full swing and that's something we can only applaud. Provided it is cooked perfectly, of course. Creamy inside with a subtle bite. Like the last one in the list of recipes with egg, this time with breadcrumbs. Breadcrumbs left? Freeze it .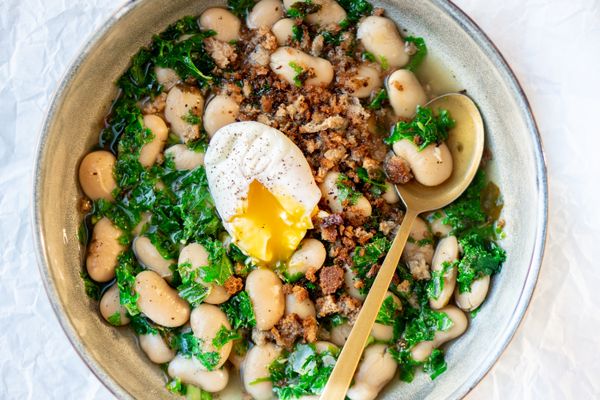 > To the recipe: Perfectly cooked beans with crispy breadcrumbs and poached egg