Thinking about what to eat every week can be quite a challenge. To ensure that you do not put the same dishes on the table every week, we are happy to inspire you with handy weekly menus. This week we show you that a salad can be anything you want it to be. We give you seven meal salads that you do want to eat in the evening, and that hardly require a leaf of lettuce.
Not a fan of green leaves? Go for grains and roasted vegetables! Prefer no grains? Roll your salad in a wrap, or even better: make a noodle salad. Dressing boring? Just wait until you try our green tahini , then you'll never want to toss your leaves in anything else again.
Need more inspiration? View all weekly menus!
Monday
You can also freestyle a bit with this meal salad with nectarines. Can't  find radicchio , for example ? The somewhat bitter leaves of arugula also do very well, and the same goes for chicory. You can use red chili pepper instead of jalapeño. And are the nectarines not yet in season? Then take a nice mango or orange wedges. As long as you see the sun on your plate, you're fine. One last tip: radicchio is also delicious on the grill, because a salad can be a little warm.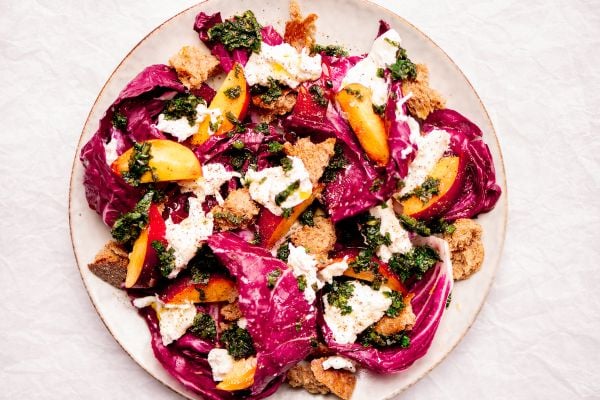 > to the recipe: Culy Homemade: simple meal salad with nectarines, Burrata and mint
Tuesday
Is poke a salad? No, but also yes, because it has a dressing, raw vegetables, and seaweed leaves: isn't that just sea lettuce? Right, yes! This poké bowl is a good entry-level model for those who want to eat vegan (more often). Here we show you how to fill such a bowl with all kinds of goodies: lime rice, sticky tofu, pineapple, radish and edamame provide a delicious combination. We top it off with spicy mayo and a fine spice blend with seaweed and sesame. Yummy!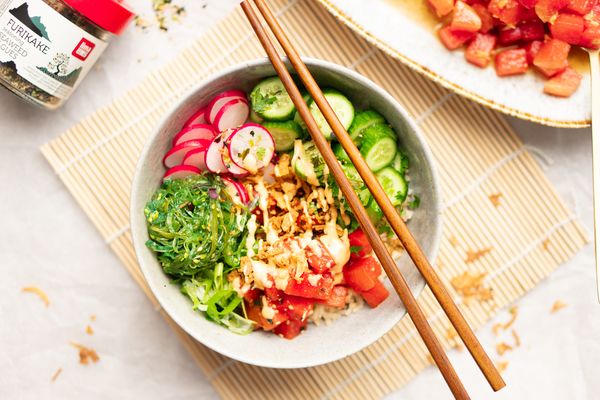 > to the recipe: Vegan poké bowl with sticky tofu, lime rice, edamame and spicy mayo
Wednesday
Throw a handful of spicy arugula, mixed with lemon and olive oil, over this plate of white asparagus and you have an amazing meal salad. You have never eaten asparagus like this before!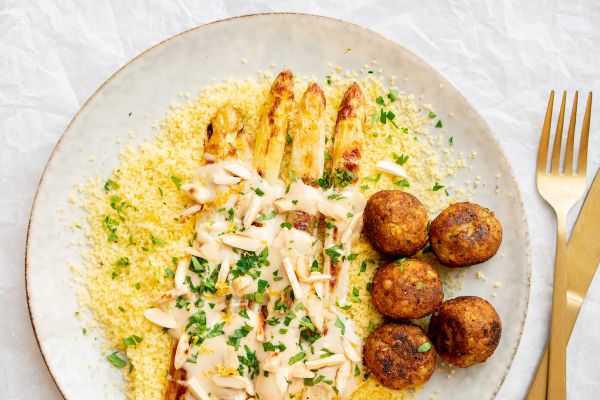 > according to the recipe: Culy Homemade: white asparagus from the oven with lemon tahini, couscous and falafel (vegan)
Thursday
Very nice, this Lebanese meal salad is on the table relatively quickly. Serve it in a large bowl and add the fresh yoghurt dip in a separate bowl. And don't be stingy with that sumac : it makes this dish addictively delicious.
Such a Lebanese salad with pieces of toasted bread is also called  fattoush  . Think of it as the Lebanese variant of  panzanella . Traditionally, the flat bread is fried (do!) or grilled and tossed with a number of basic elements that come standard in it, such as romaine lettuce, baby cucumber, tomato and a dressing with pomegranate and sumac (which grind tasty sour berries into powder). Don't skip this salad!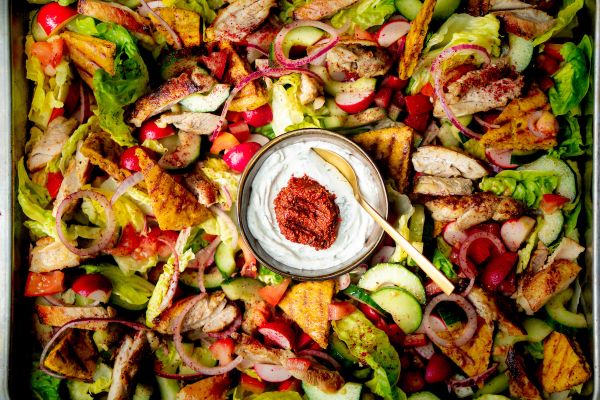 Friday
Ceci ne pas une wrap! Put on the Culy glasses and you don't see a wrap, but an arugula salad with roasted curry cauliflower, chickpeas and a tahini dressing (because add those ingredients together and you have hummus) with the bread conveniently wrapped around it. Perfect if you want to enjoy a to-go meal salad.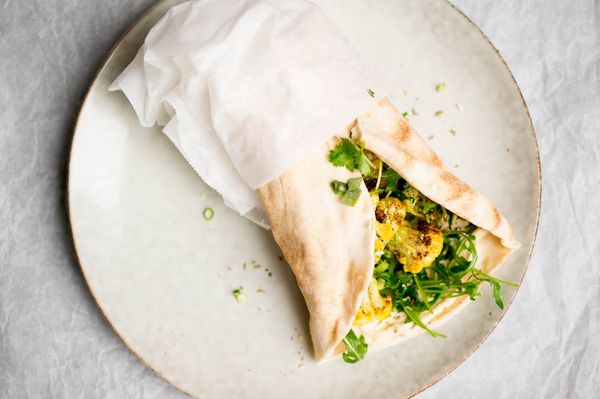 > to the recipe: Culy Homemade: healthy wraps with curry cauliflower, hummus and arugula
Saturday
Fresh, crunchy, juicy: this Vietnamese minced meat noodle salad has it all. Don't be put off by the length of the ingredient list: this dish is quick and easy to make. You can play with the different vegetables and replace the minced meat with a vegetarian version, but the only thing you really have to put in is the dressing. That is the culinary glue that binds everything together. Nuoc cham  this sauce is called in Vietnamese. Very tasty with summer rolls and imperial rolls, but also in a salad. Whose deed!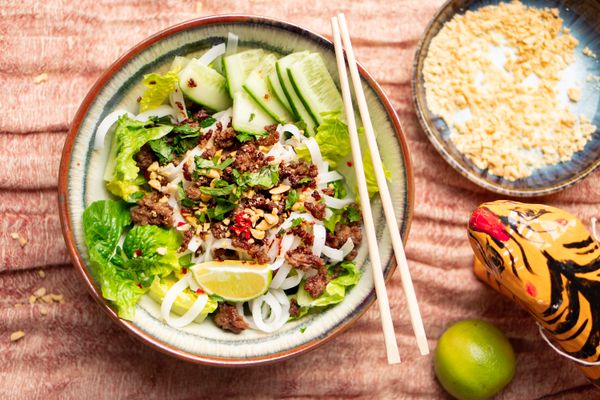 > to the recipe: Culy Homemade: fresh Vietnamese noodle salad with minced meat
Sunday
Pasta salad has now been badly damaged by many a bone-dry version on a random Dutch picnic birthday. Vanja van der Leeden: "This version makes short work of such traumatic pasta salad experiences. Partly due to the vegetable versus pasta ratio of 2:1 and a generous amount of pesto for lubrication." You understand: we're done.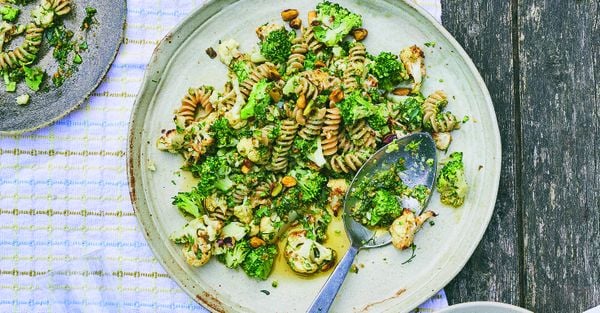 > to the recipe: Pasta salad with roasted cauliflower and broccoli by Vanja van der Leeden