Do your neck hairs stand on end just at the thought of a bowl of steaming oatmeal? Can't get a bite down your throat after the alarm goes off? And do you get tired of people hysterically proclaiming that they look forward to breakfast before going to bed? Then this list is for you. Five breakfast ideas that will also get the non-breakfast excited (bet?).
If you prefer not to get out of bed for cereals and a scoop of yogurt: nothing to be ashamed of. Sweet, weeige (why does it have to be so tasteless in the morning?) cereals are not everyone's 'cup of tea'. If you think about it longer, it is also strange that we have labeled the cereals, eggs on toast, smoothies, juices and pancakes as 'breakfast'.
And with we, we point to the West. Because if we look beyond our western noses, there are countless hearty breakfast dishes with much more character. We share some of our favorite dishes. Let this be your  wake up call  !
5 x breakfast ideas for the non-breakfast
congee
This Chinese rice dish is somewhere between a hearty rice pudding and rice soup. There are people who don't like the texture of congee that much. But there are also people who just love that texture (can you guess which category we belong to?). There is something very comforting about Congee. Fortunately, if the alarm went off too early, there is always congee.
The basis is a tasty (chicken) broth enriched with ginger and sometimes garlic. You can go wild with the toppings: spring onion, chili oil, something crunchy like a fried onion or maybe a fried egg for extra protein. If you really want to wake up well, a few Sichuan peppers are highly recommended. They crackle so nicely on your tongue.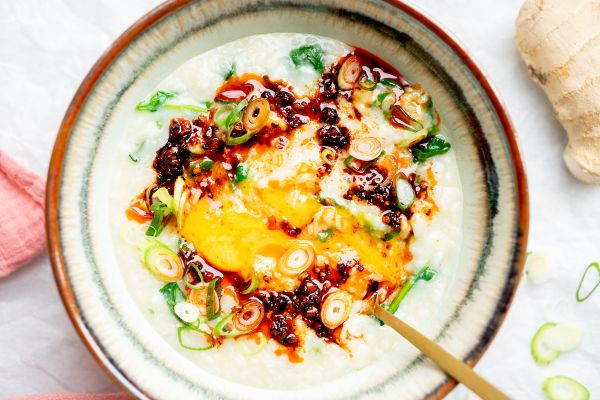 To the recipe >  Culy homemade: congee with spinach and chili oil
Breakfast tacos and burritos
If you find bread boring, switch to Latin American pastries such as (corn) tortillas with which you can make the most delicious tacos and burritos: also for breakfast!
A classic breakfast burrito  is often filled with scrambled eggs, avocado or guacamole, beans with cumin and a spicy salsa. Now you can decide what to put in it, from jackfruit to a more Italian-inspired filling with tomato, basil and mozzarella. You know what they say: the choice is huge. In any case, we are big fans of this Thai-inspired burrito.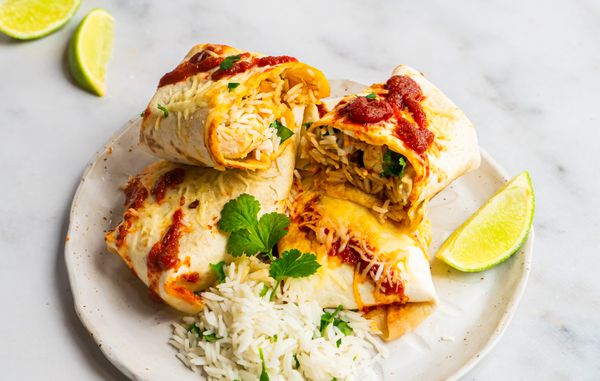 To the recipe > Culy Homemade: burritos with lime chicken, coconut and sriracha
ilbir
Çilbir (pronounced 'tjulbur') is a typical dish that you immediately want to dive into at first sight. And that is also allowed: stir together those poached eggs, garlic yogurt and chili butter. Preferably with a good piece of toast and a lot of pul biber: Turkish, dried chili. Biber means chili in Turkish, or pepper, but that is actually a mistake by Columbus, because chili and black pepper have nothing in common
This divine Turkish breakfast dish dates back to the 15th century. It's still nice.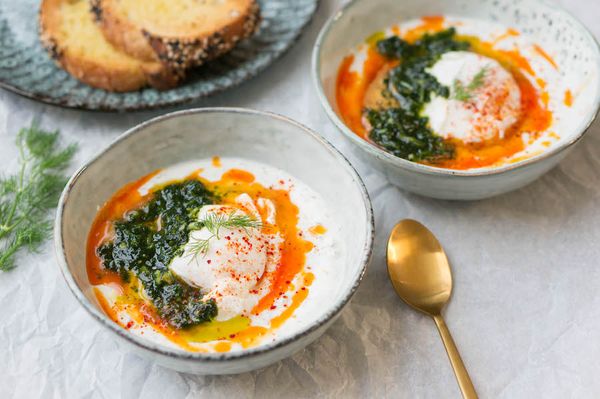 To the recipe > Culy Homemade: çilbir (poached egg with garlic yogurt and chili butter)
Nasi Lemak
Nasi lemak is considered the national dish of Malaysia. "What coffee is for Westerners for breakfast, is nasi lemak for us. Indispensable," a Malaysian chef once told  us. It is therefore mainly known as a popular Malay breakfast, but it is also so popular because you can eat it all day long.
But what exactly is it? When we think of nasi we mainly think of fried rice with leftover vegetables and meat (although 'nasi' simply means 'cooked rice'). Nasi lemak is a bit different. It consists of a colorful and fragrant plate of rice in coconut milk, peanuts, anchovies, a boiled egg, cucumber and sambal. The great thing is that it is not that difficult to make and that you can prepare it at home. If you want a good recipe for home, check out this video .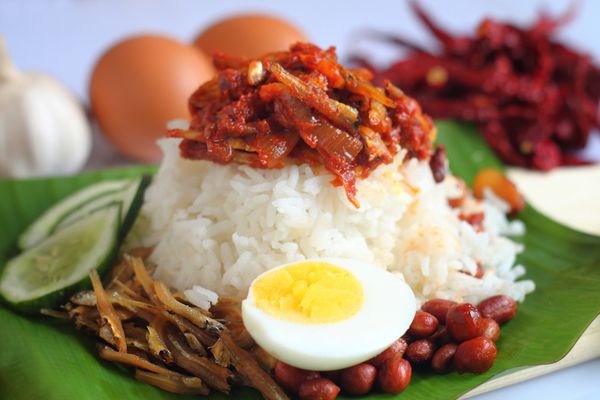 Upma
upma. We get a bit of an Uma Thurman feeling from it. Only Uma is a bit sexier than the Indian breakfast dish, which largely consists of semolina with spices fried in ghee. Sounds pretty sexy, doesn't it? In terms of spices, they are well-known South Indian seasonings: mustard seeds, cumin seeds, fresh ginger, chili and fresh curry leaves. After sautéing the spices, cook the semolina together with various vegetables such as carrots and peas and serve the dish with a chutney. And yes, sometimes that's just plain ketchup. After all, we don't want to cook for hours for breakfast.
It's hard to imagine what upma is if you've never eaten it, because as Madhur Jaffrey (the famous Indian recipe writer) writes, ' The Western world has no real equivalent for upma '. Jaffrey says it's best to compare upma to a less wet risotto, where the base is a grain: sooji (semolina) or poho (flat rice). 
Now we can tell you that upma is more of a concept than a dish. Or as Brinda Ayer of Food52 puts it so nicely: upma is a 'state of mind'. You can just as well replace those grains with…. seviya (vermicelli), pori (puffed rice), spaghetti (a bit strange), bread (that's what Ayer prefers) or make it with oatmeal! Although the classic remains unsurpassed. So if you're an upma newbie, start with the groats from your mom's kitchen cupboard.