Picnics are hot! The damp cloth in the wet grass has been replaced by super-deluxe waterproof sheets and the soggy Italian dumplings have been exchanged for hip dips, delicious sandwiches and salads that stay tasty all day long. Culy shows you how easily you can fill your picnic basket with delicious take-away food. Are you already looking for a nice place to put your rug?
Picnics for professionals
As we said above, the image we have when having a picnic is often distorted and usually takes us back to our childhood. When your parents still enjoyed cycling for hours and then eating lemonade and soggy balls by a water table between wasps and mosquitoes. That can be different!
In 2022, picnicking is  hip, hot and happening. In the morning you prepare the tastiest salads, sandwiches and other mise en place to enjoy on the beach, on the waterfront or in another idyllic spot. How do you really make a picnic a success? If you add something of the six 'elements' of bread, dips, hot/cold, salad, sweets and drinks, you are well on your way!
Bread in your picnic basket
We can hear you thinking: 'Do I even have to bake my own bread before a picnic?' No, you don't have to go into the kitchen yourself for French baguettes and a multigrain bread. You should see bread in your picnic basket in the broadest sense of the word: focaccia, Turkish bread, sausage rolls and so on. As long as there is something with dough to enjoy and as long as you can take it with you as crunchy as possible.
How about puff pastry rolls with chorizo ​​and bell pepper , for example ? Serve with the aioli from the recipe and you have a complete bread course. You can also twist these ultimate cheese sticks together in no time, as well as the quick cinnamon rolls (from ready-made croissant dough) with orange for the sweet tooth in your company.
Don't forget a savory cake with black olives and pine nuts to mimic le Méditeranée . Other options: a super-quick filled Turkish bread with spinach and feta, quick focaccia (yes, you can pull it out of your oven today) from Alison Roman or Vietnamese sausage rolls that will take you back to the past (remember the frankfurters in a croissant?).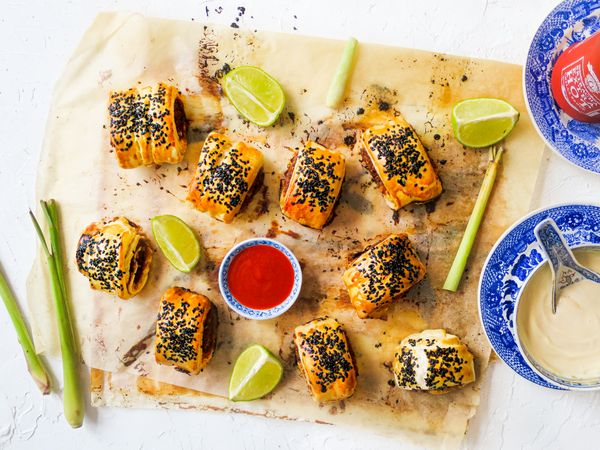 Dips for your picnic basket
Even if you don't  bring plain  baguette or focaccia to the picnic spot, dips are indispensable. Because how good is a cucumber with homemade hummus? We call them chic crudités,  but just vegetables for dipping during the picnic. Try something different from your go-to chickpea hummus, like this mapo tofu hummus from … right: tofu. Do you stick to the 4 hummus commandments ?
A quick peanut dip or tzatziki is always a good idea. If you want something different, go for this delicious muhammara that you have in the basket in no time. Do you love butter as much as the Culy editorial? Then forget about herb butter and check out these other butter flavors .
Want to take your  butter game  to the next level? Chef Thomas Straker shows you almost daily new recipes of  fancy  butters such as the curried butter below on his Instagram page . But he also has them with black olives, anchovies, seaweed and more flavors that make your mouth water.
Cold warm things in your picnic basket
In addition to bread and dips, you naturally want to eat even more savory foods. Because – depending on what you drink – a good soil is a must. Fortunately, there are plenty of recipes that you can make warm, but that might be better cold. This is how frittatas always do well. For example, this BLT  frittata or a frittata with wild garlic and shiitake .
In addition to the frittata, there are also the fritters: small 'cookies' made from your favorite grated vegetables. Make them with zucchini or sweet potato , dip them in one of the above dips and it's super easy to enjoy. Fancy something different? Then your picnic basket also serves as a great (temporary) place to stay for delicious crepe snacks or  Vietnamese filo pastry rolls .
The great thing about the above recipes is that you can prepare them the night before. Cut them into pieces and put them in a bowl. If you then go on a picnic the next day, all you have to do is take the container out of the fridge.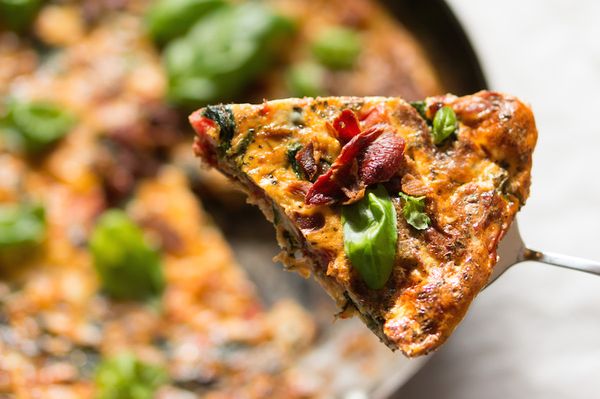 Salads in your picnic basket
Whether you eat very consciously or not: during a picnic there is always someone who feels like a salad. Yet it remains difficult to keep a classic iceberg lettuce with dressing good and tasty for hours without the leaves already turning brown and becoming soft. Culy's tip: make a salad without lettuce, because that is very good and maybe even tastier.
For example, this delicious tabbouleh from Mounir Toub , easy, fast and it stays tasty for hours. In addition, a caponata or couscous salad is always popular. Not a fan of or fancy the above and do you want to stay close to the 'real' salad. This red bell pepper and tomato salad is everything your taste buds want.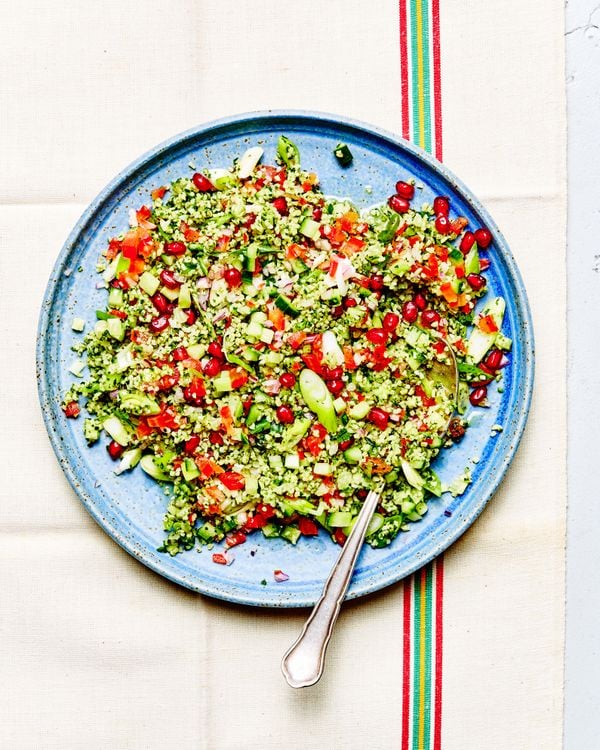 Sweets in your picnic basket
All those savory treats will probably also make you want something sweet. Use it as 'dessert' or to give your stomach some variety. In this article we give you inspiration for a delicious sweet picnic on the basis of 20 easy baking recipes . Or dive into the kitchen to prepare these delicious lime-mint bars with shortbread crust . The fresh end to your extensive picnic.
Not in the mood for large cakes or pies to finish? Culy's Nancy dived into the recipe of the  biscuits  from Ted Lasso . Ted took them to his office, so you can take them to your picnic.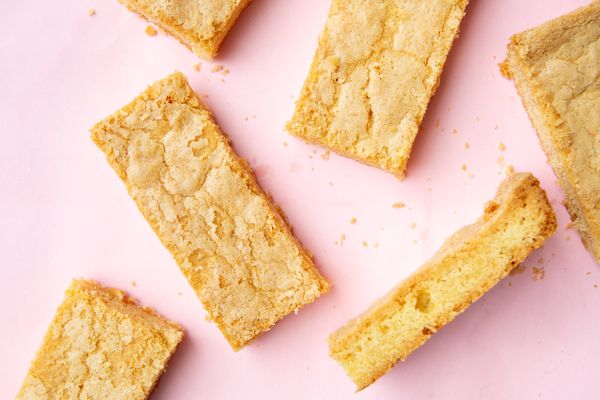 Drinks in your picnic basket
In addition to all that food, of course, there must also be something to stay hydrated. Be it alcoholic or non-alcoholic. For example, make your own elderflower – or rhubarb/ginger syrup or mature limo: rhubarberry . Super easy and you only need to bring a bottle of water or prosecco to mix it with for a nice drink.
Fancy something special? Then try Pacha de cacao : juice from the cacao fruit. And if you still feel like a nightcap afterwards, try a variant of the limoncello . Root cello for example.
Fancy something 'alcoholic' but do you still have to go home by car? We got your back. Among these 6 non-alcoholic drinks , there is bound to be one that you will fill your glass with twice.