Fine pans make us happy, very happy. In that respect, we have nothing to complain about in our country: Combekk is a fine Dutch pan brand that once in a while brings a cool pan onto the market. With the Ceramic PRO they have supplemented their range with a beautiful all-round frying pan. Culy was allowed to test it and can give one away.
About Combekk
About Combekk, a name that might ring a bell. You may know the label from their sturdy Dutch Ovens made of 100% recycled material (they are the only ones in the world to do that, by the way!): train tracks and old bicycles, for example. The pans are produced locally in our own country. Some time ago we raved about their cast iron casserole with integrated thermometer : an investment we would recommend to anyone.
You understand: when we were recently told that Combekk has launched the 'best frying pan so far', we were quite excited. It concerns the Ceramic PRO: an aluminum frying pan in combination with recycled stainless steel. We are always curious about a good all-round frying pan made of beautiful material. A Culy test could not be missed for this reason.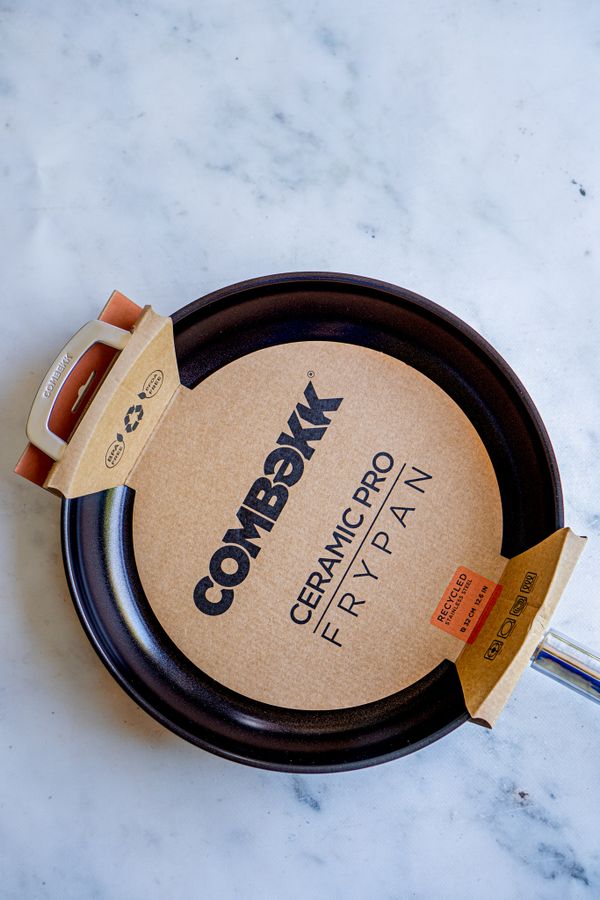 Baking in the Ceramic PRO from Combekk
According to Combekk, this pan cannot easily be pigeonholed: the Ceramic PRO is simply ideal for one-pan dishes or for frying fish, meat or vegetables. For that reason alone, we think this pan is a smart choice. If you have limited space at home, you only need to buy one pan: this one.
The question remains, of course, whether that pan actually works well. In any case, we have little to say about the look & feel. The pan lies firmly in the hand: perhaps slightly heavier than average, but also nice and stable and with a thick bottom. The hollow handle (on the opposite side of the handle) is also practical when you want to lift the pan. Tip: always do this with gloves or a tea towel: the handle can get quite hot.
Pasta sauces, sandwiches and fish
And what about food? For a few weeks we used the pan for various dishes. For example, we used the pan to fry thick slices of brioche for these crème brûlée French toast . Successful design: the pan effortlessly provides the bread with the intended golden brown layer.
The same principle also applies to toasted sandwiches. The great thing about this is how, thanks to the size of the pan, you can throw both one and several slices of bread into the pan at the same time.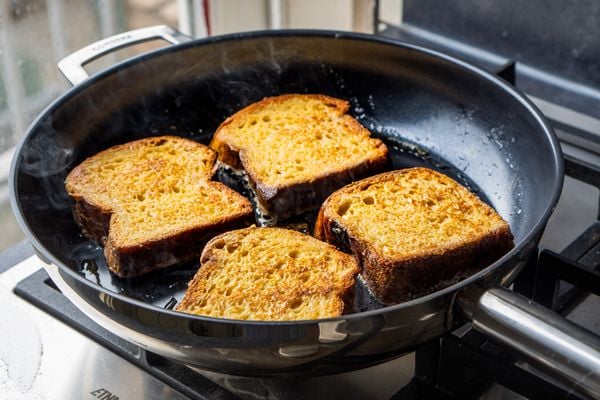 And are you fond of Italian cuisine? Then the Ceramic PRO is the ideal model for pasta sauces and risottos. In any case, we let our tomato sauces simmer in this pan with peace of mind, giving the flavors the chance to get to know each other. The height of the pan also allows for quite a bit of pasta sauce, so that you can easily toss the drained pasta in it afterwards.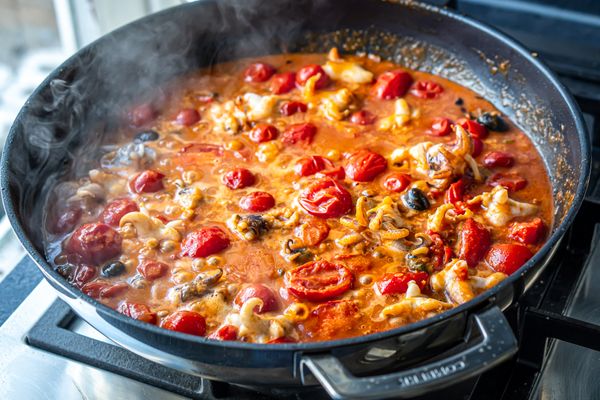 We could go on like this for a while, after all, the pan has already provided many of our dishes with heat, a crispy crust or that desirable Maillard reaction . And all that in that cool-yet-elegant design from Combekk.
Sure: do you not lack space and are you a seasoned hobby chef? Then you can always invest in more specialized models (a cast iron pan, a smaller model…). But as an all-round model, this pan can count very well, and not a little.
I want to win that one!
Good news! Culy can give away such a nice all-round frying pan. Do you want to have a chance?
Send an email to info@culy.nl before July 12 with subject Combekk and state what you want to prepare in the pan and for whom. Don't forget to leave your full name and address. The winner will receive a personal message from us.