Thinking about what to eat every week can be quite a challenge. To ensure that you do not put the same dishes on the table every week, we are happy to inspire you with handy weekly menus. This week we show you that eating seasonal vegetables is easy, sustainable and delicious too.
Seasonal food can be tricky. At least, that's how we show it. Because with vegetables that are in season, we soon see ourselves harvesting our own heads of lettuce and snow peas in an idyllic, tightly raked vegetable garden. And we may not turn our backs on that harvest yet, but that vegetable garden…
Fortunately, the local super-neighborhood also increasingly has local connections that supply the greengrocers of the moment. And otherwise there is always the farmer, the market or another local smarty who does have a vegetable garden.
Weekly menu: 7 x cooking with seasonal vegetables
Monday
We start the week with a – apparently – winter vegetable: endive. But, endive is more than just stew . You can of course stir it through your go to stew, but did you know that you can also stir-fry it and bake it in the oven?
The men of the Sausages of Babel developed a recipe with which you can put delicious endive from the oven on the table. You can combine it with a homemade slavink , perfectly roasted lemon potatoes from the oven. Who said AVG was just stupid?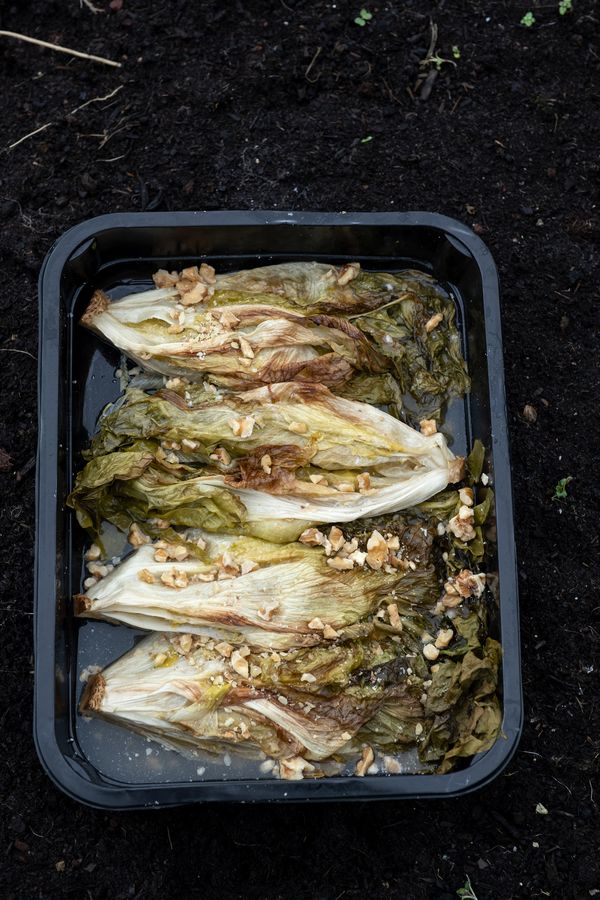 > To the recipe:  Endive from the oven of De Sausages van Babel
Tuesday
Tuesday, pea day. You may know the peas as green, sweet peas that are either a little schmutzig  in a jar or very fresh in a bag in your freezer drawer. Now that the peas are in full season, you can also get them fresh from your local greengrocer. And that gives a slightly different taste experience than those green little ones from the stock.
Make this delicious pearl couscous with peas, feta, roasted almonds and more goodies from Couscousbar. No fresh peas at your disposal? Don't worry, a bag of peas in your freezer drawer always comes in handy.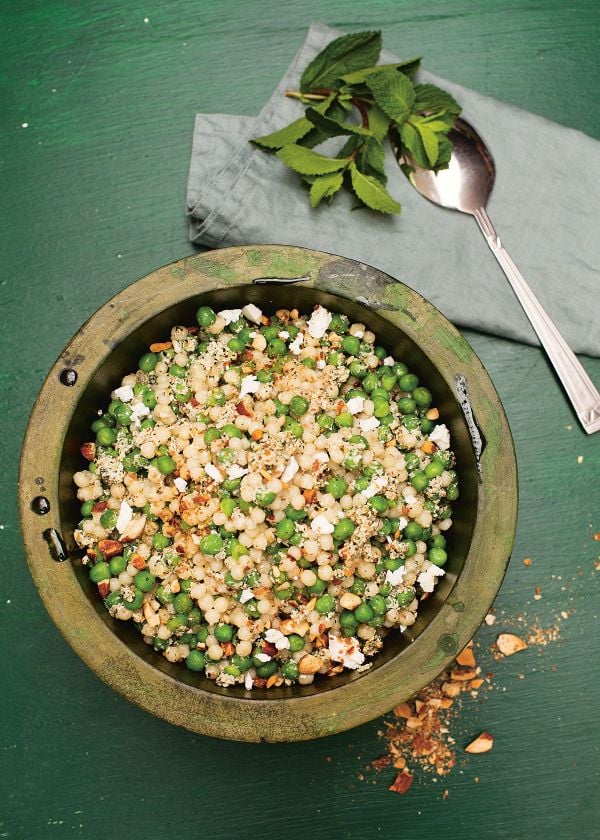 > To the recipe:  pearl couscous with peas from Couscousbar
Wednesday
The Netherlands may not be known for its hot summers, but it can get quite tropical here in the spring. So if you fancy a light, fresh dish, this laab is your ticket to food paradise. Asian flavors such as lime, lemongrass , fish sauce , mint and coriander combined with tasty minced chicken and all together in a lettuce jacket. You can lick your fingers!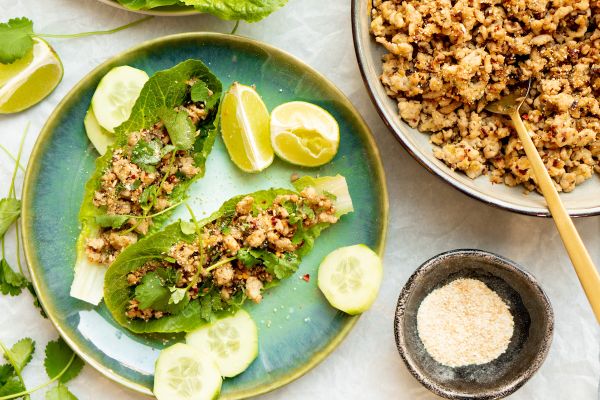 > To the recipe: laab: minced chicken in lettuce leaves with lime, mint and lemongrass
Thursday
The weekend is in sight, but just a little patience. We treat you to a very easy recipe and a return ticket to the Middle East. This is what it comes down to: put everything together in a baking dish, pour a nice drink and enjoy the smells that are released from your oven. Are you a big eater or just want something extra? Then you can easily make your own naan to eat with the oven dish.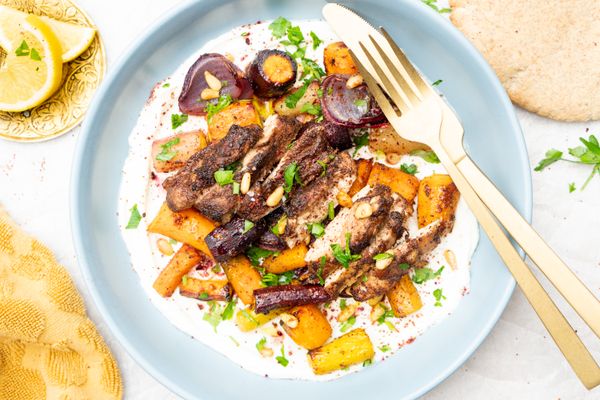 > To the recipe: Arabic chicken casserole with roasted carrots
Friday
There is almost nothing that makes us happier than the words "spinach is in season." Because spinach is boring? no way. Stewing, stir-frying, in a curry or dahl : spinach is such a friend to everyone that we can't do without this vegetable even out of season.
How about a soup on Friday? Easy, nutritious and tasty for when you quickly have to go to the pub or sports club. You can make a delicious cheese-onion bread to go with it, which you can enjoy for the rest of the weekend.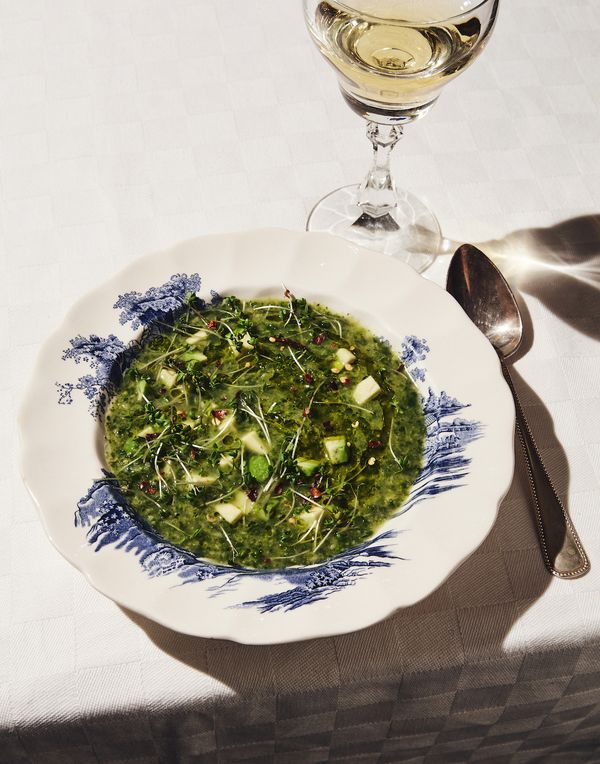 > To the recipe:  broccoli-spinach soup with avocado from Yvette van Boven
Saturday
The evenings when we can eat outside are becoming less and less scarce and that is why we declare the pasta salad season open. And with pasta salads, it's a bit like you love it, or you hate it . It can go good or bad. Because an overcooked, pale pasta with vegetables that don't match and then cold? Don't invite us. But with this pasta salad with roasted cauliflower and broccoli from Vanja van der Leeden, the pasta salad summer can't last long enough for us.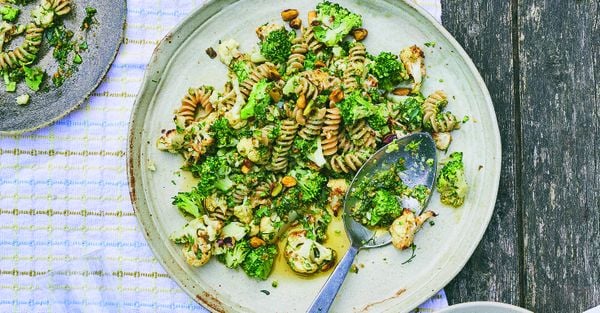 > To the recipe:  pasta salad with roasted cauliflower and broccoli by Vanja van der Leeden
Sunday
We unpack on Sunday. Plenty of time to cook in your kitchen, so why not do it? How about a divinely baked pointed cabbage with beurre noisette? Sounds complicated, but when push comes to shove, it's not that bad. You can combine the pointed cabbage with cod , grilled chicken  or a creamy mashed potato .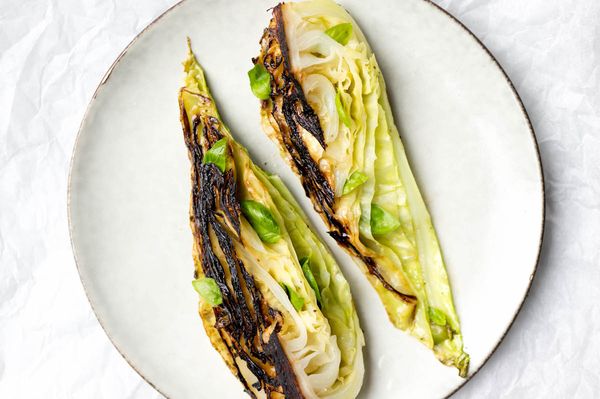 > To the recipe: divine fried pointed cabbage with beurre noisette