Our favorite ("bad") breakfast: Eggs Benedict. It's a classic, it's chic and yet mouth wateringly delicious. Best of all, you can recreate it at home!
Poached egg

Bread (originally an English muffin bun, in the Netherlands a toasted crumpet comes closest)

Ham or bacon

hollandaise sauce
For the sauce:
3 egg yolks

10 ml white vinegar

60 ml white wine

75 grams of melted butter
Toast the bread (this speaks for itself :-))
Grill/bake the bacon or ham slices.
Poach the egg. This can be done in a hundred and one ways: straight into the pan (making water with vinegar and a whirlpool), in special poaching dishes, in plastic bags… Find a way that works for you. Practice makes perfect! Anyway, this video is very helpful:
Make the sauce. This is how you do it:
Grab a low, wide saucepan. Beat the egg yolks separately and mix in the vinegar and wine. Beat well with a whisk. Then put the pan on a low heat and keep beating until it becomes a nice sauce. Remove the pan from the heat, add some salt, and add the melted butter while whisking. Not all at once, but very slowly, and very important: keep knocking! In the end you will have a thick and creamy sauce.
You can also do this quick method with an immersion blender . Super easy!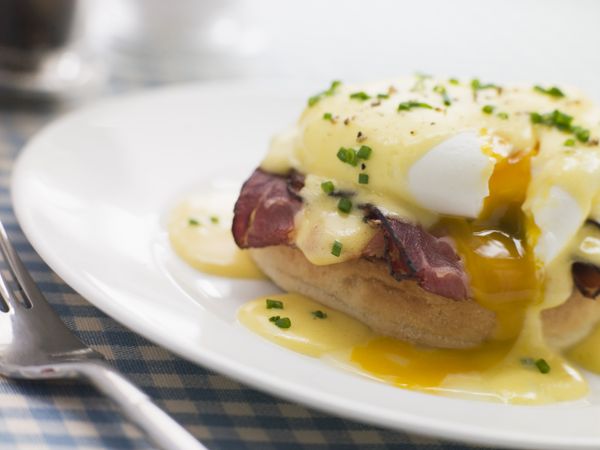 Our version:
Culy's Monique: "I always make Eggs Benedict with a twist. I fry bacon instead of ham slices (more crispy and less 'full'), and sometimes I do it with Bearnaise sauce instead of Hollandaise sauce (for a little more spice).
Because crumpets are not always for sale, I sometimes also want to halve and toast bagels. More Monique than Benedict, but still, the base is classic!"