This Surinamese sauerkraut dish is an easy casserole with sauerkraut, in Surinamese style. By seasoning minced meat with masala, trassi and sambal with madame jeanette , this Dutch pot suddenly gets an interesting twist.
Ingredients
For 4 to 6 people:
1 kg floury potatoes, peeled and cut into pieces

2 onions, finely chopped

2 garlic cloves, finely chopped

500 grams of minced beef

500 grams of sauerkraut

100 ml whole milk

200 grams of crème frache

150 grams grated old cheese

1 stock cube (beef), crumbled

Small piece of trassi (about 1 teaspoon), finely chopped

1 teaspoon masala

1 to 2 teaspoons sambal with madame jeanette (as much as you can handle)

Salty

lump of butter

little oil
For the sweet and sour:
200 ml boiling water

50 ml vinegar

3 tablespoons sugar

Salt pepper

1 red bell pepper, diced

1 cucumber, seeded, sliced

Handful of cherry tomatoes, quartered

1 red onion, cut in half rings
This is a very easy recipe that will take you about 20 minutes to cook. Then the Surinamese sauerkraut dish has to go in the oven for another 15 to 20 minutes . Tip: do you get a lot of eaters over the floor? You can easily make two bowls of this dish at once. Also handy for freezing!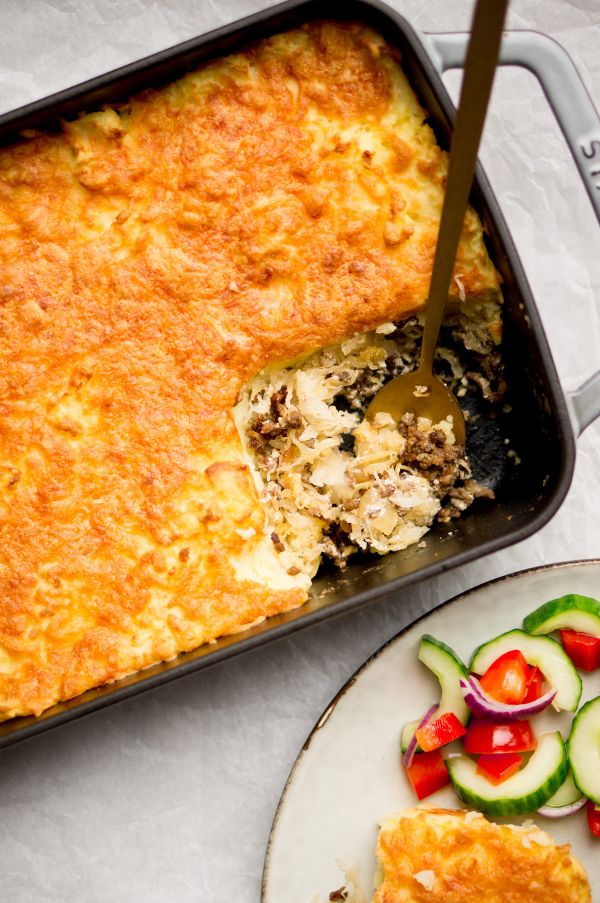 Making a Surinamese sauerkraut dish
Start with the sweet and sour, then it can draw nicely. Mix the boiling water with the vinegar, sugar and some salt and pepper. Let cool completely and then mix with the vegetables. Let stand for a while.
Preheat the oven to 220 degrees.
Boil the potatoes with a pinch of salt, drain and mash them with a knob of butter and the milk.
Brown the minced meat in a large frying pan over medium to high heat and then add the onions, garlic, masala, trassi*, the crumbled stock cube and the sambal. Mix well and let it cook until everything is cooked through.
Now you can build the Surinamese sauerkraut dish in an oven dish. Start with the minced meat and divide the crème frache over it (this is easiest with a spatula). Squeeze the sauerkraut and divide it over the oven dish. Then spoon over the mashed potatoes and sprinkle with the grated cheese.
Allow the Surinamese sauerkraut dish to get a golden brown crust in the preheated oven for about 15 to 20 minutes. Serve with the sweet and sour.
* Grandma's tip: put a block of trassi on a fork and hold it in the flame of your gas burner until it gets black spots. You've been warned: trassi doesn't smell very nice to say the least, so make sure the drying rack with the clean laundry is out of the room.
More casseroles:
Oven dish with sweet potato, spinach and minced meat

Vegetarian pie with sweet potato and mushrooms

Pie with chicken (like grandma used to make)