If you're in the mood for a tasty curry, Machteld Smid is the place to be. This cookbook author knows exactly how to make the most delicious curries. Her new book Curry's – the most delicious comfort food recipes – is full of the most delicious recipes for this fine comfort food. Like this recipe for classic chicken tikka masala.
Ingredients
For 4 persons:
4 tablespoons vegetable oil

25 grams of butter

4 onions, coarsely chopped

Salty

6 tablespoons tikka masala paste

2 red chillies, seedless, roughly chopped (optional)

8 chicken thigh fillets, cut into pieces

800 grams of tomato cubes

4 tablespoons tomato paste

3 lime leaves

250 grams of white rice

2 chapatis, to share

2-3 tablespoons mango chutney

150 ml whipped cream

150 ml yogurt

Freshly ground black pepper

1 handful of coriander leaves, chopped
Machteld: "This is one of those dishes that the Indians have taken to Great Britain. A classic!"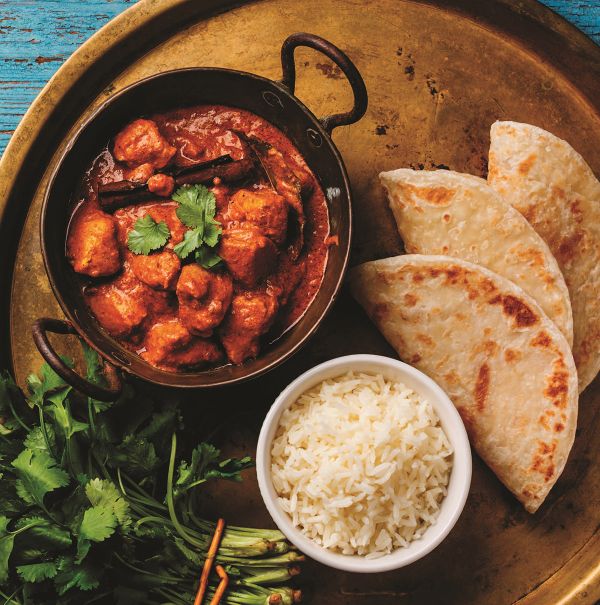 This is how you make chicken tikka masala
Heat oil and butter in a large frying pan with a lid. Add the onions and a pinch of salt. Let it cook gently for about 15 minutes.
Add the tikka masala paste, the red pepper (if you like) and let it cook for 5 minutes. Then add the chicken and stir well. Make sure the chicken pieces are covered with a layer of pasta. Then add diced tomatoes, tomato paste, lime leaves and 200 milliliters of water. Cover the pan and simmer, stirring occasionally, for about 15 minutes until the chicken is cooked through.
Meanwhile, cook the rice according to package directions and heat the chapatis. • Remove the lid from the pan and stir mango chutney, whipped cream and yogurt through the chicken. Let it warm up slowly. Season with salt and pepper. Remove the lime leaves from the curry and sprinkle over the coriander leaves.