Love Irish Coffee? Then you should try this chai latte with spiced rum. Not coffee, but in fact a kind of spicy tea drink (chai is the Indian word for tea), with a dash of spiced rum through it. The dollop of whipped cream on top makes it nice and sweet – a real pampering drink!
Ingredients
For 2 to 3 drinks:
236 ml 

chai extract

236 ml milk of your choice (e.g. whole milk or oat milk)

35 ml spiced rum, e.g. The Kraken Black Spiced Rum

Cream

Pinch of cinnamon (optional)
This recipe from Recipe Runner is great for fiddling through that last bit of winter. Delicious by the fireplace, but it also works well with your butt on the heating.
You can easily make the chai extract that we use for this recipe yourself. We always have a stock in the fridge in the fall and winter.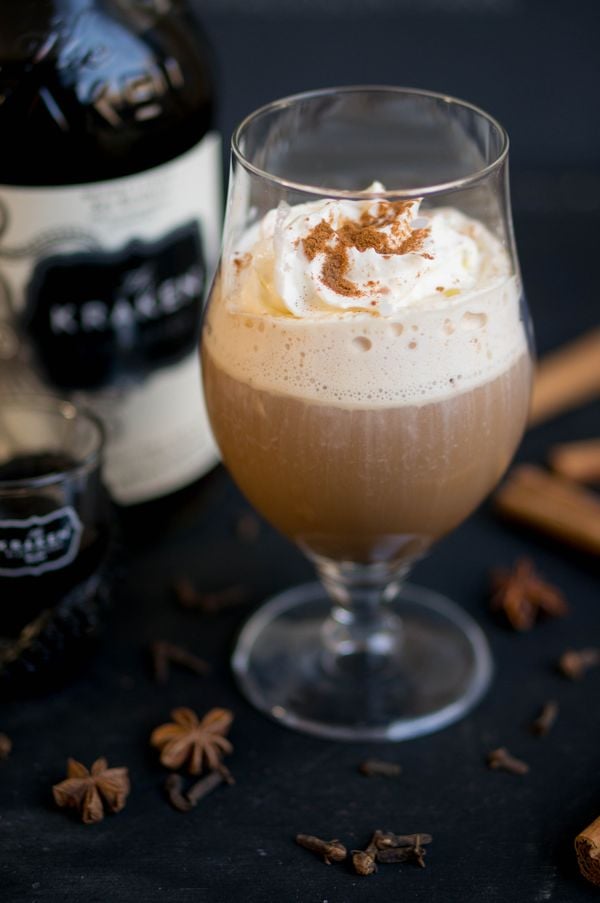 Chai latte with spiced rum
Heat the milk and chai extract together in a saucepan over medium to low heat. As soon as the chai latte is about to boil, remove the pan from the heat.
Stir in the rum, taste and add more rum if you like.
Pour the chai latte with spiced rum into a tall glass. Finish with whipped cream and some cinnamon.
More hot drinks:
This is how you make the perfect Irish Coffee

A real Spanish coffee drink: Barraquito (+ lactose-free variant!)

Eggnog: a typical American drink for the holidays