These sticky Thai chicken wings are finger licking good! For this recipe we use unseasoned chicken wings that we coat with a homemade Thai marinade. Delicious with a drink or as a complete meal with, for example, rice and pak choi.
Ingredients
For 4 persons:
500 grams chicken wings

Fresh coriander

2 stalks spring onion, sliced

Dried chili

Salty
For the sticky Thai sauce:
175 ml sweet Thai chili sauce

4 tablespoons brown sugar

4 tablespoons rice vinegar

3 tablespoons fish sauce

2 tablespoons lime juice

2 tablespoons sesame oil (or neutral oil)

60 ml soy sauce

1 tablespoon lemongrass, finely chopped

1 tablespoon garlic, finely chopped
You can usually find larger chicken wings at the butcher or supermarket. You can easily chop it in half with a sharp knife or a cleaver (even better!). This way you are left with beautiful little chicken wings, in the perfect size for chewing.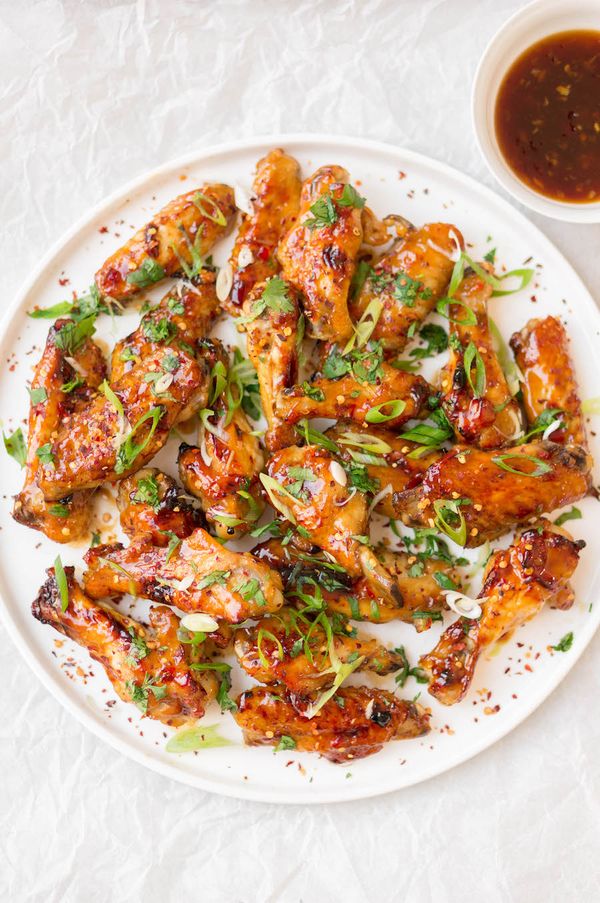 This is how you make these sticky Thai chicken wings
Preheat the oven to 200 degrees.
First make the sticky Thai sauce. Mix all ingredients in a measuring cup or bowl. Pour half into a saucepan and set aside.
Lightly grease a roasting tray with sunflower oil. Place the chicken wings in it and sprinkle with salt. Pour half of the sauce (the part left in the measuring cup) over the chicken wings. Make sure they have a good coating and are next to each other.
Place the Thai chicken wings in the hot oven and let them bake for 10 minutes. Then turn them over and let them cook for another 10 minutes, until cooked through.
While the chicken wings are in the oven, you can heat the pan with the rest of the sauce. Let it come to a boil and then simmer gently for about 5 minutes, until you have a nice sticky sauce.
Back to the chicken. Set the oven to the grill setting and brush some of the reduced sticky sauce over the chicken wings (e.g. with a baking brush). Place the Thai chicken wings under the hot grill for about 5 minutes, until nicely browned and sticky.
Place the chickens on a plate, sprinkle with the dried chili, coriander and spring onions and enjoy.
More chicken recipes:
Asian rice bowl with omelette and crispy chicken

You must try these 8 chicken recipes

Chicken cashew with broccoli