Bibimbap is a Korean rice dish served with various vegetables, meat and a fried egg. You can serve this dish with leftover rice, vegetables and meat or chicken. Or you can make a vegetarian version without meat and with, for example, tofu or another meat substitute.
Ingredients
For 4 persons
500 grams of tenderloin

1 tablespoon sunflower oil
For the dressing
125 ml pear juice

50 ml soy sauce

20 ml rice wine

25 ml sunflower oil

1 tablespoon sesame oil

3 cloves garlic, grated

1 tablespoon ginger, grated

1 tablespoon Sriracha

1 tablespoon brown sugar
For the vegetables
10 radishes, cut into quarters

1 winter carrot, thinly sliced

100 ml white wine vinegar

2 tablespoon sugar

1/2 red pepper, thinly sliced

100 grams pointed cabbage, finely chopped

250 grams sugar snap peas, blanched
For the rice
300 grams (silver skin) rice, cooked

50 grams baby spinach

1/2 bunch coriander

1 spring onion, thinly sliced

4 teaspoons sesame seeds
for there
It's a very long ingredient list, but don't let that put you off. It's just a very tasty dish. Take your time and make it on the weekend, for example!
This recipe for bibimbap comes from blogger Hanneke van  Culinea . Delicious recipes are published weekly on Hanneke's blog, from sweet to salty and from dinner to a snack for the appetite.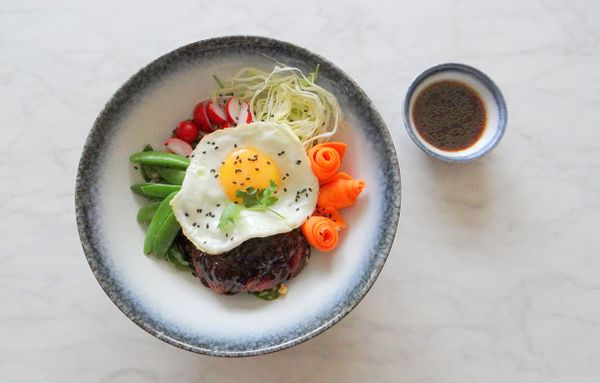 This is how you make bibimbap with pork tenderloin
Mix the ingredients for the dressing together in a bowl.
Marinate the meat. Pour 2/3 of the dressing into a bowl. Place the whole tenderloin in this and let it marinate in the fridge for at least an hour.
Remove the meat from the marinade and pat it dry with kitchen paper. Let the tenderloin come to room temperature before you bake it.
Heat the vinegar, a dash of water, the sugar and red pepper in a pan.
Once the sugar has dissolved, pour it over the radishes and carrot and let it marinate for about 20 minutes.
Heat a tablespoon of oil in a frying pan. Bake the long fillet all over until golden brown for 3 minutes per side.
Pour in the marinade of the meat and let it reduce with the meat in the pan for about 10 minutes to a syrupy sauce.
Remove the tenderloin from the pan and place it on a cutting board. Cover with aluminum foil and let the meat rest for 10 minutes.
Then cut the meat into thin slices across the wire.
Mix the rice with the spinach, coriander, spring onion and the remaining dressing and divide this among the 4 bowls.
Divide the meat with the sauce, radishes, carrot, pointed cabbage and sugar snap peas. Serve a fried egg on top and finally sprinkle with sesame seeds.
Also tasty: This bibimbap with steak