In honor of Valentine's Day, we put the classic Dame Blanche in a loving coat of (pink) ruby ​​chocolate… Meet La Dame Rose!
Ingredients
For 2 love birds
90 grams Ruby chocolate
5 scoops of vanilla ice cream
Small handful of raspberries
Whipped cream
3 shortbread cookies, one of which crumbled
Additional:
Oh yes: we scoop the ice cream in one large coupe instead of two smaller ones. you see? It doesn't get more romantic than that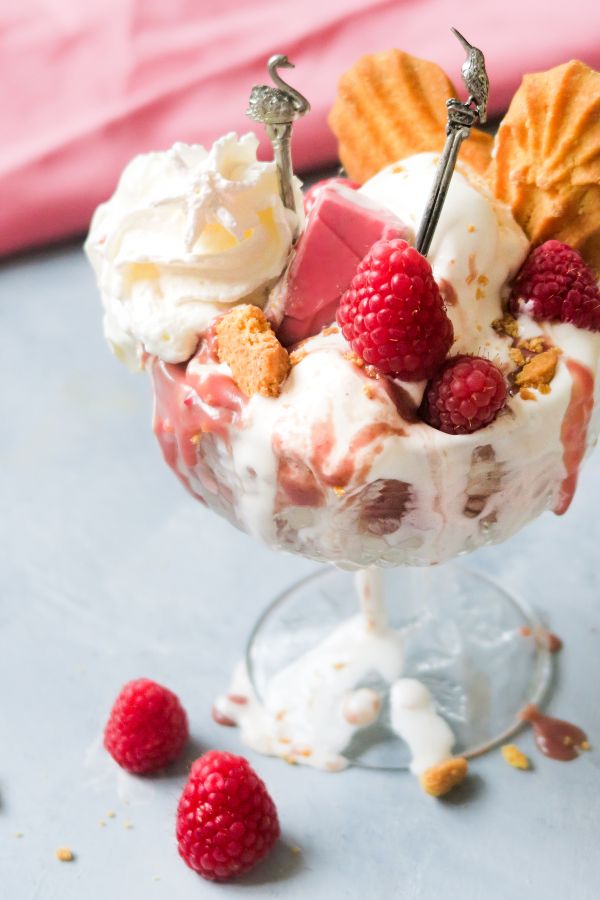 This is how you make the Dame Blanche for Valentine's Day
First melt the chocolate. Put the ruby ​​chocolate in a bowl and heat it in a bain marie.
Now scoop the ice cream into a sundae and pour the ruby ​​chocolate sauce over it.
Finish with raspberries, the biscuit pieces and a dollop of whipped cream.
More Valentine?
Love is in the air: this is the new Tony's Chocolonely Valentine's Bar
Lava brownies with red fruit (great for Valentine's Day!)
The ultimate Culy Valentine's menu for two