Did you know that you can make a delicious alcohol-free cocktail with kombucha? The men of the Amsterdam Butcha teamed up for this with James Chaib : the best Dutch bartender. He threw their blood orange & bergamot kombucha into the spice mix for an exciting drink.
Ingredients
For 1 cocktail:
3 cardamom pods
5 black peppercorns
6 fennel seeds
170ml Butcha Blood Orange & Bergamot Kombucha
1 drop Angostura bitter
It has never been easy to participate in dry january: more and more cool alcohol-free alternatives for that glass of wine or that tasty cocktail are being created.
Also interesting: these non-alcoholic drinks are perfect for when you don't drink
Blood orange & bergamot
Take this alcohol-free cocktail with the blood orange & bergamot kombucha from Butcha: you want to drink it anyway, alcohol-free or not? Leave it to James Chaib to come up with such a delicious creation. Butcha is the label of the men of Brandt & Levie and Kombucha brewer Siewerd Nicolai.
James: "The combination of sweet orange and the spicy red pepper is a combination that you also find in Indian and Middle Eastern cuisines. Cardamom and fennel seed are typical spices that you also find in this kitchen and therefore perfect to combine."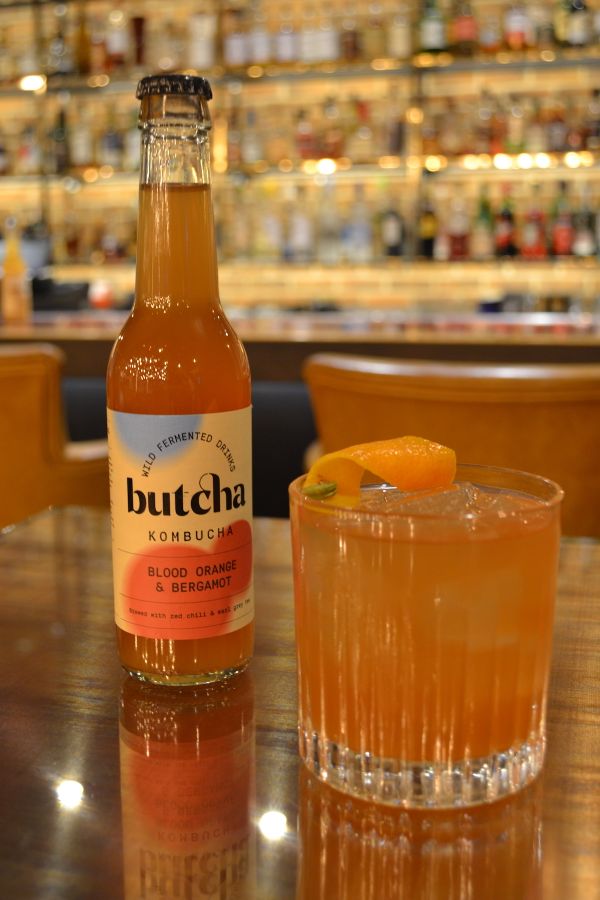 Non-alcoholic cocktail with kombutcha
Mash the cardamom pods, black peppercorns and fennel seeds with 20ml of kombucha.
Add 150ml Butcha Kombucha.
Pour through a sieve over ice.
Garnish with curl of orange zest.
More non-alcoholic cocktails:
Non-alcoholic cocktail with miso(!), caramel and plum from Seedlip

This is how you make the best non-alcoholic mojito

Non-alcoholic mojito with strawberries