You can wake us up at night for a good portion of fries. Or well, maybe waking up at night is a bit of an exaggeration, but you know what we mean. We are therefore extremely happy with fries with special combinations.
Ingredients
For 1 fries sabich
300 grams of fries (fresh, frozen or homemade)

Half eggplant

3 tablespoons amba (see below)

Half boiled egg, in 2 parts

Half pita bread

1 tablespoon pickled red cabbage (see below)

Tahina mayonnaise for the top (see below)
For the amba:
1 mango

1 garlic clove

3 teaspoons cumin seeds

1 teaspoon chili flakes
For the tahina mayonnaise:
300 grams mayonnaise

1.5 tbsp tahina

2 cloves of garlic.
For the pickled red cabbage:
50 grams of red cabbage

half a lime
Now the Frietboutique is an expert at coming up with delicious combinations (they already launched a loaded fries with ox sausage , a fries with chocolate and fries with caviar), but Culy was recently allowed to think along with them about a good loaded fries to serve on the Horecava. And sabich fries were the delicious – and prize-winning – result.
You can temporarily taste the fries at the locations of the Frietboutique in Amsterdam and Rotterdam, but you can also make them yourself! We share the recipe with you with a lot of culinary love.
> Everything about sabich: even better than falafel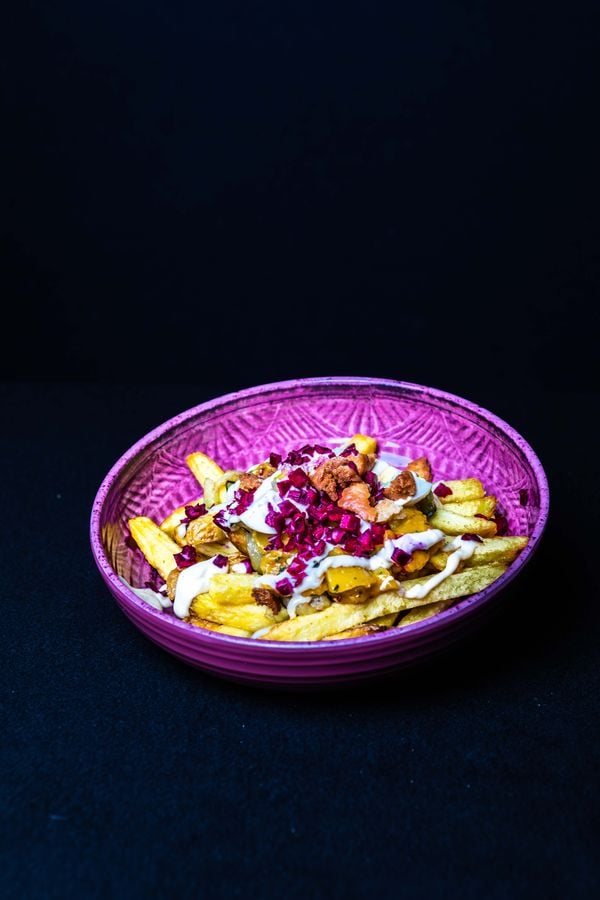 Smart: 4 x handy tips for when you are going to fry
This is how you make fries sabich
Start by making the pickled red cabbage . Cut the red cabbage into small pieces and squeeze some lemon juice over it. Let stand until the cabbage turns a nice, red color.
Next , make the amba (mango chutney). Peel the mango and cut it into small pieces. Put this together with the crushed garlic, cumin seeds and chili flakes in a pan. Cook, stirring, for about 10 minutes, until the mango is soft.
For the tahina mayonnaise , mix the mayonnaise with the tahina in a small bowl. Crush the garlic cloves and stir them into the mixture.
Now we're going to fry . First we make crisps from pita. Tear the pita into small pieces and fry them in a deep fryer or wok for 1.5 to 2 minutes, until the pieces are crispy and golden brown. Drain and pat dry well.
Then cut the aubergine half into strips of about 1 cm thick. Fry for about 1.5 minutes until the aubergine is soft. Set aside.
Then fry the fries according to the package. We used fries for the deep fryer, but oven fries are also possible.
Divide the fries on a plate or in a low dish. Place the fried aubergine on top, followed by the amba, the boiled egg (cut into 2 wedges), the pita crisps, the tahina mayonnaise and top with the pickled red cabbage.
Handy: Cleaning a deep-fat fryer: this is how you tackle this job without hassle
More fries recipes
Umami fries with seaweed salt and black bean mayo

Indian masala fries from The Curry Guy

Truffle fries with Parmesan cheese